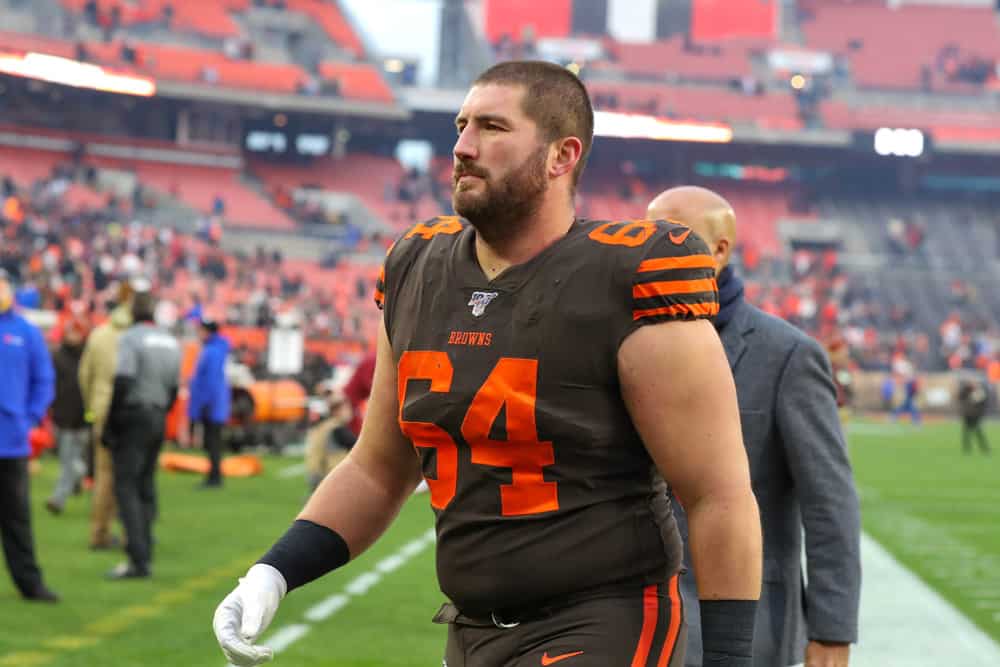 On Friday, Ian Rapoport reported that Cleveland Browns center JC Tretter had a knee scope to clean out loose bodies:
#Browns C JC Tretter recently had a minor knee procedure, a scope aimed at cleaning out loose bodies and easing discomfort, source said. The clean-out should sideline him for just a couple weeks and shouldn't impact his availability for the season.

— Ian Rapoport (@RapSheet) August 14, 2020

Heading into 2020, the Browns were looking to have a bounceback season.
However, losing their starting center may set back the offense early in the season.
Since joining the Browns in 2017, Tretter has started all 48 games at the center position.
According to Kevin Stefanski, there is not a certainty when Tretter will return to the field:
#Browns Kevin Stefanski won't say when JC Tretter will be back from his knee procedure but it's a great opportunity for rookie Nick Harris pic.twitter.com/O2BDtylLr8

— Mary Kay Cabot (@MaryKayCabot) August 14, 2020
Cabot is reporting that the University of Washington's Nick Harris may start the season at center.
Rapoport then tweeted saying that either Tretter will either be ready for Week 1 or will miss multiple weeks:
From Inside Training Camp: The #Browns got a skinny Baker Mayfield this summer, which was a good sign… but center JC Tretter had surgery, which isn't as good. For Tretter, it's either Week 1 or Week 3, based on the schedule. pic.twitter.com/9ju1Z3c1r1

— Ian Rapoport (@RapSheet) August 14, 2020
As we get closer to the beginning of the 2020 season, we will have to see what happens with Tretter's recovery.
Tretter, the 2020 President of the NFL Players Association, has made the decision to play football this season.
He just needs to be healthy enough to do so.
This will be a challenge for Stefanski in his first year as a head coach.
However, the Browns may be able to survive a couple of weeks without their starting center.
What Happens if the Tretter Misses the Beginning of the Season?
While the procedure is not considered a major one, it occurred just under one month before the NFL season.
Therefore, there are reasons to not rush Tretter back to the field.
In a 16-game season, Tretter's health is very important, and if he is on the offensive line in Week 1, then he may be putting the rest of his season in jeopardy.
Also, without a 2020 preseason, it will be difficult for all players to get back into the groove of playing every Sunday.
If he is fresh off rehabbing from surgery, then he may need a couple of weeks before returning to the FirstEnergy Stadium field.
If Tretter misses the beginning of the regular season, then Baker Mayfield may be seeing more pressure.
During all of 2019, Tretter allowed just one sack over the course of 1,039 offensive snaps, according to PFF.
If Harris steps into the role as the team's center, he may not be to produce as well as Tretter.
Although Tretter has yet to make a Pro Bowl during his seven-year NFL career, he had just five penalties called on him during 2019.
NFL.com's draft preview projected Harris as a "good backup," so that could come to fruition in Week 1.
In 2019, the Browns had a top-10 run-blocking offensive line, according to Football Outsiders.
Harris can be a stopgap for Tretter while he is out.
With new additions Jack Conklin and Jedrick Wills Jr. on the offensive line, the Browns have PFF's most improved offensive line in the league.
According to PFF, the Baltimore Ravens will bring the 17th-best defensive line in Week 1.
Then in Week 2, the Bengals have the 10th-best one.
In the Browns' four games against the two divisional opponents, they averaged more than 26 points per game.
While they may not have Tretter in Week 1, the Browns could still have a productive offense early in the season.