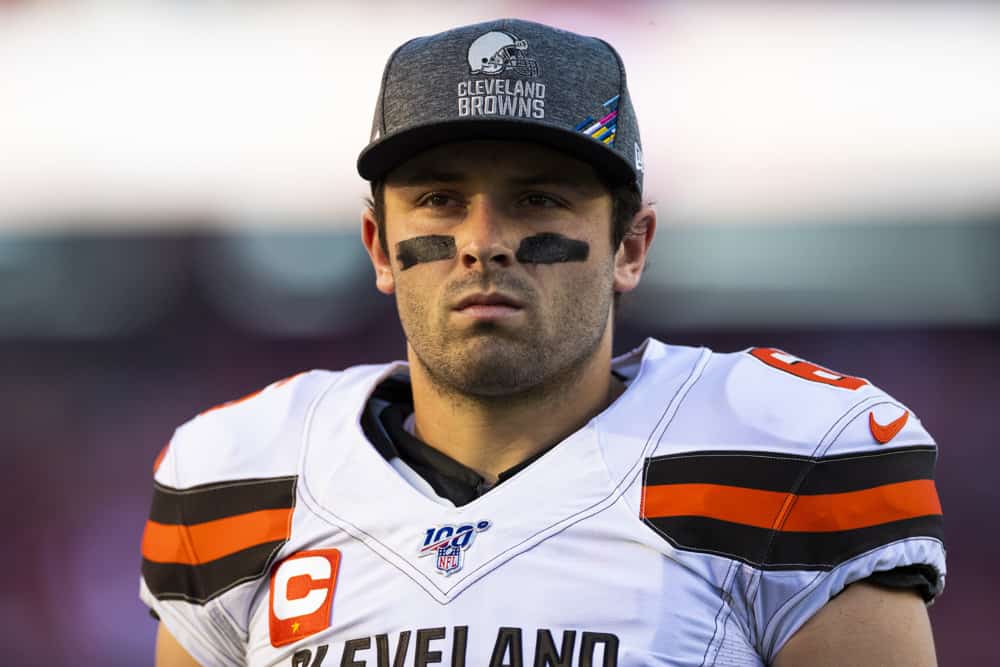 Cleveland Browns QB Baker Mayfield reaffirmed his position that he will be kneeling for the national anthem when the Browns open their season September 13.
Recall that he made this statement on social media last week and received a lot of pushback for it.
But he has the support of Coach Stefanski and teammate Jarvis Landry to name a few.
#Browns Kevin Stefanski on Baker Mayfield saying he will kneel during national anthem: I'm proud of all of our guys who've done research, educated themselves and been thoughtful about their action and words. Baker fits in that category. Social justice remains constant focus.

— Scott Petrak ct (@ScottPetrak) August 7, 2020
#Browns Jarvis Landry texted Baker Mayfield "much respect" when he said he'd "absolutely" kneel for the national anthem pic.twitter.com/jzDxOL2GRf

— Mary Kay Cabot (@MaryKayCabot) August 14, 2020
Baker's Position
Mayfield reiterated that his kneeling is not in any way to disrespect the military.
""Right is right and wrong is wrong. It's nothing against the military. Anybody that knows me knows I complete support the military. It's a human rights issue.''
Significance of Kneeling During Anthem
This issue emerged during the beginning of the 2016 season which also corresponded with a heated Presidential election.
Colin Kaepernick, the San Francisco 49ers QB, began kneeling during the national anthem to peacefully protest police brutality and racial injustice.
The kneeling caught on and spanned to other professional sports.
Kaepernick went from a promising star and Super Bowl QB to an outcast who couldn't land a job in the NFL, starting or otherwise.
The widely regarded opinion is that his kneeling during the national anthem was the principal reason.
Tryouts with other teams proved fruitless for him, and to this day, he remains out of the game at only 32 years of age.
As a result, in 2017, Kaepernick (along with Eric Reid) filed a grievance with the NFL.
The grievance was settled in 2019; the parties split $10 million.
Kneeling Became Political
Donald Trump weighed in on the kneeling argument during his campaign and Presidency.
Trump believed that Kaepernick should have been suspended for kneeling.
He told Fox News,
"The NFL should have suspended him for one game and he would have never done it again, They could have then suspended him for two games and they could have suspended him again if he did it a third time, for the season, and you would never have had a problem."
Kaepernick Post-NFL
His activist positions didn't end when he stopped playing.
Kaepernick became co-founder of Know Your Rights Camp whose mission is  "to advance the liberation and well-being of Black and Brown communities through education, self-empowerment, mass-mobilization and the creation of new systems that elevate the next generation of change leaders."
He also was awarded the Robert F. Kennedy Ripple of Hope Award for 2020.
2020 Activism And The National Anthem
The fanfare surrounding Colin Kaepernick's kneeling during the anthem largely subsided when he left the NFL.
However, in 2020, amidst a global pandemic and Black Lives Matters protests erupting around the country as a result of a string of black lives lost at the hands of police officers, kneeling during the national anthem has come to the forefront again.
Baker Mayfield, knowing the cost Kaepernick paid for his activism, is putting himself out there in an effort to advance the message.
It is no longer 2016, and the issues seem more obvious (painfully so as a result of the camera footage of George Floyd's arrest and ultimate death) so let's hope this peaceful protest can prevail and make an impact.