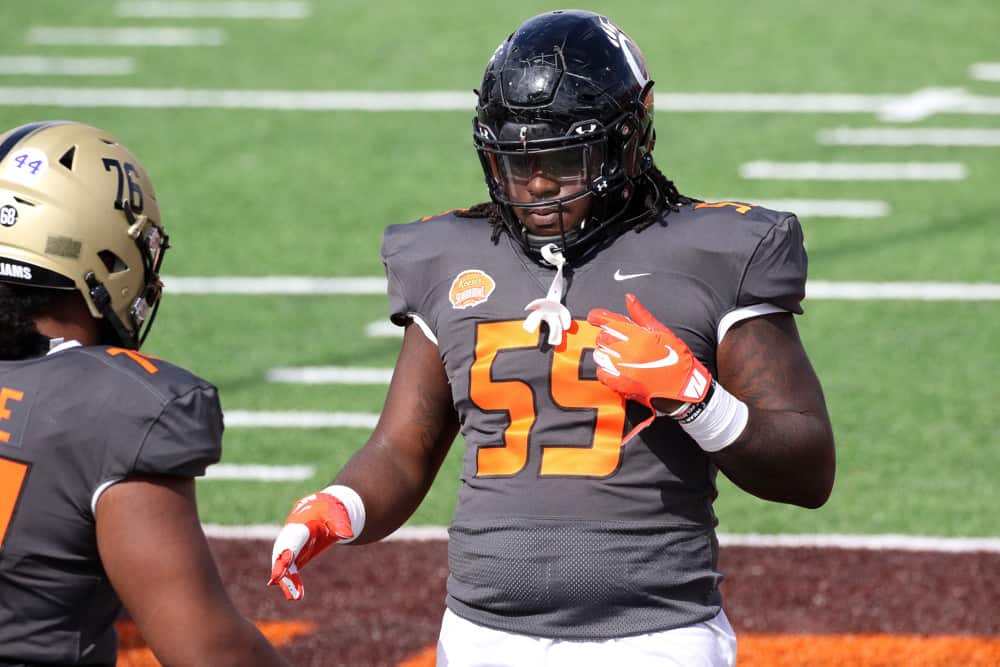 The Cleveland Browns stuck with offense with its fourth round (110th overall) draft pick at Saturday's 2021 NFL Draft.
Welcome to Cleveland, James Hudson!#BrownsDraft pic.twitter.com/ttjbBo0spl

— Cleveland Browns (@Browns) May 1, 2021
They selected tackle James Hudson from the University of Cincinnati.
Who Is James Hudson?
Hudson is 6'4 3/4″ and weighs 313 pounds.
James Hudson started his college career at the University of Michigan in 2018 and transferred to Cincinnati in 2020.
He sat out the 2019 season because of NCAA transfer regulations.
Some believed he transferred because of a lack of playing time, but others thought he wanted to come home to Ohio.
Hudson is a native of Toledo, Ohio and was ranked the ninth highest player in the state of Ohio his senior year of high school.
At Central Catholic High School in Toledo, Hudson notched a total of 16.5 sacks in his final two years of high school.
Though his college experience has been limited to two seasons, Pro Football Network's Tony Pauline talks about Hudson's game.
"Hudson wasn't just any defensive lineman. He was a dominant, disruptive, force terrorizing the opposition backfield. As a junior, he logged 82 tackles, 25 tackles for loss, and 8.5 sacks. The following season, he was named to the AP All-Ohio First Team. The All-Three Rivers Conference Player of the Year recorded another 80 tackles, 34 of which were for loss, and added another eight sacks."
Browns 4th RD pick OT James Hudson at Cincinnati:

🔸 Pass-block snaps: 358
🔸 QB pressures allowed: 6
🔸 Sacks: 0 pic.twitter.com/z6rfjZ9Zim

— PFF Draft (@PFF_College) May 1, 2021
Depending on the mock draft, Hudson was projected to go anywhere from the second to the fourth round.
Pauline also identified upsides with Hudson.
"Perhaps the most impressive part of Hudson's game is his athleticism. He is incredibly explosive at the time of the snap, quickly getting into his pass sets on passing plays. This becomes an even bigger asset in the run game. He can explode to the second level with ease, helping spring ball carriers for a big gain. In the run game, he plays with a nastiness, enjoying driving opposition linemen and linebackers to the ground."
Welcome to Cleveland, James Hudson!