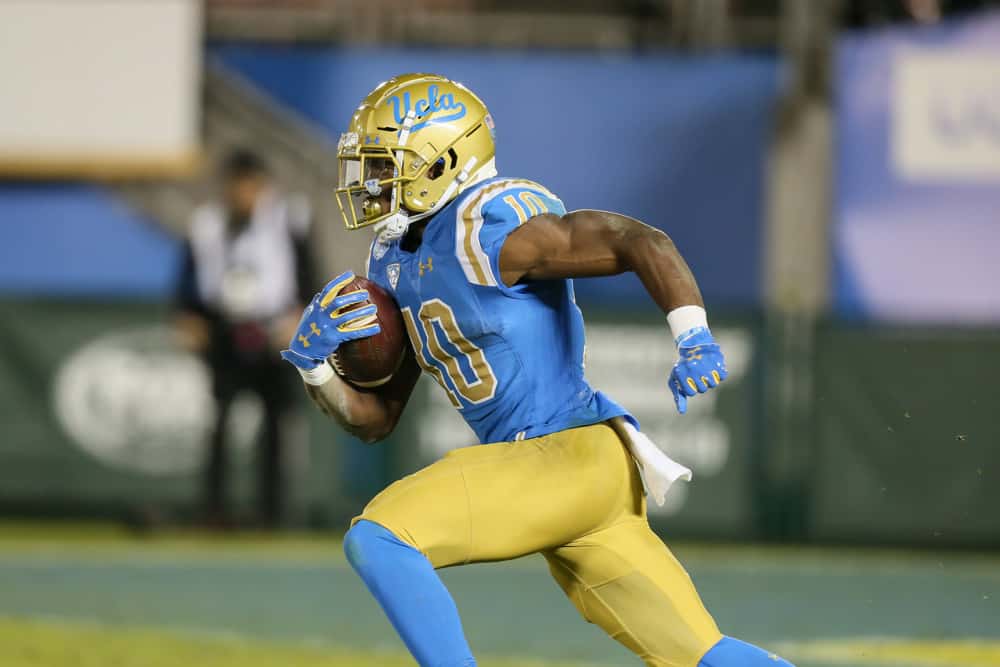 In a somewhat surprising move, the Cleveland Browns have selected another pass catcher in the 2021 NFL Draft. 
WIth the 211th pick of the 6th Round, the team grabbed UCLA receiver/running back Demetric Felton. 
He joins an already crowded receiver room with Odell Beckham Jr., Jarvis Landry, Rashard Higgins, Donovan Peoples-Jones, KhaDarel Hodge, and yesterday's pick in the 3rd Round, Anthony Schwartz.
Welcome to Cleveland, Demetric Felton!#BrownsDraft pic.twitter.com/PlTiqO4DZy

— Cleveland Browns (@Browns) May 1, 2021
Felton was a four-star recruit out of Great Oak High School in Temecula, California.
As a senior running back at Great Oak, Felton rushed for 1,347 yards and 14 touchdowns.
He committed to UCLA and, after redshirting the 2016 season, Felton played in 2017 and gained 75 yards rushing and one score.
In 2018, he started eight games, collected 20 catches for 207 yards, a touchdown, and 27 yards rushing.
Browns' Demetric Felton is listed as a RB

Here is his route running ⬇️

— PFF Draft (@PFF_College) May 1, 2021
2019 saw Felton playing both positions again and grabbing 55 passes for 594 yards and four scores.
Additionally, he rushed 86 times for 331 yards and a touchdown and returned a kick for a score.
This past season, Felton rushed for 668 yards and five rushing touchdowns, 22 receptions for 159 yards and three more touchdowns.
After the season, he was named Second-team All-Pac 12.
Felton was also invited to the Senior Bowl.
Browns select RB Demetric Felton with the 211th pick in the NFL Draft

Felton has 17 catches of 15+ yards since 2019 (2nd most among RBs in CFB) pic.twitter.com/ay0CINUBld

— PFF Fantasy Football (@PFF_Fantasy) May 1, 2021
Scouts believe Felton will most likely transition to receiver full-time in the NFL.
They like his agility in route running and ability against press man coverage.
Felton's run after the catch and athleticism have also won over teams.
He brings a versatility that many teams like, but also made for difficulty in seeing his true pro potential.
Here is what else NFL scouts took away from Felton's time in Los Angeles:
Strengths:
Hybrid potential as running back and receiver
Loose and limber to slip around traffic as runner
Plays with unbridled energy and urgency
Looked very smooth and natural as receiver at Senior Bowl
Displays adequate foot quickness and hand fighting to counter press
Gains ground on coverage out of route stems
Hip sink to sell his double moves
Sudden hands to pluck throws right on top of him
Makes adjustments for throws outside his frame
Features running back power, vision and balance after the catch
Lower-body strength consistently shakes high tackle tries
Kick return experience in his background
Weaknesses:
Lacks patience and will rush ahead of blocks
Catches punishing strikes as a runner
Will need more work and experience at receiver
Route tree had very few branches on it at UCLA
Average short-area footwork getting into breaks
Doesn't work back to quarterback from zone hole
Will need to develop hands and pass-catching instincts
Hasn't shown talent for finishing catch through contact
It will be interesting to see how Kevin Stefanski and his staff utilize the many facets of Felton's game in Cleveland.