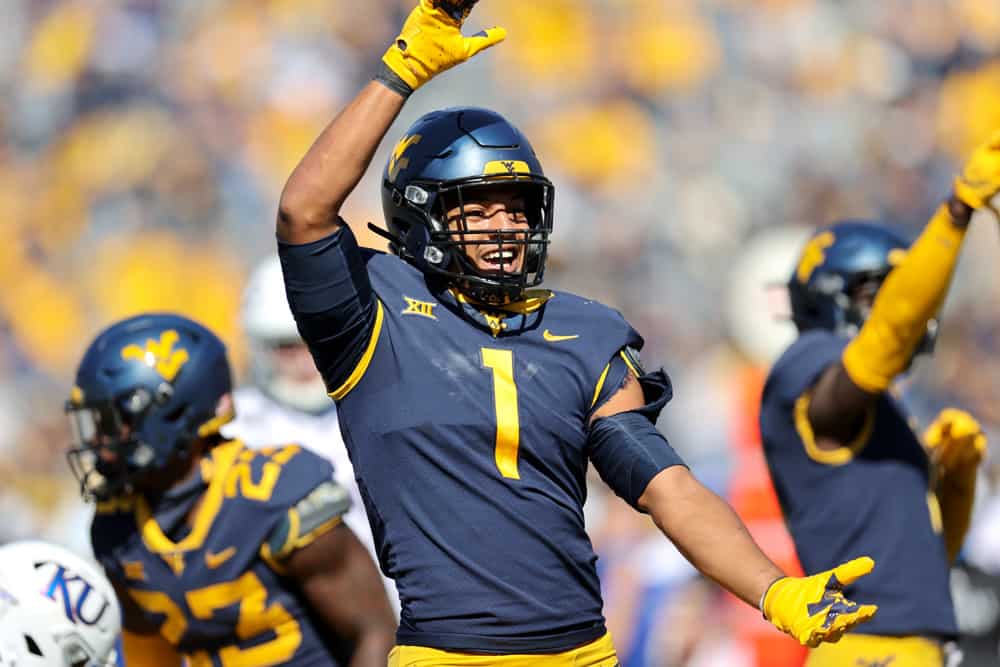 The Cleveland Browns selected linebacker Tony Fields II in the 5th round of the 2021 NFL Draft.
Fields was the 153rd overall pick.
Welcome to Cleveland, Tony Fields II!#BrownsDraft pic.twitter.com/LBRA8VGexN

— Cleveland Browns (@Browns) May 1, 2021
Who Is Tony Fields II?
He was a three star prospect out of Las Vegas, Nevada.
Fields played both linebacker and wide receiver in high school.
He is a transfer from the University of Arizona where he spent the 2017-2019 seasons.
Fields measures 6'0 1/4″ tall and weighs 222 pounds; he has great instincts and players bigger than his size.
Tony Pauline of Pro Football Network evaluated Fields and provided the following analysis.
"He's still not the strongest player, but even in blocking situations against larger opponents, he has the capacity to break free with his hands. He also brings solid balance to the fold, which helps to supplement his measured play strength."
He led West Virginia with 88 tackles in 2020.
Called a "train stopper" by his WVU coach Neal Brown, Fields was named to the 2020 1st Team All Big 12 Team.
Fields started 45 of his 46 career college games.
He recorded 375 career tackles in his 46 games; 215 of those were solo tackles.
Fields has three interceptions.
He also got great exposure at the Senior Bowl.
West Virginia's Tony Fields was named top LB on National team in a vote from the RB and TE groups at practice player-of-the-week awards ceremony tonight at 2021 Reese's Senior Bowl. #TheDraftStartsInMobile pic.twitter.com/KC1TREApL4

— Jim Nagy (@JimNagy_SB) January 30, 2021
Depending on which mock drafts reviewed, Fields was projected anywhere from 160th to 232nd overall.
Coach Neal Brown On Fields
Brown had high praise for Fields whom he only had for one season.
Shortly after Fields arrived at WVU and began practicing with the team, Brown said:
"He really runs and you can tell he loves to play the game. (He) plays at full speed every snap, great in pursuit, he's learning our movements, he's got great energy and he's physical at the point of contact. Excited about him, what he's going to bring all-around to our defense."
Later in the season, Brown added:
"He loves contact, loves to play, and he's only going to continue to get better. He's an NFL prospect. I mean, he's going to play in the NFL."
Welcome to Cleveland, Tony Fields II!