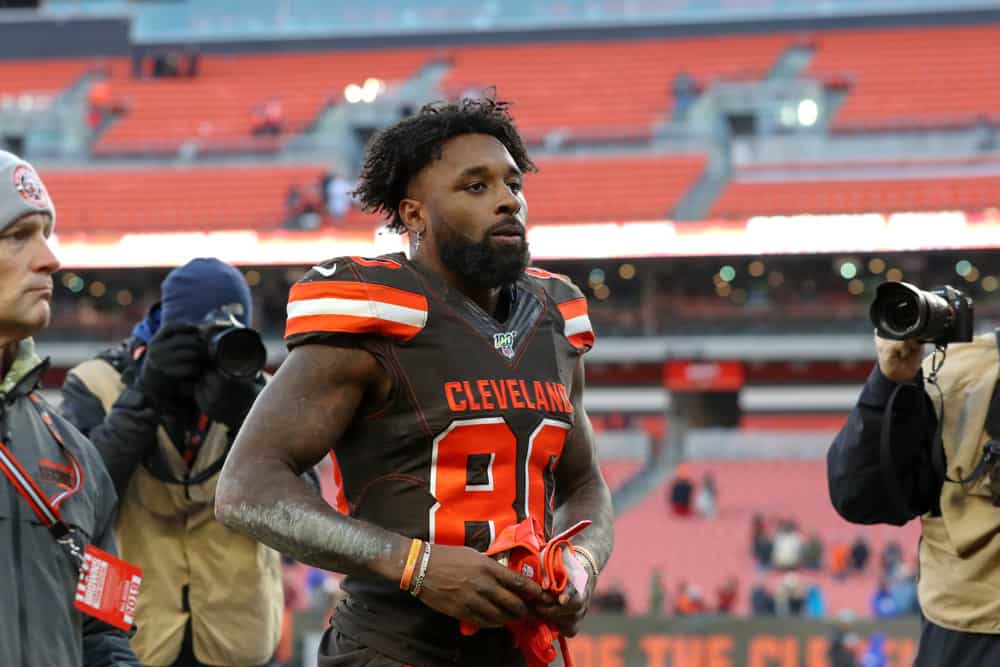 The Cleveland Browns are juggling wide receivers.
Earlier today, we learned that the Browns worked a trade with the Dallas Cowboys to acquire Amari Cooper.
A first look at Amari Cooper in a Browns uniform, made by my guy @zjchatham. pic.twitter.com/7BMfrF4bZk

— Field Yates (@FieldYates) March 12, 2022
Within hours, it is now being reported that the Browns are giving Jarvis Landry permission to seek a trade.
On the same day they agreed to trade for WR Amari Cooper, the Browns also have granted permission to veteran WR Jarvis Landry to see a trade, per sources.

— Adam Schefter (@AdamSchefter) March 12, 2022
Seemed Inevitable
Even before the Cooper trade, it seemed inevitable that Jarvis Landry would not be with the team in 2022.
While addressing the media in January, Andrew Berry, who gives nothing away, delivered heartfelt words about Landry that sounded like a goodbye speech.
"I think everybody on this call knows how much respect we have for Jarvis Landry and really what he has meant for our team and organization over the past several years. He has been a productive player for us really since the day that we traded for him, and he has been really a key piece in terms of how the team and organization has evolved over the last several years."
Financially speaking, the Browns are absorbing Cooper's $20 million annual salary so it is logical to assume they did not want to take Landry's cap hit of $16.4 million also.
Landry's Legacy
Landry is 29 years old, and 2022 is the final year of his 5 year $75 million contract.
2021 was not a great year for him; he battled injuries and was not on the field as much.
Landry was instrumental in changing the culture in Cleveland from the moment he arrived in 2018, and that could be his most enduring legacy.
In four seasons and 59 games, Landry had 15 touchdown catches and 4 rushing touchdowns.
Tip toe touchdown by Jarvis Landry😤 pic.twitter.com/ATO6gaz7A8

— Everything Cleveland (@everythingcle_) December 6, 2020
He is also an accomplished passer completing 5 out of 6 in his four seasons for 137 yards and 1 touchdown to his best friend and college teammate Odell Beckham Jr.
JARVIS LANDRY THROWS A TOUCHDOWN TO OBJ! #Browns

📺: #CLEvsDAL on FOX
📱: NFL app // Yahoo Sports app: https://t.co/wvEEn0SFTV pic.twitter.com/InkYL6GjVP

— NFL (@NFL) October 4, 2020
Interested Teams
It is too early to gauge how many teams will be interested in Landry.
The Jacksonville Jaguars could use a veteran receiver of his caliber.
More intriguing is the possibility that he could follow OBJ to the Los Angeles Rams.
OBJ tore his ACL and is a free agent so it is not clear how the Rams plan to handle his situation.
Stay tuned.