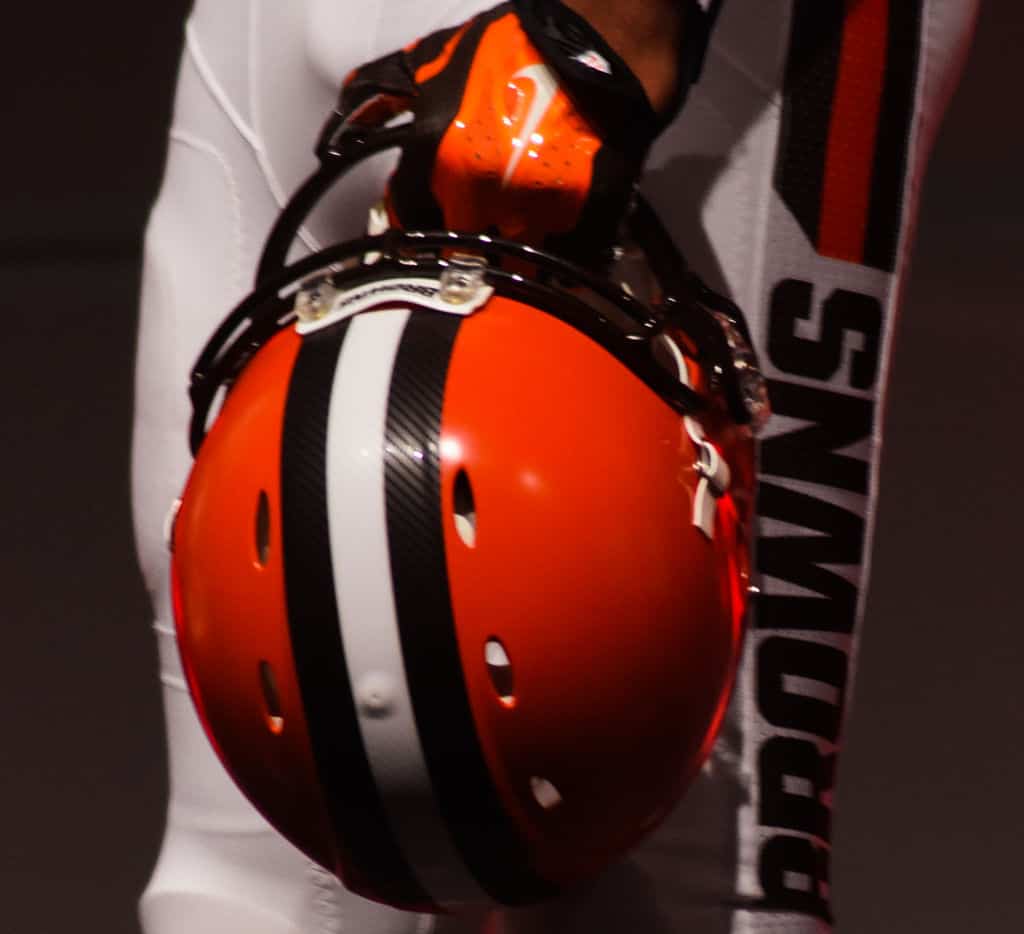 The Cleveland Browns have 4 of the NFL's Top 101 players of the 2021 season.
This is according to Pro Football Focus (PFF) who released their list this week.
3 of the 4 Browns players were also Pro Bowlers this season.
Without further adieu, here are the 4 Browns who made this year's PFF list.
Garrett Is 7th
Myles Garrett is the top-ranked defensive end on PFF's list.
With this sack, Myles Garrett breaks the Browns' franchise season record with 15 sacks this season.

Cleveland still has 4 games left to play 🤯
(via @NFL)pic.twitter.com/45mQM59ger

— Bleacher Report (@BleacherReport) December 12, 2021
He is ranked 7th in the Top 101 which is 36 places higher than his 2020 ranking of 43rd.
Garrett's high score was based upon his PFF pass-rushing grade of 92 which was only bested by linebacker Micah Parsons who rushed the passer 217 fewer times.
Also in the Top 20 was Las Vegas Raiders edge rusher Max Crosby who was ranked 12th.
Crosby was not ranked in 2020.
Somewhat surprising is that Pittsburgh Steelers' defensive end and the 2021 Defensive Player of the Year, T.J. Watt fell to 20th this year.
Last season, he was 9th.
Their PFF grades for 2021 are 91.7 and 89.6 respectively.
Bitonio Is 11th
Mr HypeMan himself @JoelBitonio was absolute tank in the 2021 season for the #Browns. Only allowing 2 sacks this past season.

PFF Grades
Overall:93.6
Run Blocking:92.5
Pass Blocking:85.6 pic.twitter.com/7CDDcUf5up

— Down With The Browns Podcast (@DWTB_) February 16, 2022
Guard Joel Bitonio almost cracked the Top 10 in this year's list but ended up in the 11th spot.
He was the second-highest ranked guard in the NFL behind Zack Martin of the Dallas Cowboys who was 4th.
Bitonio has been outstanding throughout his career, but he recorded a personal best run-blocking grade in 2021 according to PFF.
It was 92.5.
In 2020, he was ranked 46th on PFF's Top 101.
PFF noted that Bitonio was one of the best players on the Browns roster as well as throughout the entire NFL this season despite the fact that the Browns performance fell below expectations.
Chubb Is 36th
Nick Chubb, listed as a halfback, is the second-highest running back on the list at number 36.
Jonathan Taylor of the Indianapolis Colts came in at number 15.
Chubb was unranked last season, and PFF noted he was not as good this year as in prior years.
Bu for the 4th straight year, Chubb has an 80+ PFF rushing grade; he is the only NFL player to accomplish that.
PFF noted his weakness is his lack of use in the passing game.
Nick Chubb needs to be protected at all costs!! pic.twitter.com/jzHKqtZI3l

— Kyle Pringle (@Kyle_CLE_OSU) February 10, 2022
Tretter Is 89th
#Browns Offensive line pressures allowed per game.

1️⃣ J.C. Tretter, 0.625
2️⃣ Joel Bitonio, 1
3️⃣ Jack Conklin, 1.1
4️⃣ Wyatt Teller, 1.4
5️⃣ Jed Wills, 2.2
6️⃣ James Hudson, 2.2
7️⃣ Blake Hance, 2.6
8️⃣ Chris Hubbard, 3
9️⃣ Michael Dunn, 3.5

Nick Harris, no pressures, but only 1 Game

— Browns Analytics Bot 🤖 ➐ (@Browns_Bot) February 3, 2022
Center J.C. Tretter is consistently good evidenced by his ranking at number 80 in 2020 and 89th in 2021.
PFF noted his run blocking is good, but his pass blocking is even better.
Tretter recorded his 7th straight season with a pass-blocking grade of 80 or more.
Browns On The 2020 PFF Top 101 List
For those wondering how many Browns made the list in 2020, there were 7.
They included Wyatt Teller (18th), Garrett (43rd), Baker Mayfield (45th), Bitonio (46th), Jarvis Landry (58th), Jack Conklin (62nd), and Tretter (80th).
That means Teller, Mayfield, Landry, and Conklin dropped out of the rankings this season.
What It Means
It means both something and nothing.
Recognizing these players as consistent performers is great, but in some respects, the individual rankings are not significant.
The Super Bowl Championship is the highest level of excellence in the sport and the one accolade these athletes are playing for.
Just ask Cooper Kupp (ranked 3rd) and Matthew Stafford (ranked 43rd) which achievement they are proudest of this season.