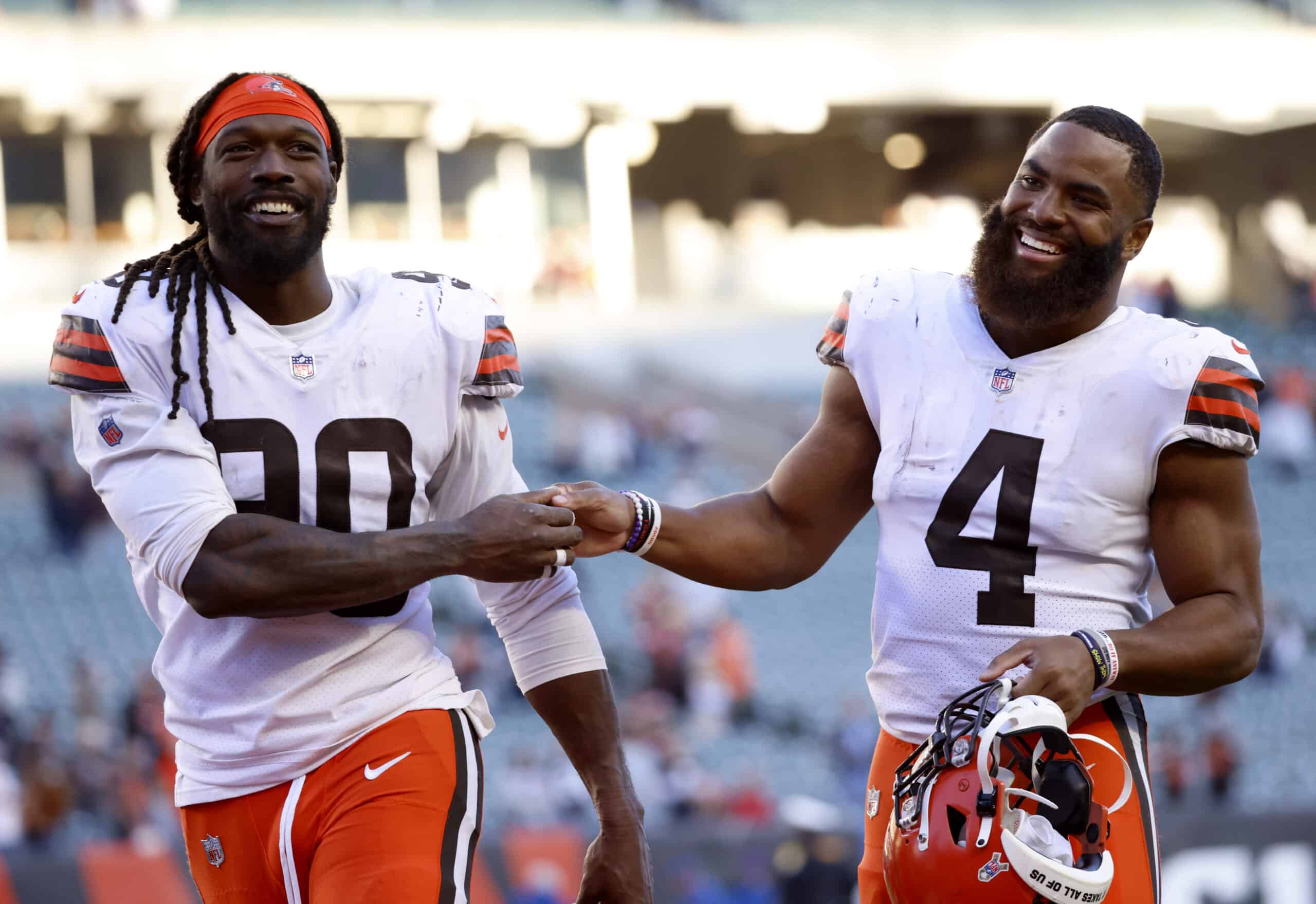 Next season's Cleveland Browns team might look very different.
With contracts expiring and upgrades at certain positions needed, Andrew Berry will be busy.
One big factor in the Browns' offseason plans is defensive end Jadeveon Clowney.
The former number one draft pick came to Cleveland last spring on a one-year deal worth $8 million.
Clowney played well in 2021 and may be too expensive for the Browns to retain.
The #Browns should do whatever they can to bring back DE, Jadeveon Clowney:

'19 & '20 2021
21 Games 13
3.0 Sacks 7.0
41 Pressures 26
19 QB Hits 17

Thriving in the 216. 🔥 pic.twitter.com/wMeBYq7wMe

— The Hottest Take (@Hottest_TakePod) January 5, 2022
If Clowney does head for the exit doors, here are a couple of replacement options for the Browns front office to look at.
Melvin Ingram
Sticking with the theme of former first-round picks, Melvin Ingram will be a free agent this spring.
He started last season with the Pittsburgh Steelers but ended up in Kansas City following a trade.
Reports later surfaced that Pittsburgh traded Ingram due to his unhappiness with his role in Pittsburgh.
After landing with the Chiefs, Ingram had a solid second-half of the season.
His stats don't come flying off the page though.
In nine games with the Chiefs, he tallied one sack and 15 tackles.
MELVIN INGRAM!!! pic.twitter.com/gF85ju4dbb

— 준 Jun (@Royals_Jun) January 30, 2022
MELVIN INGRAM AGAIN!!!!! pic.twitter.com/crmz2he0mr

— 준 Jun (@Royals_Jun) January 30, 2022
However, the Chiefs did improve defensively immediately after acquiring Ingram.
The #Chiefs defense, for 8 weeks after the Melvin Ingram trade, was elite. pic.twitter.com/sdWWM4Sc1M

— Dov Kleiman (@NFL_DovKleiman) January 30, 2022
Ingram will be 33 by the time next season starts.
As with the Clowney signing, bringing in Ingram would not be a long-term move.
However, fans saw the benefit of having a prolific pass rusher opposite of Myles Garrett.
Despite the age factor, this could be another short-term gain for Cleveland.
Hasson Reddick
A younger option for the Browns to consider pursuing is Haason Reddick.
At age 27, a multi-year contract is very much on the table.
After starting his NFL career as an inside linebacker, Reddick has become an outstanding pass rusher in recent years.
Last offseason, Carolina nabbed Reddick on a deal similar to Clowney's.
Per Pro Football Focus, his 28 sacks since 2020 are the fourth-most among edge-rushers.
Reddick made an impact with the Panthers defense, logging 68 tackles, 11 sacks, and forcing two fumbles.
Haason Reddick as the LEO in Gus Bradley's #Colts defense 🤤 pic.twitter.com/BuY7r3s3uZ

— Locked On Colts Podcast (@LockedOnColts) February 9, 2022
The age factor is what makes this option intriguing for Berry and the front office.
Look at the list of available edge free agents.
Most guys at the top of the list are on the wrong side of 30.
While bringing in a long-term replacement for Clowney wouldn't be necessary, I'm sure Myles would not mind some stability at the spot opposite of him.
Given his performance last season, Reddick will likely be seeing a pay increase as well.
Whether that's beyond what Cleveland can afford or not will be the true question.
PFF predicts it to be in the three-year, $11.5 million ballpark.
Derek Barnett
Philadelphia Eagles fans, shield your eyes.
Some in Philly have officially labeled the 2014 first-round pick a bust.
The Eagles picked up Barnett's fifth-year option heading into last season in the hopes he might finally break out.
Barnett posted career lows with 11 quarterback hits and just two sacks.
He will more than likely be looking for a new home this offseason.
While that doesn't scream confidence to Cleveland's front office, perhaps a change of scenery is exactly what Barnett needs.
Despite inconsistent play and issues with penalties, Barnett displayed signs of being able to use his size and strength effectively.
Speed bull rush by Derek Barnett. Barnett uses violent hat & hands to walk his blocker back & sack the QB! #speedtopower #passrush #flyeaglesfly pic.twitter.com/AcaPi8NO78

— DLineVids (@dlinevids1) March 31, 2021
Barnett is young and will be just 26 at the start of next season.
There is time for him to become the player the Eagles thought he could be.
Cleveland is in win-now mode and can't get too cute with their singings.
However, if Berry and company truly believe he can succeed in northeast Ohio, he could be a nice steal this offseason.
Honorable Mention: Solomon Thomas
Solomon Thomas had a career resurgence in Las Vegas last season.
If price didn't matter, he'd be a more viable option than Barnett.
Unfortunately, price is a factor, and Thomas may be too expensive for Cleveland's liking.
Still, he's absolutely a name to consider and could end up being cheaper than Ingram.