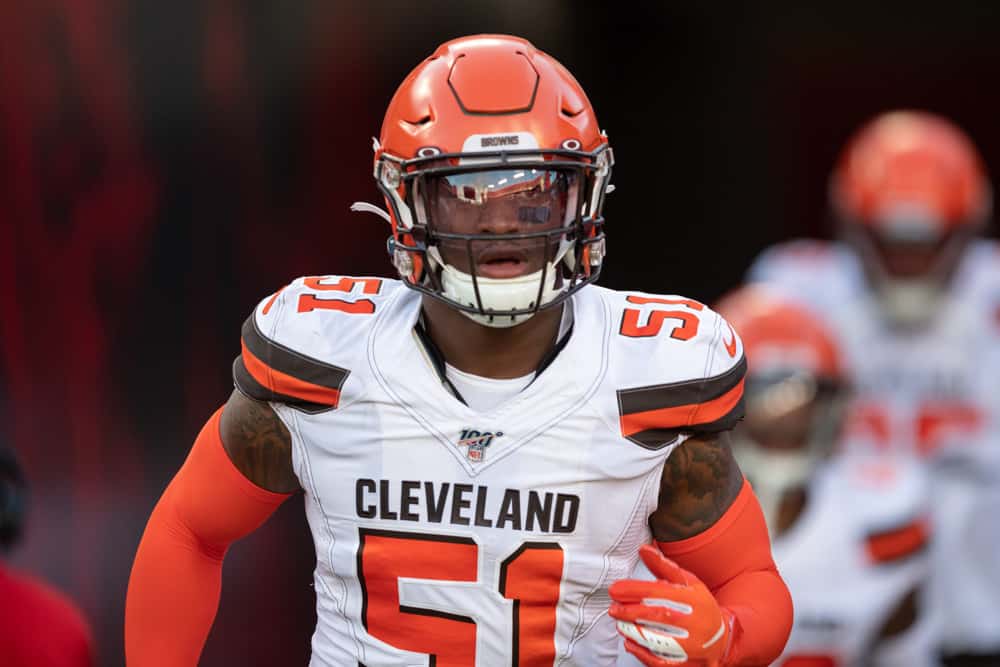 Cleveland Browns linebacker Browns Mack Wilson left practice on Tuesday after sustaining what appears to be a left knee injury:
#Browns LB Mack Wilson helped off the field by trainers and being worked on after hurting his leg or cramping

— Mary Kay Cabot (@MaryKayCabot) August 18, 2020
#Browns Mack Wilson sitting up with his head in his hands for much of that cart ride into the fieldhouse

— Mary Kay Cabot (@MaryKayCabot) August 18, 2020
This injury comes just one day after Wilson's tackle that caused Nick Chubb's injury.
Here's the video of Mack Wilson taking down Nick Chubb which injured his head/neck. #Browns

— MoreForYouCleveland (@MoreForYou_CLE) August 18, 2020
Mack Wilson defended himself after sending Chubb to the concussion protocol.
I just practice with a lot of passion, my intentions is to never hurt anyone on my team nor any other player I'm going up against. We good though keep the negative comments to yourself. #NoBarkALLBITE

— Mack Wilson (@5mackwilson1) August 17, 2020
What Happened with Wilson's Injury?
Unfortunately for the Browns and Browns fans, preseason practice has been nothing short of a disaster.
As the Browns cross their fingers for a quick recovery for Chubb, they hope the same for Wilson.
During a seven-on-seven drill, the second-year linebacker went down with a left knee injury.
Wilson will undergo further evaluation to determine the severity of the injury:
Mack Wilson suffers knee injury, undergoing evaluation

📰 » https://t.co/oxrmYo8RAE pic.twitter.com/1EcWWJKsAs

— Cleveland Browns (@Browns) August 18, 2020
Will the Defense be Affected by Wilson's Injury?
If Wilson's injury ends his season, this will be a huge blow to a defense that relied on the fifth-round draft pick for the majority of his rookie season.
Wilson played an impressive 89 percent of the Browns' defensive snaps in 2019, according to Pro Football Reference.
He also helped Cleveland on special teams last year.
Wilson played 127 special teams snaps, which accounted for 29 percent of the team's special teams snaps.
Via Pro Football Focus, his number of solo tackles (63) and assists (16) both ranked in the top 40 in the NFL among linebackers last season.
He is expected to improve upon those statistics in 2020 if he is healthy.
Last year, the Browns ranked 20th in the NFL in points allowed, 22nd in yards allowed, and 26th in takeaway/giveaway ratio.
In his sophomore season, Wilson hopes to be a part of what he calls an underrated Browns linebacking corps in 2020.
However, it remains to be seen how long he is out for with his knee injury.
The Browns hope that Wilson's injury is a day-to-day problem instead of a long-term one.
The Number of Browns Injuries is Increasing by the Day
Unfortunately, this was not the time for Chubb and Wilson to have injuries.
Most may blame Wilson for the current situation, but this is just an unlucky couple of days at training camp.
Here is the list of players who did not practice on Tuesday:
Update from #Browns training camp today:

-The following players did not practice due to injury: Nick Chubb (concussion), Myles Garrett (hamstring), Larry Ogunjobi (groin), Damion Ratley (groin) and JC Tretter (knee).

-Mack Wilson left today's practice with a knee injury.

— Camryn Justice (@camijustice) August 18, 2020
In addition, safety Karl Joseph has been limited at training camp due to a foot injury.
Jarvis Landry's hip also will be monitored throughout the preseason practices.
With this number of injuries occurring, the bright spot is that Baker Mayfield, Odell Beckham Jr., Kareem Hunt, and Austin Hooper are all currently healthy.
We all hope that tomorrow does not bring us another new injury.