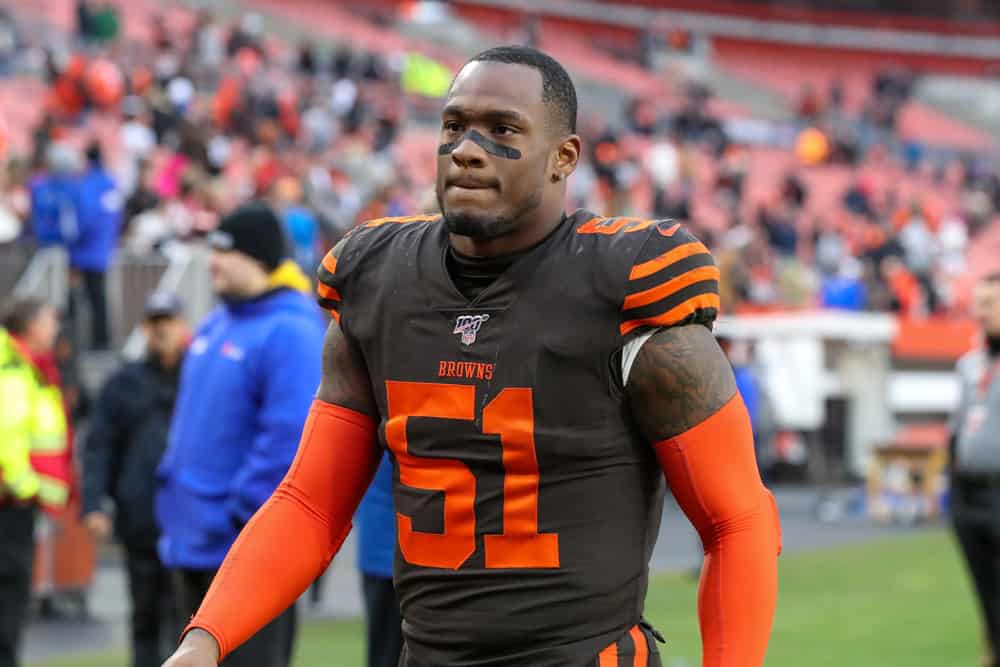 Cleveland Browns LB Mack Wilson is defending himself on social media after his collision with Nick Chubb at yesterday's practice.
It was the first practice in pads for the Browns.
Rain fell earlier so the field was wet.
But field conditions are not believed to be a factor in the incident.
I just practice with a lot of passion, my intentions is to never hurt anyone on my team nor any other player I'm going up against. We good though keep the negative comments to yourself. #NoBarkALLBITE

— Mack Wilson (@5mackwilson1) August 17, 2020
Mack Wilson is a second-year player so he is young and intense but has been through training camp before.
His comments are geniune, but he has to expect some pushback from Browns fans over something that could and should have been prevented.
The Play
Here's the video of Mack Wilson taking down Nick Chubb which injured his head/neck. #Browns

— MoreForYouCleveland (@MoreForYou_CLE) August 18, 2020
First team players were on the field.
Baker Mayfield threw a pass to Nick Chubb.
Mack Wilson tackles him around the neck and brings him to the ground.
It is alleged that his neck snapped; however, the injury is not perceived to be more serious than a potential concussion.
Chubb got up on his own and walked to the sidelines after the tackle.
A trainer walked with him off the field where he was further evaluated.
He did not return to practice; this happened midway through it.
Kevin Stefanski had 1 on 1 talk w Mack Wilson after high tackle of Nick Chubb in tackling period. Chubb left field.

— Tony Grossi (@TonyGrossi) August 17, 2020
Concussion – Yes or No?
There has not been a public statement or update on Nick Chubb's condition.
If he did suffer a concussion, he will have to go through the NFL's concussion protocol before returning to the practice field.
The protocol was implemented in 2013 and involves a rigorous evaluation of the player's symptoms and progression.
Among the final steps are being cleared by a team physician and an Independent Neurological Consultant.
The Browns open the 2020 season in less than a month (September 13 at Baltimore) so it is not yet clear if Chubb will be out for a short or long duration.
Nick Chubb
Chubb has been consistent and a positive force in the Browns offense since his rookie year in 2018.
During his rookie season, he scored 8 rushing TDs and finished just 4 yards shy of 1,000.
In 2019, Chubb improved his yardage to 1,494 and again rushed for 8 TDs.
Chubb was 47 yards short of winning the 2019 rushing title.
He played in all 16 games both seasons; starting in 25 of the 32.
Given that Coach Stefanski is likely to shift from a pass-focused to a rush-intensive offense, the 2020 expectations for Chubb have increased.
When asked about this, the naturally quiet Chubb said he was,
"Excited about the new offense, the new coaches, the new team, the new year."
(Note: Chubb was voted the quietest player on the 2019 Browns roster so he is never verbose with the media.)
Kareem Hunt
A potential Nick Chubb absence means Kareem Hunt could get more playing time, certainly in practice, but potentially at the beginning of the regular season depending on how things turn out with Chubb.
Hunt is coming off a suspension-shortened 2019 where he played 8 games.
He has not yet relived the glory he had in his rookie season (2017) with the Kansas City Chiefs.
Hunt won the rushing title in 2017 with 1,327 yards.
Nobody in Cleveland is complaining about having Kareem Hunt on the team. I promise you that.

— Jeremiah Divincenzo (@LateforPractice) August 18, 2020
Kareem Hunt is more than capable of handling the load until Chubb returns, but fans still hope Nick Chubb is back quickly.