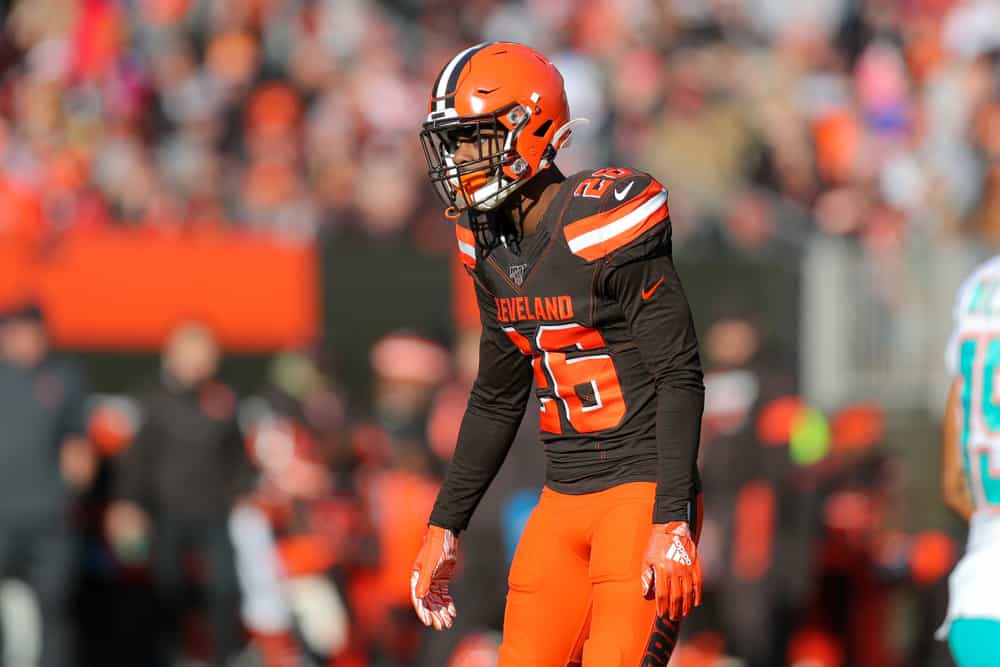 The Cleveland Browns drafted Greedy Williams with the No. 46 overall pick in the 2019 NFL Draft.
The defensive back was the team's first pick in the draft and he was expected to form a nice duo alongside Denzel Ward.
The Cleveland Browns traded up and with their first selection of the draft – the 46th overall pick in the 2019 #NFLDraft – they select LSU CB Greedy Williams! pic.twitter.com/lRPG76P0zs

— PFF (@PFF) April 27, 2019
What actually took place was a disappointing year for Williams and the entire team in general.
Now the team needs Williams to take a huge step forward in 2020 to help bolster a secondary in need of upgrades.
The best upgrade would be Williams improving, given his draft slot.
Greedy Williams in 2019
Williams appeared in the first two games of the season before missing over a month with a hamstring injury.
He finished the season with some lackluster stats.
Williams had 47 total tackles, only two passes defended, and a terrible mark of zero interceptions.
The rookie also entered the league with a tackling problem that was shown at several points throughout the season.
Looks like Greedy Williams' offseason is underway. https://t.co/nefJkQ2Iru

— Albert Breer (@AlbertBreer) December 29, 2019
That is the bad.
The good is that Williams wasn't getting torched for touchdowns every time he took the field.
Most Times Targeted, No TD Allowed

Tre'Davious White 81
Steven Nelson 65
J.C. Jackson 60
Greedy Williams 50
Jason McCourty 48 pic.twitter.com/IVtvTvveYM

— Sports Info Solutions (@SportsInfo_SIS) December 31, 2019
Williams finished the season with 62 targets coming his way and he allowed zero passing touchdowns, according to Pro-Football-Reference.
That came in 680 total defensive snaps.
For comparison, Ward had 83 targets his way and allowed one touchdown.
Yet, it is also important to note the yardage allowed.
Williams allowed 472 passing yards on his targets.
The yardage itself can lead to easy rushing touchdowns or pass plays near the goal line.
Stepping Up In 2020
The Browns seem to be losing players by the day on defense.
The linebacking corps has taken a blow with the losses of both Christian Kirksey and Joe Schobert.
Olivier Vernon may be the next to go along the defensive line.
The team currently has six defensive backs under contract.
Williams and Ward are the two starters.
Then there is Terrance Mitchell, who can be cut for a cost of only $666,668.
My #Browns top 3 potential cap cuts:
1. DE Olivier Vernon
2. CB Terrance Mitchell
3. OT Kendall Lamm
Total cap savings: $20,850,000

*Vernon came to CLE via trade with #Giants under then-GM John Dorsey. Releasing him wipes $15.5 million off the books with $0 dead money.

— Ryan Sakamoto (@BEASTwriter_) February 24, 2020
The remaining three players are Robert Jackson, Tavierre Thomas, and Donnie Lewis Jr.
Of course, this is before free agency and the NFL Draft.
However, it is clear that Williams will play a huge role either positively or negatively in the secondary this upcoming season.
Williams stepping up is not just important for the success of the Browns.
It is also important for his future in Cleveland and in the NFL in general.
The corner has a low dead cap value and could be cut after the 2020 season for just $1.36 million.
That value drops to $679,305 in 2022.
Williams was a John Dorsey draft pick and that only adds pressure as Andrew Berry and company will want to shape the team in their collective image.
The good news for Williams is that behind the general numbers he did not have a terrible season.
He just did not meet the high expectations fans had for him.
The entire team was a disaster and Williams didn't exactly join a team with great leadership.
Year two of his career will be more telling of whether he is a bust or someone who will get another contract in Cleveland.