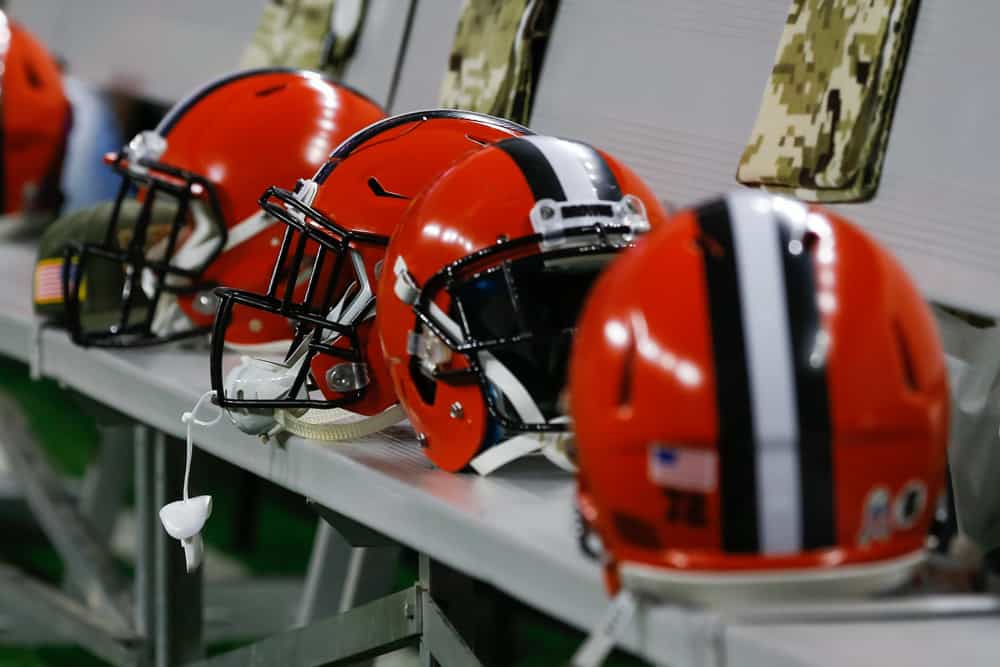 When Andrew Berry last worked for the Cleveland Browns, things were different.
Sashi Brown and Paul DePodesta had the team in full tank mode, unloading salaries and working on the cheap.
Brown didn´t survive long enough to enjoy the results.
Instead, John Dorsey inherited an insane amount of draft picks and cap room.
Dorsey´s initial moves raised the hopes of Browns fans everywhere.
But those raised hopes made 6-10 unacceptable and brought an early end to the Dorsey and Freddie Kitchens era.
Berry faces similar expectations.
Much of the fan base believes in Baker Mayfield and sees a wealth of talent on the roster.
When everyone agrees with what the problem is (offensive line), the fix seems simple.
Me: "The Browns need to sign several offensive linemen in Free Agency."

Some of Browns twitter: "No way, spending that much money on the offensive line is dumb."

Me: "OH REALLY?!"

— Michael Welsh (@MichaelWelsh9) March 7, 2020
Six wins won´t be acceptable this season either, despite a new GM and manager.
Berry and Kevin Stefanski need to bring winning football back to Cleveland right now.
They can´t do it all through the draft.
Berry needs to be a player in free agency.
Here are three reasons why.
1. It´s Practical: There Are Just Too Many Needs
As fans watched a promising 2019 season fade into oblivion, questions started to pile up.
But one question stood out.
Is Baker Mayfield the franchise quarterback or the latest miss in a long history of misses?
Baker Mayfield came to Cleveland no problem and wanted to turn this franchise around. Set the league on fire his rookie year and then had a down year in his second season due to multiple things and we have Browns media hating on him and giving up. I really don't get it.

— Browns Time (@DevotedBrownie) February 26, 2020
The brain trust publically says yes, Baker Mayfield is the man.
To prove it, they have to invest heavily in him.
Dorsey drew raves for landing Odell Beckham Jr last year.
But it is left to Berry to fix the offensive line, including the tight end position.
I remember when the Browns had a good offensive line and absolutely no weapons. Now the opposite. 2020 will be about having both in the right system for Baker. They're either on the doorstep to greatness or the highway to hell. #Browns

— Nick (@nlprater) December 22, 2019
Cleveland needs two new starting tackles and possibly a starting right guard.
They also need to add depth as there are few linemen on the roster they have confidence in.
The draft is deep, but landing three starting NFL-ready linemen is a tall task.
The team needs to make a strong move for plug-and-play free agents.
If Berry needs to overpay someone to convince them about Cleveland, so be it.
The Browns have other needs, too.
Bad news for the Browns:
They have several weaknesses
on their roster.

Good news for the Browns:
They have the means to address
them all this offseason. https://t.co/KtziLkiVi2

— Sporting News (@sportingnews) March 5, 2020
Tight end, safety, linebacker, and the defensive line can all use some help.
Drafted players generally need time to develop, especially those still on the board in the later rounds.
Stefanski needs to turn things around quickly.
Free-agent players usually move the needle faster than someone with potential and promise.
2. It´s Merciful: Fans Deserve Some Urgency
There is discernible anxiety growing among the general public amid reports about the Coronavirus.
But that´s nothing compared to what we might see in Northern Ohio if the Browns go into another rebuilding program.
Cleveland fans have to be among the most patient in the world.
Certainly, they are more patient than Jimmy Haslam, which is part of the problem.
But there are limits for everybody.
My 8-year-old nephew has come out to me as a Cleveland Browns fan. I don't know if I could ever look him in the eye again.

— Can I Uber A Literary Agent? (@shawnjackson79) March 9, 2020
If DePodesta and Berry slow-play the Browns' future, they risk losing another pocket of their fan base.
And they would deserve it.
Coach after new coach speaks about how they have good players and a fixable situation.
Stefanski encourages us with talk of a plan to make Mayfield and the offense more effective.
Kevin Stefanski will have "detailed plan" to help Baker Mayfield make a jump in Year 3 » https://t.co/24tzBgIj9c pic.twitter.com/zYXaa6WRkm

— Cleveland Browns (@Browns) January 19, 2020
Everything is supposed to be better.
Everyone promises improvement.
Even with 2019 still smoldering in their brains, Cleveland fans feel the warmth of hope in their hearts.
But it is hard to believe there are not some "ifs" and "buts" in the coaches' assessments.
They expect Berry to provide some new parts for their units.
And the coaches don´t want someone who can be "like" Jason Peters.
They want Jason Peters.
And he is not in the draft this year.
3. It´s Personal: This Will Make or Break Some Reputations
Andrew Berry put a bunch of years into scouting while with the Indianapolis Colts.
Kevin Stefanski worked his way through the Vikings ranks as a hands-on coach.
Paul DePodesta… well, he´s always been the analytics guy.
That´s why this leadership team has a reputation as a radical analytics-only experiment.
That is not really an accurate assessment.
It's not easy being a Cleveland Browns fan (the team hasn't seen the playoffs since 2002), and the team is looking to turn their fortunes around.

They brought in Andrew Berry as general manager, and at 32 years old, he might just be the new perspective the team needs. pic.twitter.com/hGkhb9dqhK

— TODAY (@TODAYshow) February 25, 2020
But they didn´t do themselves any favors by firing some highly respected scouting executives.
Letting Eliot Wolf and Alonzo Highsmith go reinforced the notion that old-fashioned scouting wasn´t important.
It also served to make the league realize the Browns´ future is in the hands of DePodesta and Berry.
Tight-Lipped Cleveland Browns Keep Cards Close At The NFL Combine https://t.co/mJep0SQSBA pic.twitter.com/HidQRs7C8D

— SportsGridUK (@Sportsgriduk) March 9, 2020
Failure to turn the franchise around quickly will amount to failure on their part.
The Jimmy Haslam discount won´t lessen the hit their reputations will take.
Part of the reason the Browns can be optimistic is that Berry and DePodesta know Haslam.
And they re-committed to putting a winner in Cleveland anyway.
Haslam seems just as happy to have them at the helm along with Kevin Stefanski.
Perhaps the Browns owner finally has a team he will listen to and follow.
We can only hope this band of Ivy League brains does a good job maximizing their free agency investments.