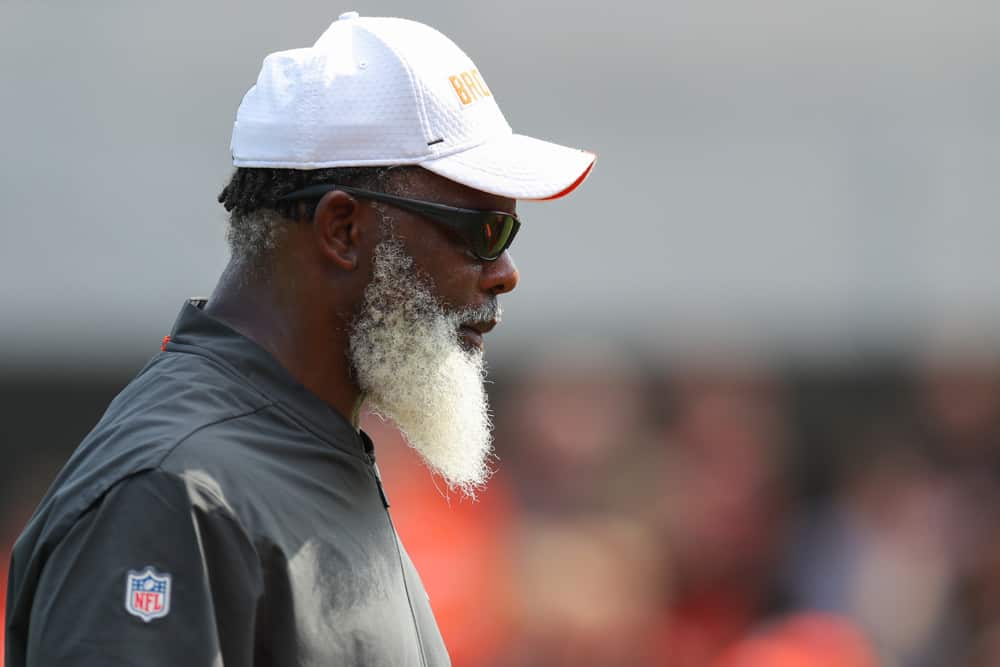 Here is the good news tidbit of the day for Cleveland Browns fans.
It may not reach epic headline proportions compared to the other NFL news of the day, but it is important to those who know and love the Browns and one of the team's most popular coaches.
Browns running backs coach Stump Mitchell is back with the team.
Stump Mitchell is back in the building and believes the arrow is 'pointing up' for the 2022 season

— Cleveland Browns (@Browns) March 8, 2022
Mitchell left the team for medical reasons during the 2021 season, and with an injured running backs' room and a lot of offensive issues, his calming presence was definitely missed.
Browns RBs coach Stump Mitchell will not be available to coach Sunday and is out indefinitely while he tends to a medical issue related to a previous knee injury.

Browns assistant Ryan Cordell will serve as interim RBs coach and sr. offensive assistant Kevin Rogers will assist.

— Andrew Gribble (@Andrew_Gribble) October 29, 2021
Browns RB coach Stump Mitchell enters his 20th season coaching in the NFL. He played for 10 seasons after being selected by the St. Louis Cardinals in 1981 from The Citadel.

Mitchell also served as head coach for HBCU's Morgan State and Southern University. #BlackHistoryMonth pic.twitter.com/NbdmTcvdEi

— BrownsGiveBack (@BrownsGiveBack) February 26, 2021
Stump Is A Good Mentor
All three of the Browns running backs, Nick Chubb, Kareem Hunt, and D'Ernest Johnson, have spoken in the past about Stump's influence on them.
#Browns RB Nick Chubb says he's learned to slow down, read and see things better when he gets the ball. Credits RB coach Stump Mitchell for helping in that area.

— Scott Petrak ct (@ScottPetrak) December 16, 2020
Everyone knows he is an asset to the team.
He was one of the few holdovers that Coach Kevin Stefanski kept on after accepting the head coaching job in 2020.
Stump is a former NFL running back so he knows what he speaks about.
Stump Mitchell has been retained as Browns RB coach, here's his first NFL TD, 1981 as a rookie with the Cardinals #Browns pic.twitter.com/E8fICKltT1

— CleWest (@erjmanlasvegas) January 20, 2020
Stump Mitchell goes head over heels vs. the Saints, Week 11 1986. #Cardinals pic.twitter.com/IKZupHWX0d

— Ken Gelman (@kengfunk) July 22, 2018
Bringing Stump Mitchell to Cleveland may be one of Freddie Kitchens' best accomplishments.
Kitchens raved about Mitchell back in 2019.
"Stump is demanding. He holds those guys accountable. He is a good Xs and Os coach. He understands pass protection. He understands the technique of pass protection, the technique of running routes and the technique of ball security. Stump was a very good player in this league, too."
Legendary Coach and Beard
Stump is known for his knowledge of the game and his stellar beard.
Many have commented on his beard over the years.
Stump's beard is in playoff form #Browns https://t.co/92nj11WsxY

— Chad A Graham (@Sonnie_CG) August 18, 2021
Coach Stump's hair/beard game is extremely strong. https://t.co/8sBy2buiqE

— Ryan Burns (@FtblSickness) May 30, 2019
Chubb was once asked if he thought about tugging on the infamous beard to see if it was real.
"I'm not touching it, no sir."
#Browns RB Nick Chubb on whether he's thought of tugging on RB coach Stump Mitchell's beard to see it it's real: "I'm not touching it, no sir."

— Keith Britton (@KeithBritton86) August 5, 2019
The Browns' offense and running game need to be better in 2022 so it can only help to have Coach Stump back with the team full-time.
Welcome Back, Stump Mitchell!