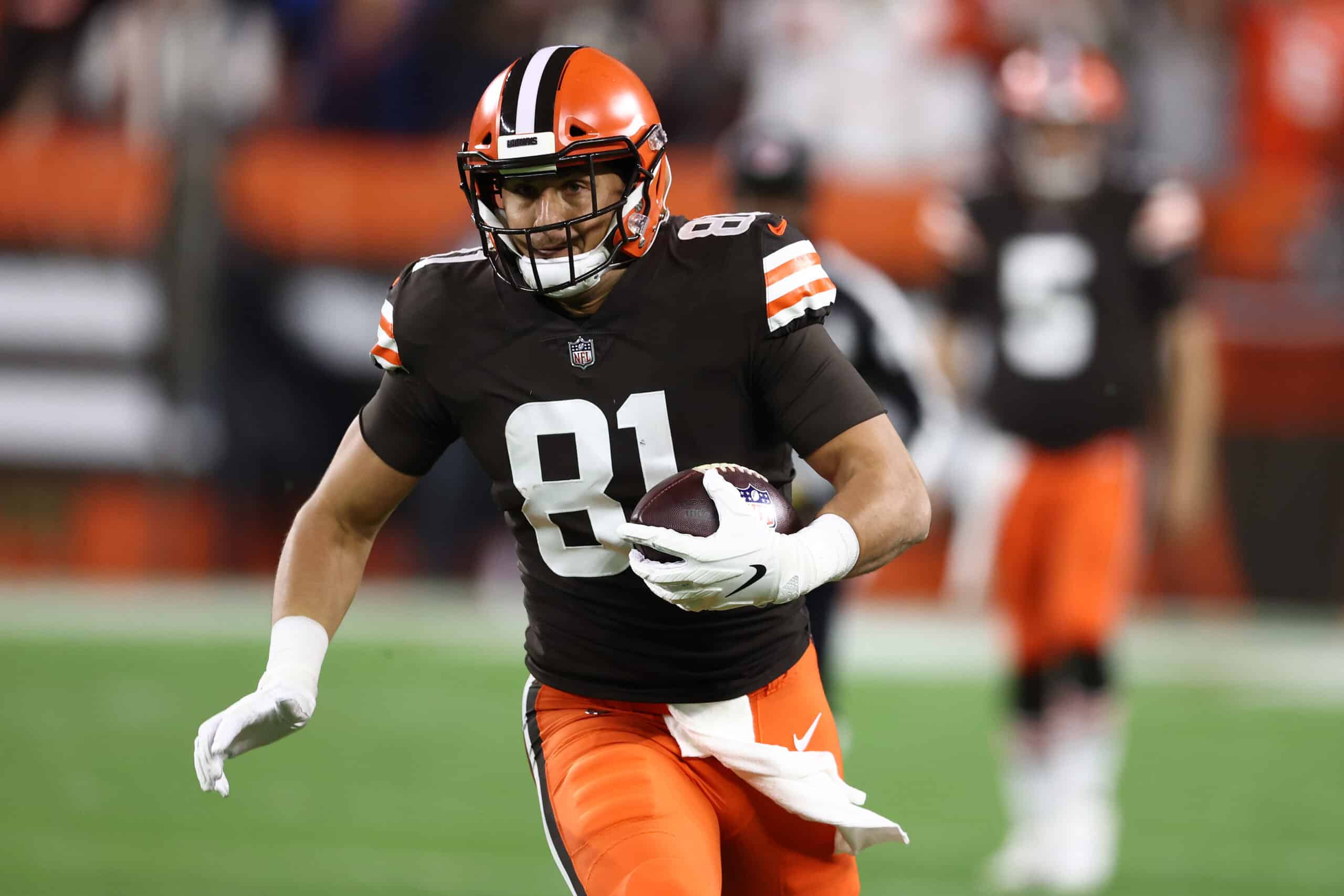 When the Cleveland Browns franchise-tagged David Njoku, they appeared to decide Austin Hooper's fate, too.
After all, nobody would carry two tight ends with a salary cap hit north of $10 million.
But ESPN's Jeremy Fowler reports the Browns might do just that.
I'm told the Browns' plan is to keep Austin Hooper along with David Njoku, despite Njoku's franchise tag of $10.9 million. Hooper is due $9.5M in salary in the third of a four-year deal.

— Jeremy Fowler (@JFowlerESPN) March 8, 2022
Fowler posted on social media that he was told,
"The Browns plan is to keep Austin Hooper along with David Njoku, despite Njoku's franchise tag…"
His post elicited a lot of comments implying Fowler does not understand the post-June 1st "out" on Hooper.
As per Spotrac, Cleveland can cut Hooper with a post-June 1st designation and save his $9.5 million salary in 2022 and 2023.
David Njoku's franchise tag and potential multi-year extension likely puts Austin Hooper's contract on notice. The #Browns can free up $9.5M of cap space by designating Hooper a Post June 1st release. https://t.co/nvHwe4DJfK

— Spotrac (@spotrac) March 7, 2022
Such a move leaves the Browns on the hook for $3.750 million of dead cap costs this year and $7.5 million next year.
Thus, holding onto both Berry and Njoku would not seem to be for any monetary savings.
But Browns fans have a difficult time accepting there is a strategic reason after Hooper's subpar 2021 season.
Who Is The Tight End-1? 
Kevin Stefanski owns a reputation as a tight ends-loving offensive coordinator.
Indeed, Cleveland's 142 passes to tight ends rank among the most in the NFL.
But those targets were split among three players, with Hooper and Njoku running almost even on a per-game basis.
Combined, the pair of high-priced tight ends ranked 5th in receiving yardage and 7th in touchdowns.
Njoku provided deeper targets and more yards-after-catch, giving him 130 more yards than Hooper.
David Njoku paid homage to the one and only @DaveBautista with his touchdown celebration today pic.twitter.com/6EhkECEaMq

— Ben Axelrod (@BenAxelrod) November 8, 2021
That includes the Week 5 game when Njoku caught 7 passes for 149 yards while Hooper was not targeted.
Hooper dropped a career-high 6 passes, twice as many as the previous 2 seasons combined.
It is hard to believe the former All-Pro forgot how to catch and won't come back strong in 2022.
But right now, the Browns are paying for a pair of tight end-1s.
And they can't rule out Harrison Bryant having a better 2022 season than both of them.
Making It Work Financially
Entering last season, Cleveland was set to pay a pair of wide receivers $30 million, and that was considered a problem.
Though they applied the franchise tag on Njoku, the Browns still hope to negotiate a long-term deal before the season.
Rumor has it that deal will pay an average of $13 million per season, currently the 5th-highest tight end salary.
That could leave Cleveland with even more than the current $24 million salary-cap hit for the 2 tight ends.
But we know Andrew Berry is adept at deferring salary cap impact, using bonuses and cancellable seasons.
Austin Hooper shows off his good hands with the touchdown pic.twitter.com/7JQScoB4bW

— Everything Cleveland (@everythingcle_) December 21, 2020
If Fowler's information is correct, Berry is undoubtedly counting on finalizing Njoku's deal sooner than later.
Njoku's extension will likely include bonuses that can be spread over future years.
Berry did this with Joel Bitonio's deal, deferring much of its cap impact until after JC Tretter's salary is off the books.
So regardless of how much cash ends up in Njoku's pocket, the Browns can pay it without breaking the 2022 cap.
And leave it up to Kevin Stefanski how to justify two tight end-1 salaries.