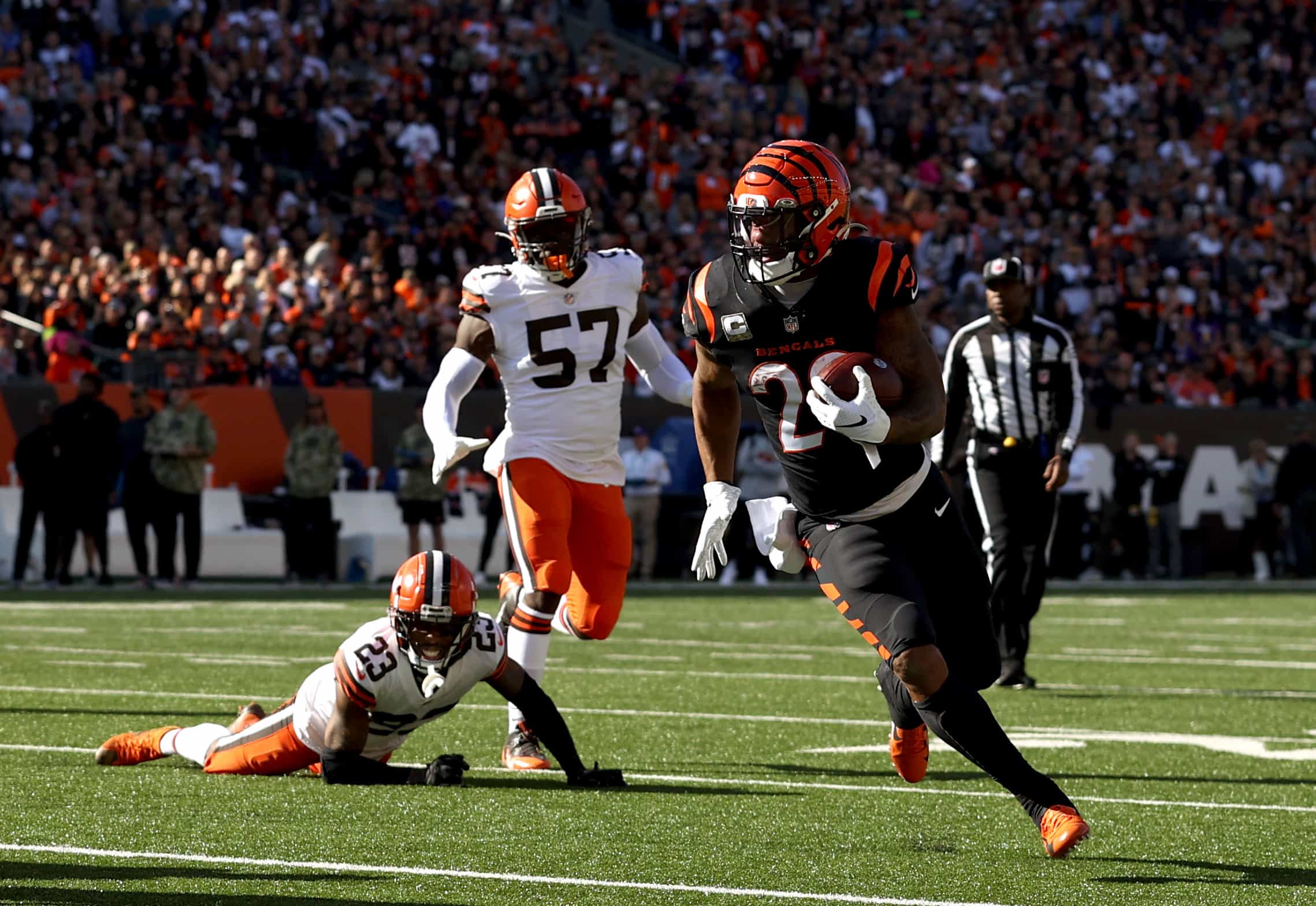 The Cleveland Browns won't have Baker Mayfield, but will be looking to sweep the battle of Ohio on Sunday.
While the Bengals have taken care of the Ravens and Steelers, the Browns continue to give them problems.
The game will feature a Case Keenum and Brandon Allen matchup at quarterback.
Who will prevail?
Let's take a look at our writer's bold predictions for this Sunday's matchup.
Writer: Wendi Oliveros

What a long and windy road it has been, but we made it to Week 18!
The Browns want to finish the season on a positive note and forget about Monday's ugly loss to the Steelers.
This team will defeat a Bengals team whose main players are either resting for the playoffs or dealing with COVID-19.
The red-hot Joe Burrow is not playing which immediately changes the complexion of this game and the Bengals' offensive approach.
It would feel appropriate in an extremely odd season for the Browns' future stars to be the studs of this game.
Wouldn't it be great to see Demetric Felton, Anthony Schwartz, and Donovan Peoples-Jones make big plays?
No matter what, the Browns will get it done.
My Prediction: Browns 17, Bengals 13
Writer: Ben Donahue
The final week of the regular season is upon us.
The Browns are wrapping up arguably their most disappointing season in recent memory.
Cleveland is far removed from the playoff picture and has nothing to play for.
This fact was confirmed when Baker Mayfield announced earlier this week that he is going to have immediate surgery on his injured shoulder.
Not to be outdone, the Bengals, who could be playing for a higher playoff seed, announced that Joe Burrow would not play on Sunday.  Veteran Brandon Allen will take his place.
Running back Joe Mixon is also out for the Bengals due to a positive Covid test.
Even if Cincinnati were to play at full strength, they would need a lot of help to slide into the top spot in the AFC.
It makes sense to rest starters to prepare for the postseason.
Meanwhile, Cleveland will look on in envy and wonder, "What if?"
Even with a duel of backup quarterbacks, Cleveland hasn't shown much fight lately.
My Prediction: Bengals 17, Browns 10
Writer: Pat Opperman

The final week of games in any NFL season is always the most difficult to predict.
Resting players, little-used players auditioning for next year, spoiler bids… you just don't know what will happen.
And the 2021 Browns finale against the Bengals is even trickier than most.
Cincinnati heads into the game missing some key players due to injury, not because they want to rest anyone.
They still have a slight chance at winning the top overall seed and a wild card weekend bye.
And who knows if the Browns locker room is fractured, or if anyone respects their head coach,  or if cats are sleeping with dogs…
But my hunch is the team rallies around Stefanski this week, so…
My Prediction: Browns 30, Bengals 13
Writer: Mark Bergin

The battle of Ohio round two will feature two backup quarterbacks: Case Keenum and Brandon Allen.
With the Browns eliminated from the playoffs, Baker Mayfield is not playing the final game of the regular season ahead of left shoulder surgery to repair a torn labrum.
Joe Burrow will rest as the Bengals prepare for the playoffs.
Since the Bengals have already locked up the AFC North, they'll be playing many of their backups Sunday.
The Browns will try to get some revenge after getting blown out 41-16 by the Bengals on Nov. 7.
In typical Browns' fashion, I expect them to win a meaningless game to close out the 2021 regular season.
My Prediction: Browns 27, Bengals 20 
Writer: Rocco Nuosci

As the regular season winds down Sunday, the only thing the Browns can play for is a chance to sweep a divisional opponent.
Special teams coordinator Mike Priefer has noted this week that doing so would be a big deal for the team.
#Browns ST coordinator Mike Priefer: It would be a big deal to sweep the division champs

— Scott Petrak ct (@ScottPetrak) January 6, 2022
With Case Keenum at the helm, a new face under center could re-energize the team enough to get another win over the Bengals.
Don't forget Cleveland had their way the first time with Cincinnati, and that's putting it lightly.
A 41-16 thrashing in Cincinnati, led by a dominant defensive performance as well as an electric day from Nick Chubb, stands as the Browns' best win of the season.
Winning this week won't fix the disappointment of the season.
It'd still be awesome to sweep the Bengals, and I think it happens.
My Prediction: Browns 13, Bengals 10