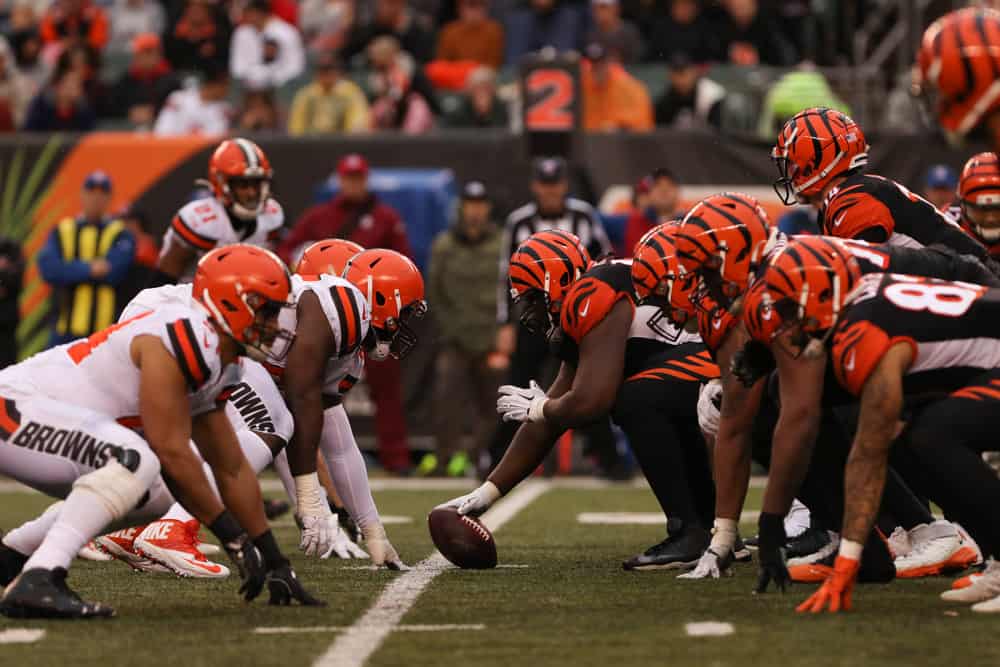 The Cleveland Browns host the Cincinnati Bengals in this Week 18 season finale.
These two teams have combined for fantastic finishes in the past.
Check out this flashback from 1991.
September 15, 1991 Cleveland wins 14-13 on a late FG over the #Bengals and YES, that is Doug Dieken laughing alongside Nev Chandler. #Browns #CINvsCLE #FlashbackFriday pic.twitter.com/91MuMagZv0

— Ed_in_Columbus (@ed_in_columbus) January 7, 2022
There are a lot of unknowns in this game given the availability of players on both teams between injury, COVID-19, and rest (for the Bengals).
Check out my brief TikTok about the game.
Here are the details of how to watch, listen, or live stream the Browns Vs. Bengals game on Sunday.
How To Watch Browns Vs. Bengals
The kickoff is at 1:00 PM EST on January 9, 2022.
The game will be broadcast on FOX.
Kenny Albert, Jonathan Vilma, and Lindsay Czarniak are the assigned broadcasting team.
How To Listen Browns Vs. Bengals
The four flagship stations for Browns football are:
On satellite radio, the Sirius XM Browns broadcast for this game is on Channel 228.
Outside of Cleveland, the Browns radio affiliates are:
Akron
WAKR – 1590 AM
Akron
WONE – 97.5 FM
Canton
WHBC-AM – 1480 AM
Canton
WHBC-FM – 94.1 FM
Columbus
WTOH – 98.9 FM
Corry (Pa.)
WWCB – 1370 AM
Dayton
WHIO-AM – 1290 AM
Dayton
WHIO-FM – 95.7 FM
Dayton
WZLR – 95.3 FM
Dover
WJER – 1450 AM
Erie (Pa.)
WPSE-AM – 1450 AM
Erie (Pa.)
WPSE-FM – 107.1 FM
Fostoria
WFOB – 1430 AM
Geneva
WKKY – 104.7 FM
Jamestown (N.Y.)
WQFX – 103.1 FM
Lima
WWSR – 93.1 FM
Mansfield
WRGM – 1440 AM
Youngstown
WKST – 1200 AM
How To Live Stream Browns Vs. Bengals
Those interested in live streaming the game can access it on the following platforms:
Battle Of Ohio And The Backup Quarterbacks
This edition of the Battle of Ohio will feature the backup quarterbacks for each team.
The most Joe Burrow thing I've ever head. #Bengals backup QB Brandon Allen says Joe Burrow texted him on Tuesday and leaked the news before Zac Taylor called him and texted him to say:

"Tag, you're in."

And that's how Allen found out he was the starting QB

— Kelsey Conway (@KelseyLConway) January 6, 2022
Joe Burrow is resting for the playoffs so the Bengals are starting Brandon Allen.
Allen received a three-word text from Burrow saying, "Tag, you're in."
Burrow spoke about the exhaustion of a long season.
"It's a long season. Every game matters when you're fighting for the playoffs. It can get kind of exhausting mentally. It's been kind of nice these last couple days to sleep past 7 a.m. a couple days and go to bed a little later and just kind of take my mind off of doing my job each week. I've kind of been able to take a step back and help Brandon (Allen) in whatever he needs and also take a look at our possible first opponents for the first week of the playoffs. "
The Browns will start Case Keenum who is making his second start of the season and is 1-0.