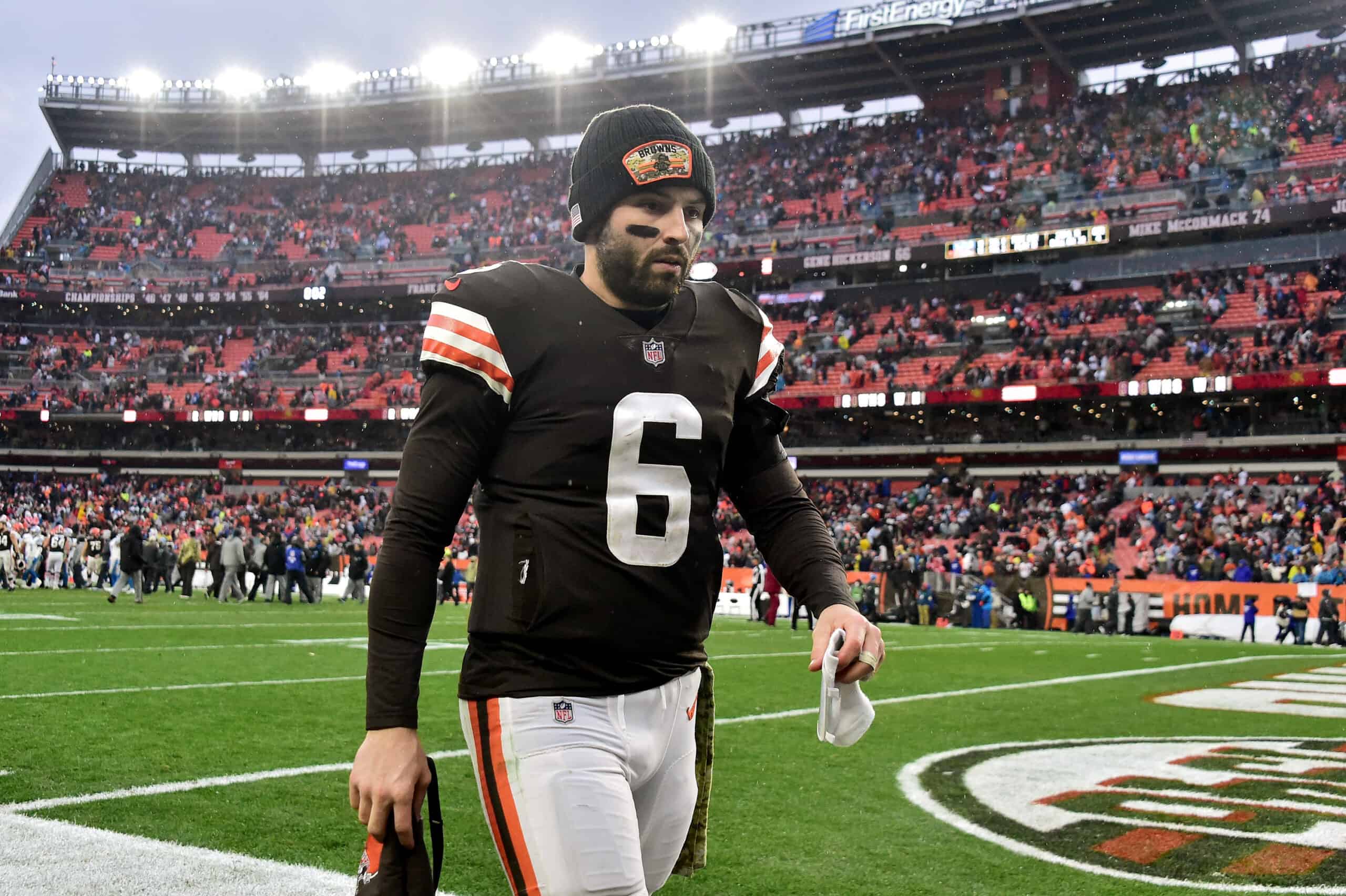 Baker Mayfield remains an available commodity for quarterback-needy teams.
Only it seems that market is quickly dwindling and those remaining aren't enamored of the Cleveland Browns player.
The notion that Mayfield has any kind of clout in deciding where he plays ball next season is no longer realistic.
Baker Mayfield said he ain't nobody's Plan B. Good for him.

— Robert Griffin III (@RGIII) March 17, 2022
And with Deshaun Watson and Jacoby Brissett on the roster, Cleveland's asking price is dropping fast.
But how long will Andrew Berry carry his disgruntled passer waiting on a buyer?
Will the Browns end up paying Baker to play for another team?
Baker Mayfield isn't as bad as the market is treating him. There are a number of factors working against him at the same time. Horrible season, coming off of surgery, his contract etc all factor into why he's not attractive for anyone right now. But he could still be a starter.

— Mekka Don (@MekkaDonMusic) March 22, 2022
Or will some circumstance create an opportunity to unload his $18.8 million contract?
One thing the Browns don't want to do is to cut Mayfield outright, even in September.
Besides still having to pay his salary, other teams can pick him up for the NFL minimum at that point.
And that creates the nightmare scenario validated by Cleveland.com's Mary Kay Cabot via the Orange and Brown Talk podcast.
Browns Fans 2nd-Worst Nightmare
Among the teams believed to secretly or not-so-secretly want a quarterback upgrade is the Pittsburgh Steelers.
And Cabot warns that the Steelers would 'pounce' on Mayfield if he hits the waiver wire.
Pittsburgh signed Mitch Trubisky to an affordable deal that does not commit them to play the former Bear.
But Mayfield doesn't have to beat out Trubisky to be worth the league minimum to Mike Tomlin.
Deshaun Watson is a superior quarterback to Baker Mayfield. Not even close. Watson is on an entirely different level. But that doesn't mean Baker isn't an NFL starter. He is. I'm sure he will get another chance to prove that. #Browns

— Ed Greenberger (@EdGreenberger) March 22, 2022
Cleveland's former quarterback can share an awful lot about the Browns to their cross-border rivals.
Andrew Berry reportedly showed Deshaun Watson examples of what he can do that Baker Mayfield could not.
This seems to indicate there is not a massive overhaul of the Browns offensive scheme coming with Watson.
And that leaves the team vulnerable to insider information from their former quarterback.
Browns Fans Worst Nightmare
Baker Mayfield has used perceived insults and anger to his advantage before.
There is nothing to say he won't sign on to another team and repeat his late 2020 performance.
Releasing Mayfield allows him to sign with any team for the bare minimum salary.
Cleveland has to pay the difference of his guaranteed salary.
The Baker Mayfield situation is astonishing. Less than a year ago, he & the Browns were flying high after an impressive season & playoff appearance. He finished that campaign with a top-10 QBR & PFF grade. One injury-filled campaign later & he seemingly holds no value whatsoever.

— Brent Sobleski (@brentsobleski) March 22, 2022
This means Mayfield could catch fire with the Steelers and face the Browns twice a season.
Browns fans will profess to believe in their new quarterback over their former leader.
But in the back of their minds will be the fear of Mayfield and the Steelers sweeping the Browns.
Even if Myles Garrett sacks Mayfield 10 times and limits him to 100 yards passing, a Steelers victory will be intolerable.
Cutting Mayfield Not Really An Option 
Unless a team takes on Mayfield's salary, Cleveland is on the hook for 2022.
That makes releasing Mayfield the most untenable option of the few remaining.
Jimmy Garoppolo remains on the board for any team in need of a former starter with playoff experience.
Cam Newton is still available for teams looking for the cheapest option.
Baker Mayfield was a star in his rookie year and a star 2 years ago when he led the Browns to their 1st playoff win in 26 yrs. Now healthy, he'll be a star again elsewhere. You watch.

— Skip Bayless (@RealSkipBayless) March 18, 2022
For the Browns, it might well be worth it for Mayfield to tie up a roster spot in 2022.
They can simply make Mayfield a healthy scratch each week just like the 2021 Texans did with Watson.
And maybe an injury or other unexpected circumstance creates a chance to move him before the trade deadline.
Because anything is better than giving Mayfield a chance to help the Steelers beat the Browns.