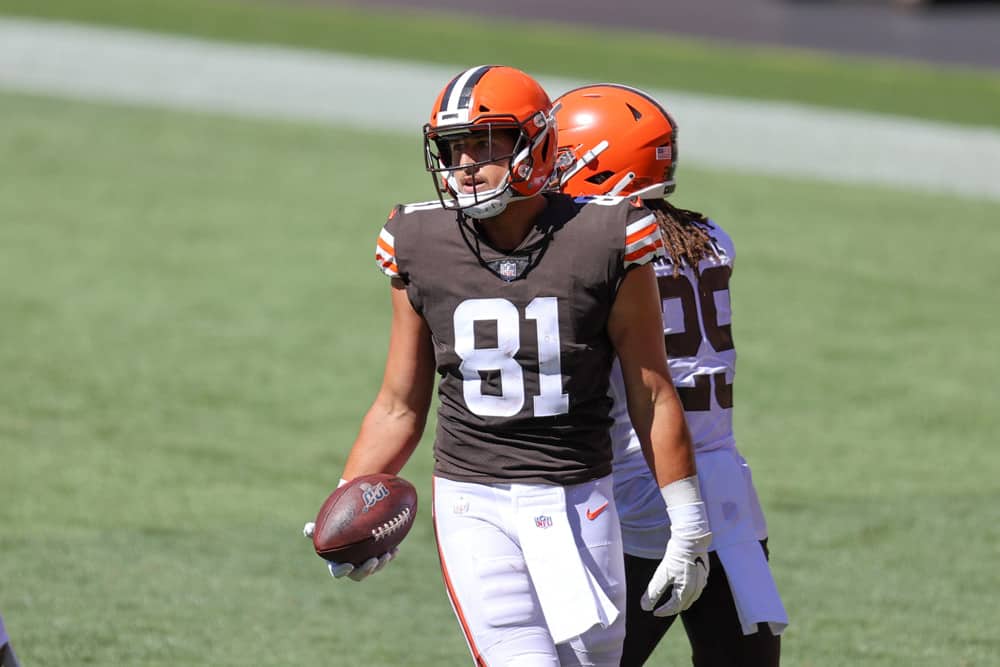 Former Cleveland Browns tight end Austin Hooper was recently signed by the Tennessee Titans.
He is happy to land with the Titans, especially after getting the intel on the team from his former Stanford teammate and backup quarterback Kevin Hogan.
Hogan had high praise for Titans Coach Mike Vrabel saying he will "shoot you straight."
Hooper recounts Hogan's advice to him about life as a Titan.
"That's all you really want. He'll [Vrabel] tell you when it's good, tell you when it's bad and everywhere in between. As a man, I appreciate that. I'd rather know where I stand then you smile in my face and stab me in the back. Not saying anyone in the past has done that, not trying to get a soundbite. … I'm just saying I appreciate that style of business."
It is an interesting choice of words, but Hooper does go out of his way to say it is not reflective of his past history in the NFL.
Austin Hooper on his time in Cleveland – "I wondered why they gave me the deal and I wasn't involved that much." Said he accepted the role he was given and, "I always value myself as a good teammate first and foremost." #Titans

— Emily Proud (@emily_proud) March 21, 2022
I don't think Austin Hooper is taking a shot at anyone here. If you listen to him talk, he's pretty genuine.

Just trying to look forward. https://t.co/OugXYitiZS

— Pete Smith (@_PeteSmith_) March 21, 2022
Hooper Reflects On Browns Experience
He talked about his role being that of a blocking tight end but seemed to share frustration about not being as involved in the Browns offense as he hoped to be when he joined the team in 2020.
"I've been wondering why they gave me the deal and wasn't really involved that much" -Austin Hooper

2nd in targets for the 2021 #Browns https://t.co/jIsNf3Q4uc

— Mac (@tha_buffalo) March 21, 2022
He seems eager to start fresh in Tennessee as the TE1.
Not One Of Berry's Best Moves
It is premature to judge Andrew Berry on the Deshaun Watson trade, but that is not true for his splashy Austin Hooper signing in 2020.
That was not one of his most successful moves.
Hooper came over from Atlanta, and his productivity suffered.
He had a propensity to drop balls which caused obvious problems.
Austin Hooper with a pair of targets that hit him square in the hands.

Andrew Berry has been pretty great for the Browns as GM, but the Hooper move is very clearly a bad one.

— Danny Cunningham (@RealDCunningham) January 4, 2022
Njoku's Time To Shine
David Njoku in 2022 will finally get the spotlight as TE1.
Good morning!

David Njoku is FINALLY going to be the featured TE of the Kevin Stefanski offense. pic.twitter.com/vkFadUAtiz

— Nick Karns (@karnsies817) March 16, 2022
This was what he wanted for years and why he was so disgruntled when the team signed Hooper.
With the coveted TE1 role and a new quarterback in Deshaun Watson, Njoku has many reasons to be excited about the 2022 season.