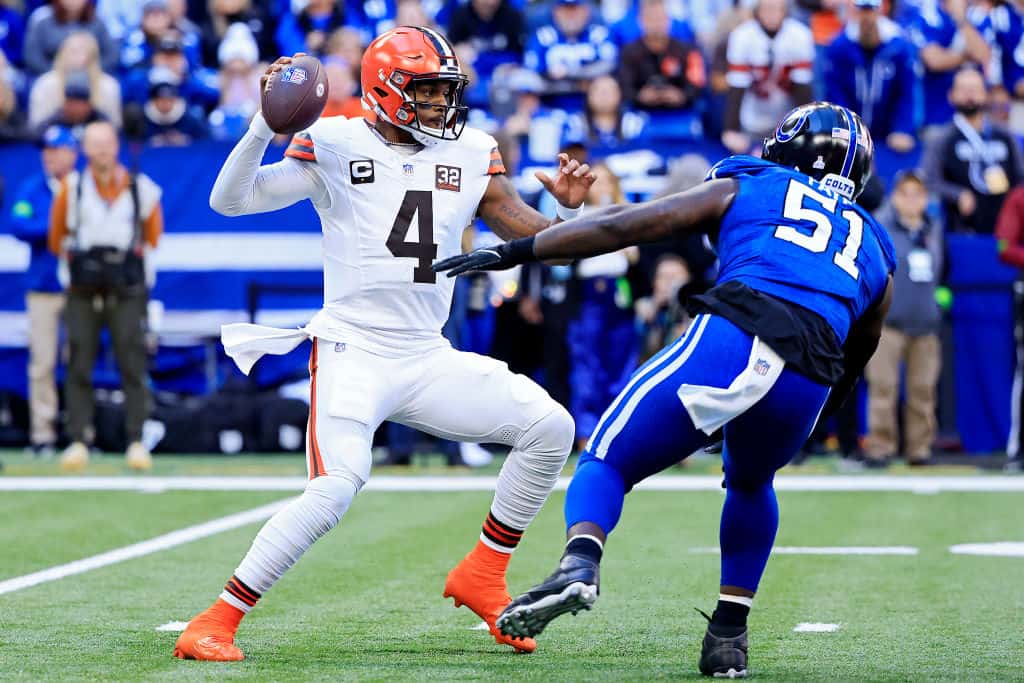 Deshaun Watson threw five passes for the Cleveland Browns this past Sunday against the Indianapolis Colts, none of which looked good.
And, after a hard hit to his throwing shoulder, Browns head coach Kevin Stefanski decided to sit the quarterback down for the rest of the game.
In a locker room presser this week, Watson agreed that he probably shouldn't have been on the field to begin with.
NFL Network's Anthony Siciliano shared parts of what Watson said to reporters (thread).
Reporter: Did you rush it last week?

Deshaun Watson: "I don't know…"

"I just didn't have the strength, and things like that, to go out there and play a complete game."

— Andrew Siciliano (@AndrewSiciliano) October 26, 2023
Cleveland's franchise quarterback thought he was ready, but he quickly realized he had no throwing strength.
Despite speculation that he left the game over concussion concerns, Watson said that was an afterthought, and he revealed that it was the blow to his throwing shoulder that initially sent him to the medical tent.
Later, he returned to the tent to go through the concussion evaluation, which was negative.
Stefanski told reporters after the game that he was "protecting" his quarterback by benching him as the coach was more concerned about Watson taking hits than he was about his inability to throw.
Watson pushed his short passes, with his throwing motion obviously limited.
Cleveland was quick to report that a post-game MRI showed no new damage to Watson's rotator cuff.
#Browns Deshaun Watson on his time frame for returning from the strained right rotator cuff pic.twitter.com/WKqtI9dSSG

— Mary Kay Cabot (@MaryKayCabot) October 26, 2023
But they casually mentioned "residual swelling" to the shoulder.
When the team announced Watson would miss the team's Week 8 matchup against the Seattle Seahawks, Stefanski said the swelling limited his ability to throw.
That would seem to indicate the same swelling was responsible for Watson's poor performance in Indy in Week 7.
And Cleveland's decision to rest their franchise quarterback is a lesson learned the hard way.