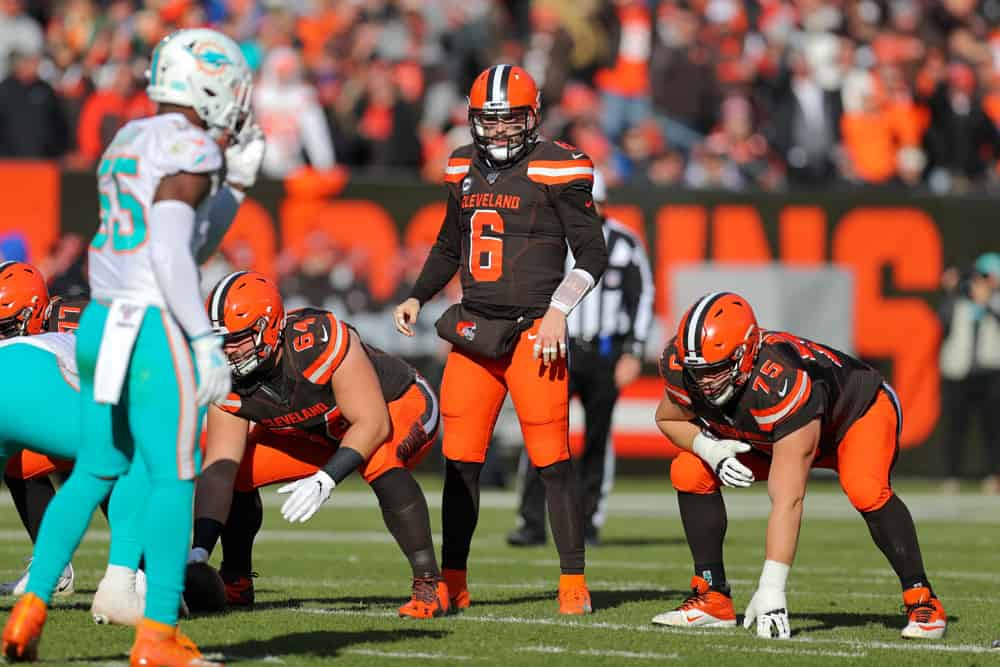 The panicked reflexes of weary Cleveland Browns' fans kicked in again on Sunday afternoon when the Miami Dolphins scored 17 unanswered points. "Here we go again," could be heard in every orange and brown living room in the state of Ohio.
Having jumped out to a 28-0 first-half lead the Browns lost their energy coming out of the locker room for the second half. Miami pounced, cutting the Browns' lead to 28-17 during the third quarter.
Cleveland natives are forgiven for their worries, as they've watched this team lose multiple big leads throughout the years. Just a few weeks ago in Denver, the Browns gave away a game after dominating for most of it.
Even the ensuing kickoff did little to inspire confidence that the Browns would hold on to their lead. Browns' return man Tavierre Thomas made an ill-advised decision to bring the ball out of the end zone and was swiftly scythed down by Miami at the 15-yard line.
Miami gained all the momentum.
Alas, this Sunday afternoon was different. Baker Mayfield led the Browns on a mature, 10-play, 64-yard drive that took just under four minutes off the clock and ended with a field goal.
The Browns needed desperately needed focus and maturity from their play-caller Freddie Kitchens and quarterback Mayfield.
There were plenty of opportunities to dial up riskier offensive plays, especially with Jarvis Landry's great performance. That's not what the moment called for, though, and cooler heads prevailed. The Browns took back the momentum.
The drive wasn't beautiful. Baker Mayfield was just 3-of-7 passing and aided by a big defensive pass interference penalty called against the Dolphins' haggard secondary, but it worked.
It could have ended with a touchdown. That would've put the game out of reach, but at that point any points on the board were essential.
On the following drive, the Browns' defense answered with a dominating performance of their own.
@Browns defense looks like it's playing motivated ball… if the offense takes this possession down and score a td… it's own and popping… staying detailed and focused on the task at hand… #win #Browns

— Earnest A. Byner (@EByner) November 24, 2019
The Dolphins mustered just three plays for 16 yards (15 of which came on a defensive pass interference penalty) before a TJ Carrie sack on third down ended the drive at the Miami 41-yard line.
The Browns kicked another field goal after getting the ball back. Garbage time touchdowns from both teams kept the margin of victory at 17 points.
So often this season, Browns fans decried their team's performances for being sloppy, flat, and downright disappointing.
That could've been the case on Sunday.
Ryan Fitzpatrick and the Dolphins; offense looked lively. The bearded birthday boy played like he had nothing to lose, and Sunday could have been yet another case of the Browns blowing a late-game lead.
Instead, the Browns showed something they rarely show: maturity and poise. This is how good teams win football games. Secure points, make a defensive stop, and return momentum to your side.
"I just want you guys to know how proud I am of you … staying focused."

HC Freddie Kitchens in the locker room following our win over the Dolphins: pic.twitter.com/ugwIlOF15X

— Cleveland Browns (@Browns) November 24, 2019
Cleveland shouldn't get carried away with a victory over a team many observers thought were trying to lose games on purpose earlier in the season, but is it possible that Freddie Kitchens is growing up as a head coach and play-caller?
Is it possible that this team is finally figuring their identity out?
Only time will tell, but if Sunday's performance is any indication, the Browns might be peaking at the right time for a late run at the playoffs. As Freddie has been preaching, take it one week at a time.
This week Cleveland is 1-0. Next up, the Steelers in Pittsburgh.