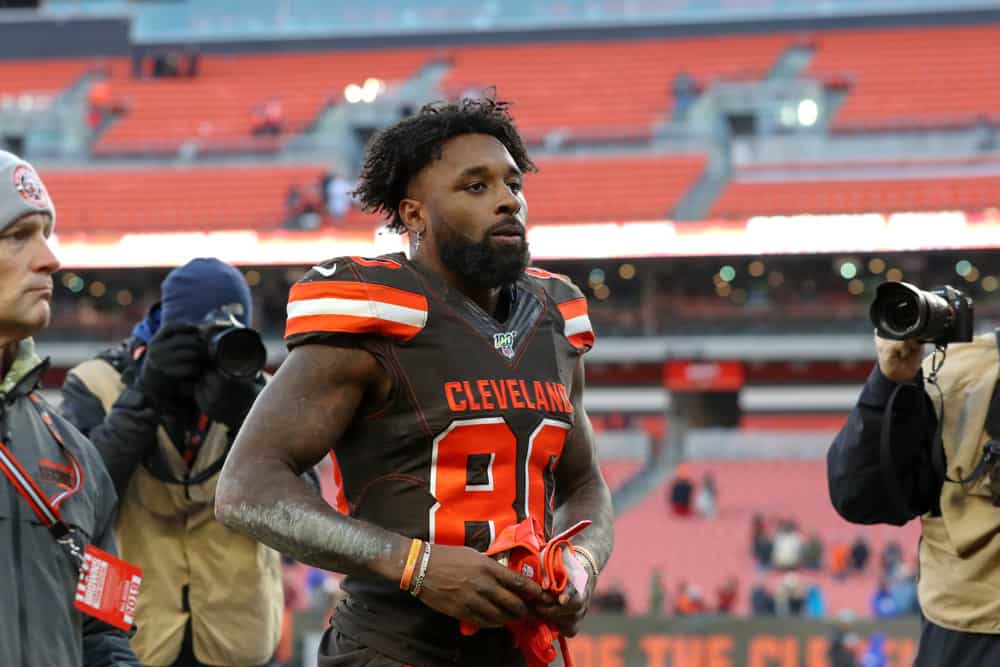 When Cleveland Browns General Manager John Dorsey traded for Jarvis Landry in the 2018 offseason, these are games he envisioned the talented wide receiver would deliver.
Landry torched his old team with 10 catches and a season-high 148 yards and 2 scores and seemed to catch everything thrown his way.
.@bakermayfield to @God_Son80 for six AGAIN!#MIAvsCLE pic.twitter.com/PZJ4Np7jij

— Cleveland Browns (@Browns) November 24, 2019
Landry now has a touchdown in 4 straight games as Baker Mayfield continued his surge as well.
Jarvis Landry the past 4 games

29 receptions
339 receiving yards
5 touchdowns

He has been on an absolute tear @Reflog_18

— Grant Hierholzer (@Hierholzer2017) November 25, 2019
The Browns acquired Landry in the midst of a conflict with the Dolphins organization and then head coach Adam Gase.
Landry was seen many times having heated exchanges with Gase on the sidelines and many wondered what attitude he would bring to Cleveland.
Landry also confirmed that Gase threatened to trade players to the Browns.
Jarvis Landry confirms Adam Gase threatened to trade players to #Browns as head coach of the Miami #Dolphins pic.twitter.com/XDRDnZNqAn

— Daryl Ruiter (@RuiterWrongFAN) September 13, 2019
The Dolphins reportedly also were not willing to pay Landry the contract extension he was seeking.
The win over the Dolphins Sunday had to feel good for Landry and he spoke when asked about it.
"It didn't mean extra, but it was fun," Landry said with a smile. "Definitely was fun."
Jarvis Landry's good friend Odell Beckham Jr said he had a good feeling about him before Sunday's win over Dolphins.
"Just a few yards off and one touchdown short. I told you what was going to happen today," Beckham said as they answered questions together. "I just know him. It's not just this game. It can be every game. I was just happy to see it. I get fired up when I see him make plays. I get fired up when I see him fired up. It was a special day and a good birthday gift."
Baker Mayfield spoke when asked about the duo:
"They were making plays all day," quarterback Baker Mayfield, who threw for 327 yards and 3 scores in Cleveland's third straight win, said. "They are there when they need to be there making the plays we are counting on them to make, and they are doing it consistently for us."