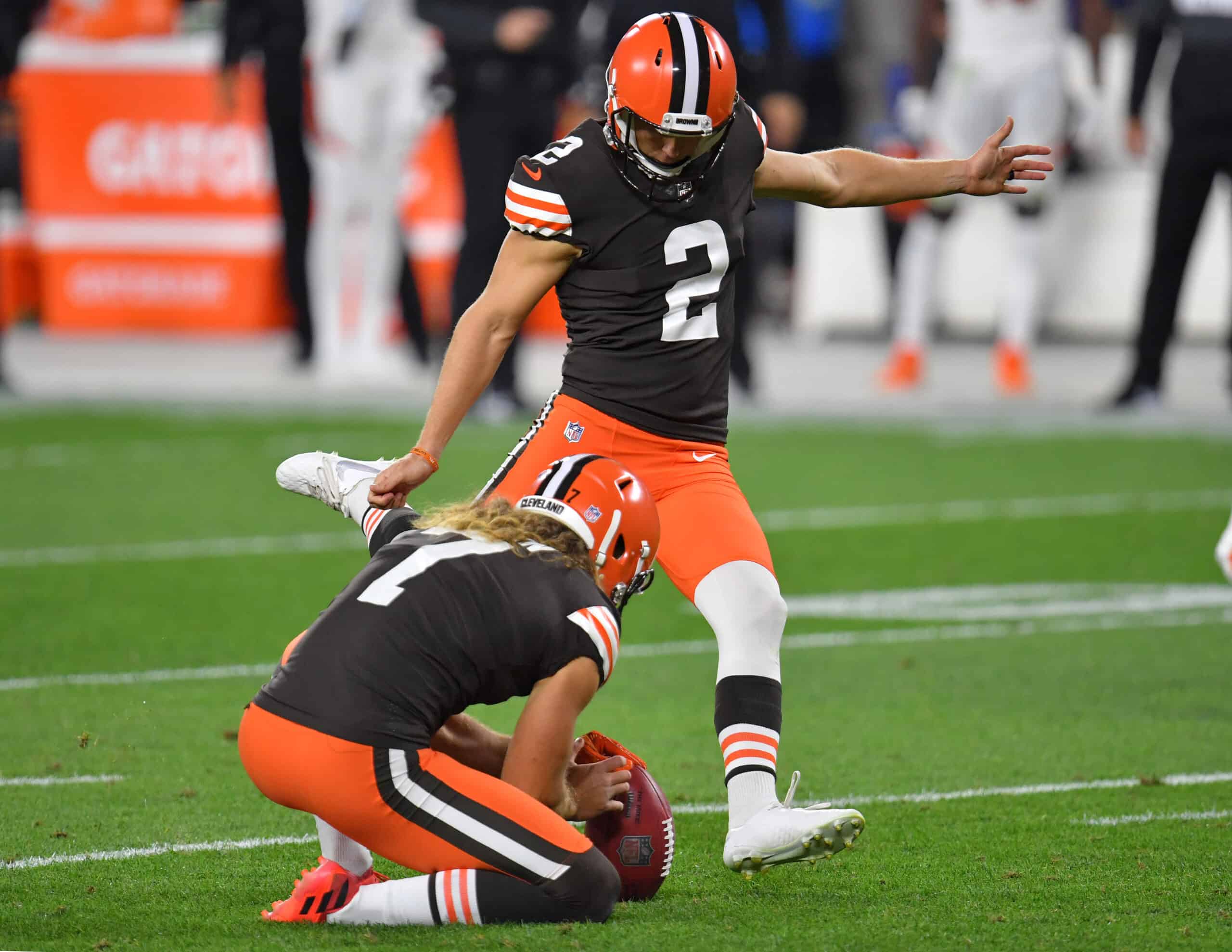 All positions are getting practice at Cleveland Browns training camp.
On the second day, we saw the beginning of the kicking competition.
Recall that the Browns claimed kicker Chase McLaughlin off of waivers from the New York Jets this spring.
We've claimed K Chase McLaughlin via the waiver wire

📰 » https://t.co/jKUmk7gWWP pic.twitter.com/D3k3A96n86

— Cleveland Browns (@Browns) May 11, 2021
That led us to believe that Cody Parkey was not a shoo-in for the starting kicking job.
If the kicking competition on Day 2 is any indication, Parkey has a tough fight on his hands to keep his job.
Parkey went 1 for 5 in field goals; whereas Chase McLaughlin went 5 for 5.
#Browns just did team field goal. Cody Parkey went 1/5. Chase McLaughlin 5/5.

— Nate Ulrich (@ByNateUlrich) July 29, 2021
Can I interest you in some kicker video? #Browns pic.twitter.com/PUvfB7H0YD

— Daryl Ruiter (@RuiterWrongFAN) July 29, 2021
What This Means
This is just the first opportunity for the two kickers to compete against each other.
It is premature to make any roster decision based on five field-goal attempts.
However, it is not a positive start for Cody Parkey.
Parkey was not tested with field goal attempts beyond 50 yards last season.
He missed one field goal between 40 and 49 yards and two field goals between 30 and 39 yards.
Parkey also missed four extra points.
Touchdowns are preferred for this Browns offense in 2021, but the extra point has to be a foregone conclusion if the Browns opt not to go for two.
Chase McLaughlin
McLaughlin, 25, was an undrafted free agent in 2019.
He has been with five teams in his two-year career.
They were the Indianapolis Colts, Los Angeles Chargers, San Francisco 49ers, Jacksonville Jaguars, and the New York Jets.
He has only missed one extra point and six field goals in his career.
Cody Parkey
Parkey was elevated to the starting kicking job from the Browns practice squad in September 2020.
He got the job after Austin Seibert missed an extra point and a field goal in the Browns 38-6 loss to the Baltimore Ravens in Week 1.
If today's trend continues, Parkey could find himself either out of a job or demoted to the practice squad.