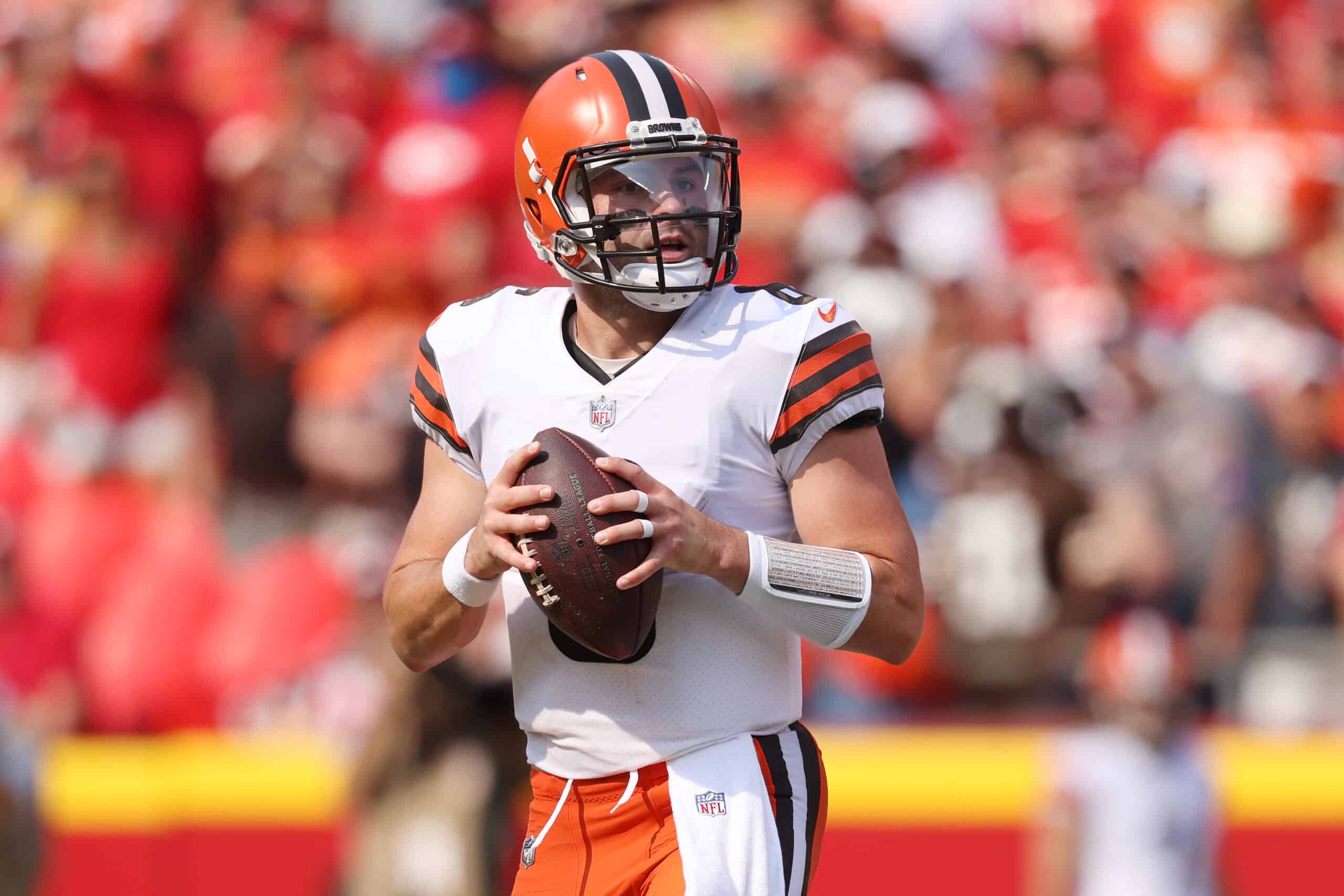 Week 4 is reunion weekend in the NFL.
For the Cleveland Browns, this means their head coach Kevin Stefanski is playing against his former team, the Minnesota Vikings.
The Browns come into the game after a huge win over the Bears and are 2-1 on the season.
The Vikings are 1-2 and are looking to beat their former offensive coordinator to get to .500 in 2021.
Here is how Stefanski's current and former pupils, the two quarterbacks, Baker Mayfield and Kirk Cousins, stack up against each other in key statistical areas.
1. Interceptions
Mayfield has thrown 2 interceptions, 1 in each of the first two games.
Cousins has been clean through three games; he has not thrown any interceptions.
2. Touchdowns
Mayfield's touchdown passes match his interceptions; he has 2.
DEMETRIC FELTON WITH THE MOVES!

HIS FIRST NFL TOUCHDOWN 🔥pic.twitter.com/WmQHjT6VNP

— UCLA Barstool (@UCLABarstool) September 19, 2021
One happened against the Texans in Week 2, and the other was in Week 3 against the Bears.
Cousins, on the other hand, has thrown 8 touchdowns in 3 games.
323 passing yards and three touchdowns.@KirkCousins8 was DEALING in the @Vikings win! #Skol pic.twitter.com/GJDWTX4BpP

— NFL (@NFL) September 28, 2021
3. Sacks
Mayfield has taken more sacks than Cousins; he has 9 for 74 yards.
Cousins has been sacked 5 times for a loss of 38 yards.
4. Completions Percentage And Yards
The one measurable where Baker Mayfield and Kirk Cousins are close to one another is completion percentage.
Mayfield's is 73%, and Cousins' is 74%.
However, Cousins has put the ball in the air a lot more often.
He has completed 88 passes out of 119 attempts for 918 yards.
Mayfield has completed 59 out of 81 passes for 780 yards.
What It Means
It means a few things.
Cousins is having a better year than his team's record indicates.
The Vikings lost their season opener to Cincinnati by 3 points and lost in Week 2 to Arizona by 1 point.
Mayfield threw the ball very well in Weeks 1 and 2 against Kansas City and Houston but was a little erratic in Week 3 against the Bears.
Minnesota's star running back Dalvin Cook is dealing with an injured ankle suffered in Week 2 though they got good work from his backup Alexander Mattison in the Week 3 win over the Seahawks.
The Browns and Vikings offenses are a bit different even though Coach Stefanski has been involved with each.
While Dalvin Cook is the cornerstone, Cousins is more apt to throw than Mayfield does with a backfield loaded with Nick Chubb and Kareem Hunt.
Cousins Is Quietly Tearing It Up
Kirk Cousins is having a great season and picked up right where he left off last season.
Kirk Cousins now at 17 consecutive games with a 90+ QB rating, the second longest streak in NFL history (Peyton Manning, 23) pic.twitter.com/fFs1EGd55i

— NFL on CBS 🏈 (@NFLonCBS) September 26, 2021
Kirk Cousins in his last 10 games and where it ranks in the NFL.

3,036 YDS » 2nd
26 TDs » 3rd
2 INT » T-3rd
70.51 CMP% » 3rd pic.twitter.com/0adO0LcqRe

— Vikings Communications (@VikingsPR) September 27, 2021
Seems no one outside of Minnesota is paying attention, and that includes Las Vegas.
NFL MVP oddsmakers have him in 16th place to earn the honor with +8000 odds
He is tied with Carolina QB Sam Darnold in that position.
Where is Baker Mayfield in comparison?
According to Vegas oddsmakers, he has a better chance of earning NFL MVP honors than Cousins.
He is at +5000 tied with Tennessee QB Ryan Tannehill; both are slightly ahead of Denver's Teddy Bridgewater who is at +6600.
There is a lot of football left to play, but Cousins is statistically off to a better start than Mayfield despite the fact that his team is not as successful in the win and loss column.