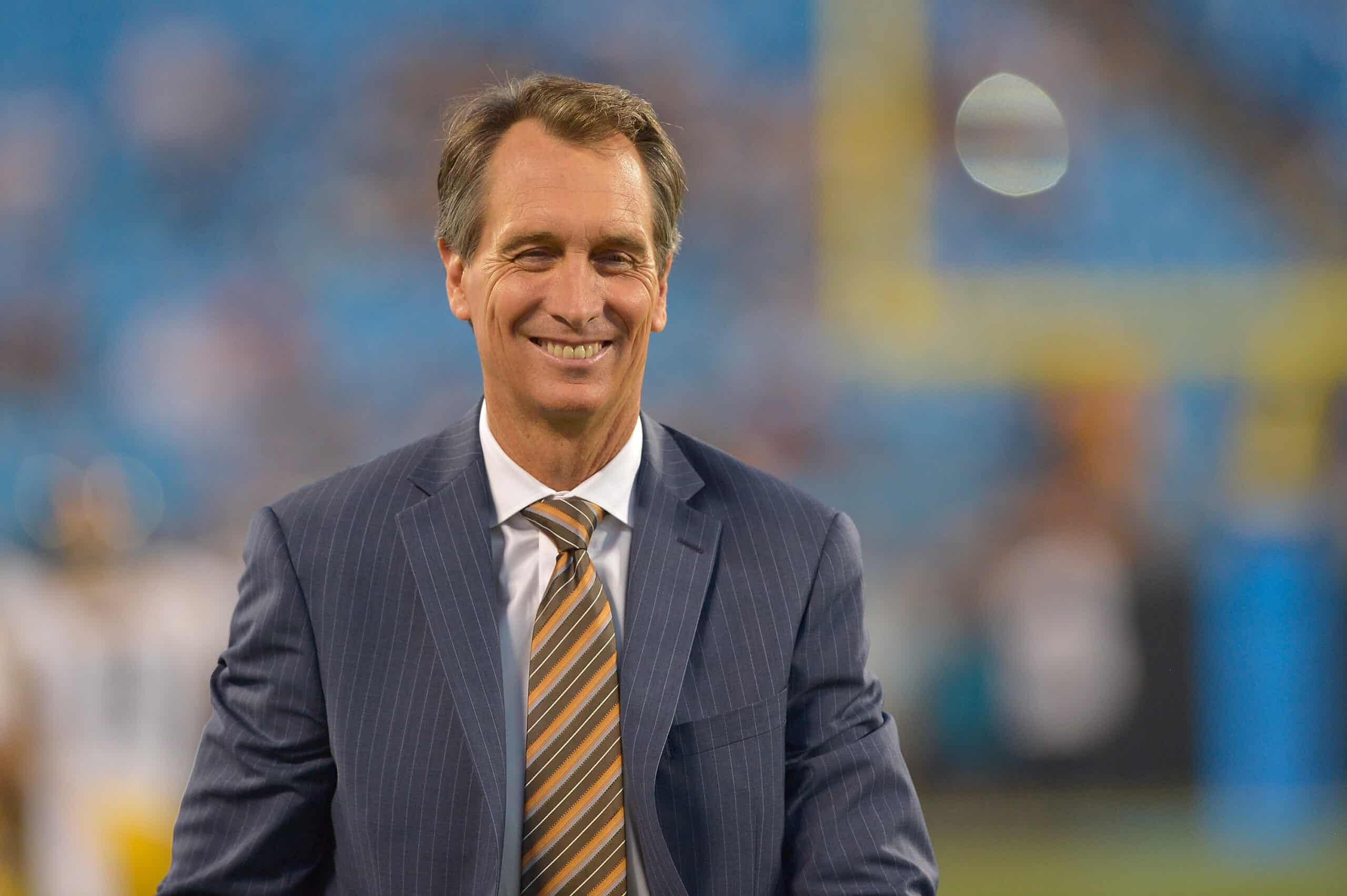 The Cleveland Browns have a huge Week 12 game on Sunday night football against their division rival, the Baltimore Ravens.
The Browns have not been able to crack the code to beat the Ravens since September 2019 during Freddie Kitchens' tenure.
Cris Collinsworth will be in the booth for the game, and he recently called into the Bull & Fox show on 92.3 The Fan to talk about Sunday's game.
As a former Cincinnati Bengals wide receiver, it is not surprising that Collinsworth honed in on the wide receiver position in Cleveland as part of his discussion.
Here are the highlights.
1. Browns Have Been Up And Down
Kevin Stefanski "We are way, way too inconsistent right now."#Browns pic.twitter.com/cQw7rUxFM5

— ESPN Cleveland (@ESPNCleveland) November 15, 2021
This is the norm for NFL teams this season.
It really has been true that teams considered dominant one-week drop games they were expected to win the following week.
Collinsworth described the theme in the NFL this season as "survival" which seems particularly appropriate in the Browns case.
He described the Browns' ups and downs as related to Mayfield's level of play as "bizarre".
He said that within the Lions game, he had great throws and some that were not even close to being on the mark.
2. A Wide Receiver Needs To Step Up
#Browns wide receivers finished the game with 42 receiving yards. That's their fewest in a game since 2016. @ESPNStatsInfo

— Jake Trotter (@Jake_Trotter) November 14, 2021
Collinsworth pointed out that when Jarvis Landry is injured or covered, Mayfield has struggled.
The Browns need a second receiver to step up especially against the Ravens because Collinsworth believes the Ravens will be all over Landry.
Collingsworth noted that Ja'Marcus Bradley made plays in the Lions game.
He speculated if either tight-end Austin Hopper or David Njoku could be that guy against the Ravens.
With Jarvis Landry not practicing on Wednesday, and Donovan Peoples-Jones and Anthony Schwartz dealing with lingering issues that are keeping them out of practice, Collinsworth's comments are particularly true.
3. Kareem Hunt Returning For The Ravens Game Is Huge
Kareem Hunt was averaging 5.2 yards per carry, forced 20 missed tackles on 69 carries. He has 12 explosive runs of 10 or more yards. Kareem averaged 3.54 yards after contact per attempt and caught 20 of 23 targets. He is the exact sparkplug this team needs #Browns pic.twitter.com/g8yEae75jg

— Jacob Roach (@roachizm13) November 24, 2021
Collinsworth talked about Nick Chubb being a special player but more of a pure runner.
Kareem Hunt is the hybrid player capable of different things that can really frustrate opposing defenses.
He is a big play guy, and as everyone knows the tandem is extraordinary.
Conclusion
There is no frontrunner or lock this year in the NFL according to Collinsworth.
It is going to be about who gets hot and healthy at the right time.
The Browns are very much still in contention.
Hopefully, Week 12 against the Ravens is when they get hot and the upcoming Week 13 bye is when they get healthy.