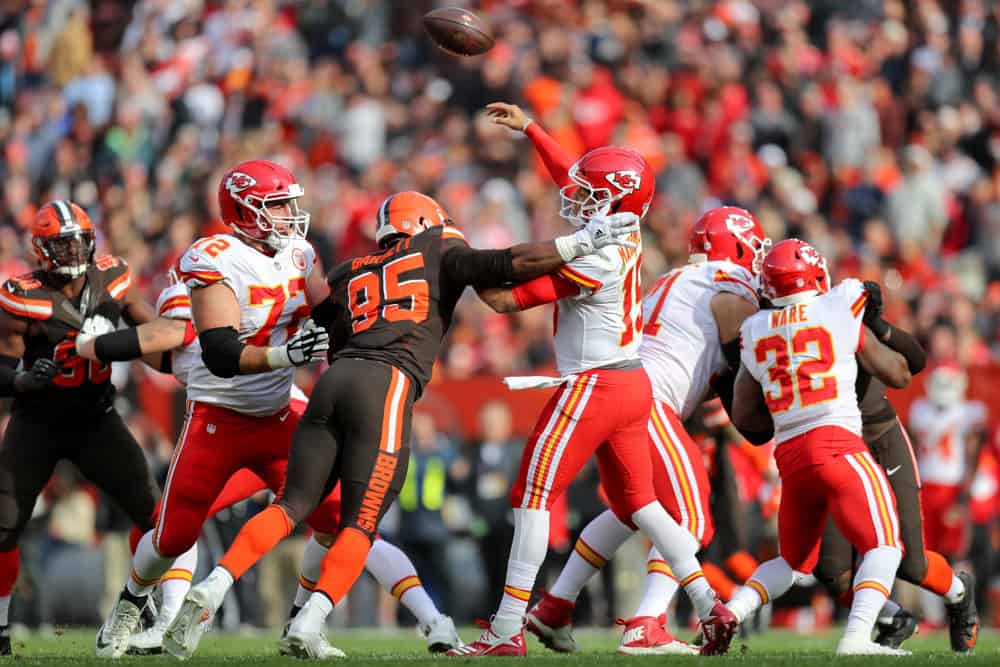 In the days leading up to the NFL Schedule Release, Cleveland Browns fans took their wishes to social media.
Who to play in Week 1 was a popular topic.
Hey @nfl. Please schedule the @browns against the @steelers in week 1.

We want to see the Steelers lose to the #Browns three weeks in a row.

— Cleveland Fan Stuck in Philly (@0H__I0) May 10, 2021
There was a large contingent who hoped to hand the Pittsburgh Steelers a third straight loss.
Others wanted to avenge last season's opening day debacle against the Ravens.
Many argued for an "easier" opponent to give the new Browns defense time to gel.
But one potential opponent sparked the fiercest pro-and-con debates.
Cleveland Browns to open season by facing off with AFC champions, Kansas City Chiefs https://t.co/9osKknwV3r pic.twitter.com/50vfetkiPl

— WKBN Sports (@WKBNSports) May 12, 2021
And when the opening weekend schedule was announced, that debate only picked up steam.
There is no doubt the Kansas City chiefs are determined to return to the Super Bowl and are a tough opponent.
But there is a reason Week 1 is the most difficult week for betting organizations to handicap.
Crazy things happen on opening weekend, and so we ask the question…
Is there an advantage in the Browns facing KC in week 1?
Facing the Super Bowl champion with all their same starters is a difficult way to start the season.
Going against the angry and bitter players who lost that Super Bowl isn't much better.
Patrick Mahomes in particular is going to want to score 50 points in every game this year.
But this isn't the same Cleveland Browns defense he faced in the AFC Divisional game last year.
Bring it on! https://t.co/Z4jKkd6pOr

— LockedOnChiefs (@LockedOnChiefs) May 12, 2021
And even that defense settled down to hold Mahomes to 3 field goal attempts after a pair of early touchdowns.
Cleveland knocked Mahomes out of the game with a concussion during his sixth possession.
It is probably good that his miserable Super Bowl outing erases memories of that matter from his mind.
But as angry as their quarterback is, Kansas City enters the season with 4 or 5 different offensive linemen.
It might all come down to an out-of-character performance by either team on September 12.
But there are other reasons playing the Chiefs in Week 1 might or might not be disadvantageous.
Browns Really Have Nothing To Lose 
Put aside the expectations of Cleveland Browns fans and a few TV analysts for a minute.
Everyone agrees the Browns appear to be a playoff-caliber team.
But there is a reason Cleveland enters the season opener as 6-point underdogs to Kansas City.
And there are others who believe the point spread is an insult to Mahomes and the Chiefs.
Cleveland Browns open as 6-point underdog vs. Kansas City Chiefshttps://t.co/4Ilvl5VtSu pic.twitter.com/z9yiq8oM84

— Ben Axelrod (@BenAxelrod) May 12, 2021
Unless the Browns get blown out in an embarrassment, how would a loss affect expectations?
In that regard, Cleveland would be under more pressure if they played the Houston Texans on opening weekend.
They have to win the games they are supposed to win, and Kansas City is not one of them.
Conference games are all important, and a loss might affect a tie-breaker later in the season.
But Cleveland spectacularly lost a division matchup in last season's first week.
And the team bounced back pretty well.
What About If The Browns Win? 
How long can we keep the "17-0" chants going if the Browns beat the Chiefs?
Cleveland hosts the Texans and the Bears, before slightly tougher games at the Vikings and Chargers.
Then we are home for three games with the Cardinals, Broncos, and Steelers.
Would beating the Chiefs spark a long winning streak?
Week 4: Buccaneers at Patriots
Week 1: Browns at Chiefs

Here are the 10 best games of the NFL season: https://t.co/k6GNCadBK5

— Complex Sports (@ComplexSports) May 13, 2021
That sounds far more likely than a defeat sparking any kind of losing trend.
Few NFL analysts doubt the Browns are legitimate contenders.
But those few can be converted with even a sloppy victory in Missouri.
Even while a blow-out loss won't sway many believers.
Winning in the way most Browns fans hope for will also boost the Pro Bowl odds of multiple players.
And it always seems referees give such players and teams the benefit of the doubt at key moments.
Long Term Genius versus Young Genius 
Andy Reid's reputation as a coaching genius is well-earned over a long NFL career.
Cleveland rolls in with the reigning NFL Coach of the Year in Kevin Stefanski.
And Stefanski has the advantage in Week 1.
Reid has been working the Chief's offense for years and enters his fourth campaign with Mahomes.
Colin Cowherd: "Cleveland got the worst break in the NFL playing KC week 1… Andy Reid is the best September coach in the NFL and Mahomes hasn't even lost a game or thrown an INT in September!" pic.twitter.com/IMBVlin8c1

— CHIEFS HIGHLIGHTS (@ChiefsHighlight) May 12, 2021
He replaced his weakest link with a new offensive line, but his offensive strategy remains the same.
Stefanski also returns with about the same offensive roster, but he promises a more explosive attack.
We don't yet know how Anthony Schwartz will affect the offense, or what "more explosive" means.
And neither does Reid, something that would change if he could prepare for the Browns later in the season.
Cleveland's rebuilt defensive roster and new scheme put any first-week opponent at even more of a disadvantage.
Even if their head coach is a bonafide football genius.