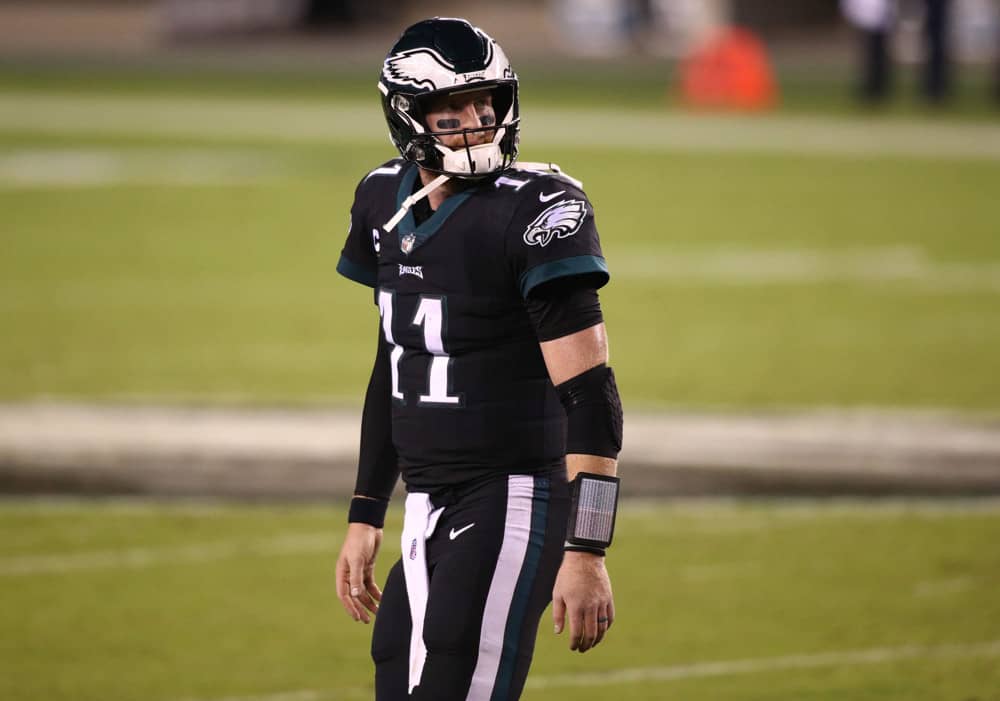 In 2016, the Philadelphia Eagles had eyes on quarterback Carson Wentz and gave up quite a lot in order to draft him.
The Cleveland Browns received the No. 8 overall choice, a third-rounder and fourth-rounder that year and first and second-rounders in 2017.
At the time, this was a great move for Cleveland as all they gave up was the No. 2 overall selection.
The Eagles took Wentz who now has a Super Bowl ring, while the Browns still have not made the playoffs since then.
It sounds like the Eagles have no regrets about giving up a king's ransom in order to acquire Wentz.
Eagles Believe In Wentz
On Sunday, Browns fans will get to see exactly what they gave up in 2016.
Wentz has gone 35-29-1 with no playoff victories since joining the league.
He currently has a 73.1 passer rating, which is the third-worst among qualifying quarterbacks this season.
Despite his struggles, head coach Doug Pederson still believes in Wentz and would do the trade all over again.
"He's the guy we wanted back then. He's still the guy we want today. And I love everything about Carson Wentz, and he's a great leader for our team and our city and I'd do it all over again," said Pederson.
In 2017, Wentz was in the MVP conversation before his season-ending knee injury.
He has not quite been the same since then, but the Browns didn't exactly make much happen with those draft picks.
Pick one:
A) Carson Wentz
B) Browns' draft picks acquired in Wentz trade

Which would you rather have? 🤔 pic.twitter.com/CeawcwxMLO

— NFL (@NFL) May 4, 2017
The Browns front office failed them and wasted their fortune of draft picks.
Luckily, they finally have a general manager that can be trusted to run an organization.
Wentz In Cleveland?
Obviously, the Eagles are going to say they would do the trade over again.
Although, it's interesting to think about if the Browns didn't make that deal.
It's difficult to imagine Wentz having as much success as he did in Philly with the Browns.
The Eagles roster was stacked during that Super Bowl season.
Cleveland hasn't put together a legitimate contending roster until this year.
Certainly plenty of Browns fans would love to have Wentz instead of Mayfield, but you can't change the past.
On Sunday we'll get to see exactly what the Browns gave up during that 2016 draft.