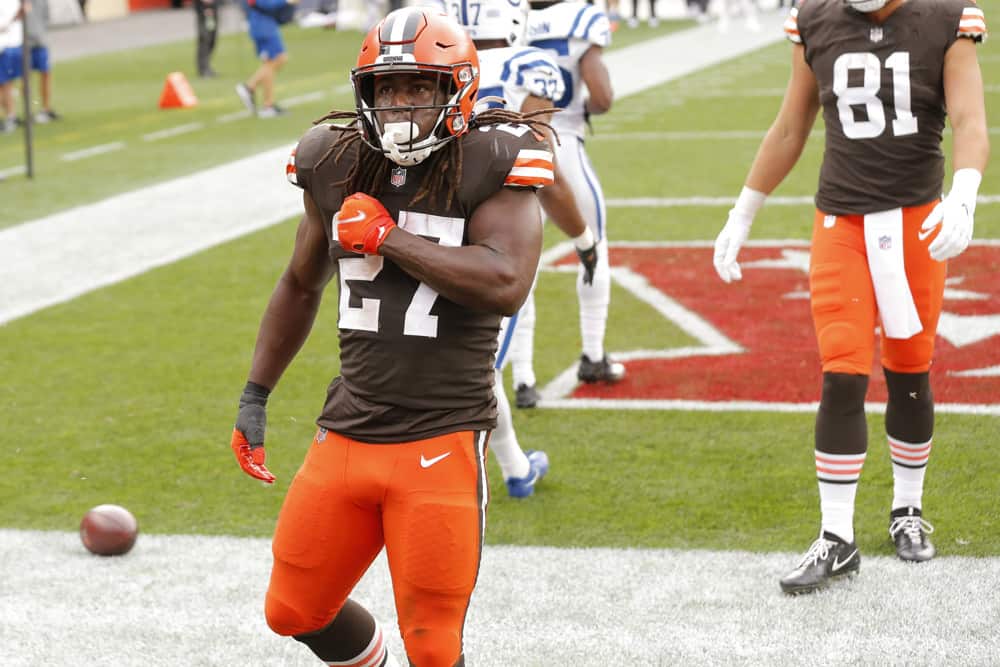 Week 11 brings the Philadelphia Eagles to FirstEnergy Stadium in another must-win for both teams.
For the 6-3 Cleveland Browns, this is the second of three consecutive "easier" contests they feel they have to win.
Philadelphia comes off an upset loss to the New York Giants that narrowed their NFC East division lead to just 1.5 games.
Despite twice as many wins, Cleveland finds themselves in a more difficult playoff position.
Who's the best 6-3 team in the NFL? pic.twitter.com/o2BWoIG4tl

— PFF (@PFF) November 16, 2020
Unless the NFL extends the playoff field to 8 teams per division, the Browns are on the outside looking in at the moment.
The good news is that PlayoffStatus.com gives the Browns the best odds of emerging from the group of 3 teams fighting for the last wild card position.
But Cleveland has to win against lesser opponents to maintain that edge.
Here are 3 Keys to a Cleveland Browns win against the Philadelphia Eagles.
1. Make Philadelphia Pass The Ball
Carson Wentz is dealing with a young and battered receiving corps and offensive line problems.
He gets credit for maintaining any kind of passing attack and keeping the Eagles in games.
But things haven't gone much better than one would expect under those conditions.
Myles Garrett goal-line stand 😤 pic.twitter.com/Kuc7kjFW7x

— Everything Cleveland (@EverythingCLE_) November 15, 2020
Against a solid, but unspectacular Giants defense, Wentz managed just 5.6 yards per attempt.
New York sacked Wentz 3 times and was credited with 12 QB hits on 37 dropbacks.
And there is no Myles Garrett-caliber player on the New York team.
Miles Sanders and Boston Scott ran the ball well in Sanders' first game back from injury.
Cleveland needs to keep them bottled up on early downs and force Wentz to face the Garrett-led pass rush.
It would help if Baker Mayfield's offense jumped out in front early, too.
2. Cleveland Must Win the Turnover Battle 
Joe Woods' defense overcame early-season struggles by making key turnovers.
Lately, the defense is playing better overall, but the turnovers are fewer.
Philadelphia just played its first turnover-free game.
But the Eagles still own the league's third-worst turnover differential (-7) and there were some close calls against the Giants.
"For our defense to play and hold them the way we did … It was not going to be easy."

Defense shuts down Texans, continues to show growth » https://t.co/4IzZQvv7Gm pic.twitter.com/p9L1K9pGzT

— Cleveland Browns (@Browns) November 16, 2020
Carson Wentz, among the leaders in individual turnovers, put the ball on the ground twice.
Backup Jalen Hurts, apparently learning by example, also fumbled but the ball was not turned over.
Cleveland's +4 turnover differential is still good for 6th best in the NFL.
Baker Mayfield broke his early-interception habit with 2 straight turnover-free games.
That trend would go a long way toward assuring the Browns win the turnover battle against Philly.
3. Free Baker Mayfield! 
When your team boasts a pair of running backs like Nick Chubb and Kareem Hunt, it is easy to forget about the passing game.
And with high winds and rain wreaking havoc during the past two games, Baker Mayfield was almost a non-factor.
But there are a few reasons Kevin Stefanski should let Mayfield impact the game this week.
For one, the Eagles are pretty good at bottling up running backs.
Last week, they held the Giants' running backs to 3.3 yards-per-carry.
That's our RB 😤

📺: @NFLonFOX pic.twitter.com/TNMnLnEb45

— Cleveland Browns (@Browns) November 15, 2020
In fact, if you took away each of their best runs, Wayne Gallman and Alfred Morris averaged just 2.5 yards-per-carry.
Mayfield rolling out and hitting a few first down connections would loosen the Eagles' run defense a bit.
Another reason to pass is that the Eagles' pass defense isn't very good.
Let Mayfield enjoy some moments and maybe that will keep future opponents more honest, too.
Granted, the Giants' Gallman and Morris combo won't be mistaken for Chubb/Hunt on any given Sunday.
But we're not talking 50 pass attempts for 400 yards from Mayfield.
Something along the lines of his early-season game-managing efforts of 20/24/225 would do the trick.