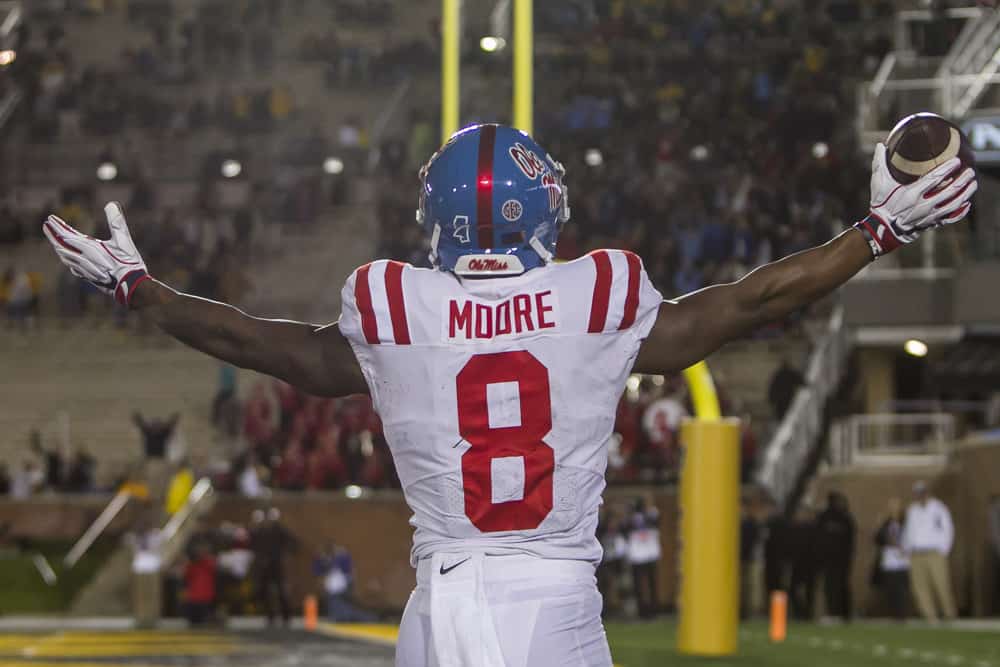 With about four weeks to go until the 2021 NFL Draft, speculation goes into high gear as to who the Cleveland Browns could be seriously looking at with each of their draft picks.
The latest player under speculation is wide receiver Elijah Moore from Ole Miss.
Moore is a 21 years old, 5'8″ tall and weighs 185 pounds.
His junior season in 2020 was the exclamation mark on his college career.
Watched some Elijah Moore last night. Came across the epic Lane Kiffin clipboard toss. Easily one of my favorite college moments. pic.twitter.com/YdpywJ3QBe

— Wes On Broadway (@TitansDraftTape) March 25, 2021
He was named a consensus All-American and first-team All-SEC in 2020.
At this point, Moore is projected to be an early second-round draft pick.
Draft Profile For Elijah Moore
Moore's Ole Miss Coach Lane Kiffin offered a big endorsement of Elijah Moore.
"This is a first-round slot [receiver]. I didn't coach him, but [Elijah Moore] kind of reminds me of Carolina's Steve Smith. Just the stop and start ability is so explosive and a great route runner. Even though I didn't have him, that would be what I would compare him to."
His size may detract some teams, but his overall abilities can help many NFL teams.
Pro Football Network said:
"Moore has legitimate game-changing ability with his speed, explosiveness, and elusiveness. On top of that, he's also an excellent route-runner, a scary run-after-catch threat, and a receiver who can haul in passes amidst contact."
Browns Draft Picks
The Browns have the 26th pick in the first round.
In the second round, they have the 27th pick or 59th overall.
Could The Browns Draft Moore In The First Round?
While it is always possible, it seems unlikely.
The Browns have devoted free agency (and most likely the first round of the draft) to fixing the defensive woes that plagued them in an otherwise successful 2020 season.
Jaelan Phillips, defensive end from Miami, is the name that keeps popping up in mock drafts as the Browns' first-round draft pick.
Pro Football Network believes Moore could easily fit the needs of the New Orleans Saints, Miami Dolphins, San Francisco 49ers, Detroit Lions, Atlanta Falcons, and Washington Football Team.
NFL Players Advocating For Moore
Ole Miss alumnus and current Tennessee Titans wide receiver AJ Brown is advocating for the Titans to take a look at Elijah Moore after Moore had a successful Pro Day recently.
As expected. @Titans don't mess this up! 🥲 https://t.co/AgtCBKbciQ

— AJ Brown (@1kalwaysopen_) March 25, 2021
Closer to home, Browns WR Odell Beckham Jr. also has taken notice to Moore.
Draft prospect Elijah Moore is already turning heads 👀🔥 @obj @e_moore03 pic.twitter.com/CwJWQVcVoU

— The Checkdown (@thecheckdown) March 10, 2021
In an interesting rebuttal, NFL Network draft guru Daniel Jeremiah responded to OBJ by saying:
"We are not sleeping on him, OBJ. He's legit, and he is somebody that I love on day two of the draft. Because we talk about somebody with instincts, we use the term FBI right, football intelligence, this guy is dripping with instincts. He's quick; he's sudden; he's tough. They line him up some in the backfield, in the slot. You can move them all over the place…He's just a playmaker and you see him cooking corners (on film). He did it throughout the entire SEC season."
Tune in to the 2021 NFL Draft, held in Cleveland, from April 29 to May 1, 2021 to find out which players the Browns select.