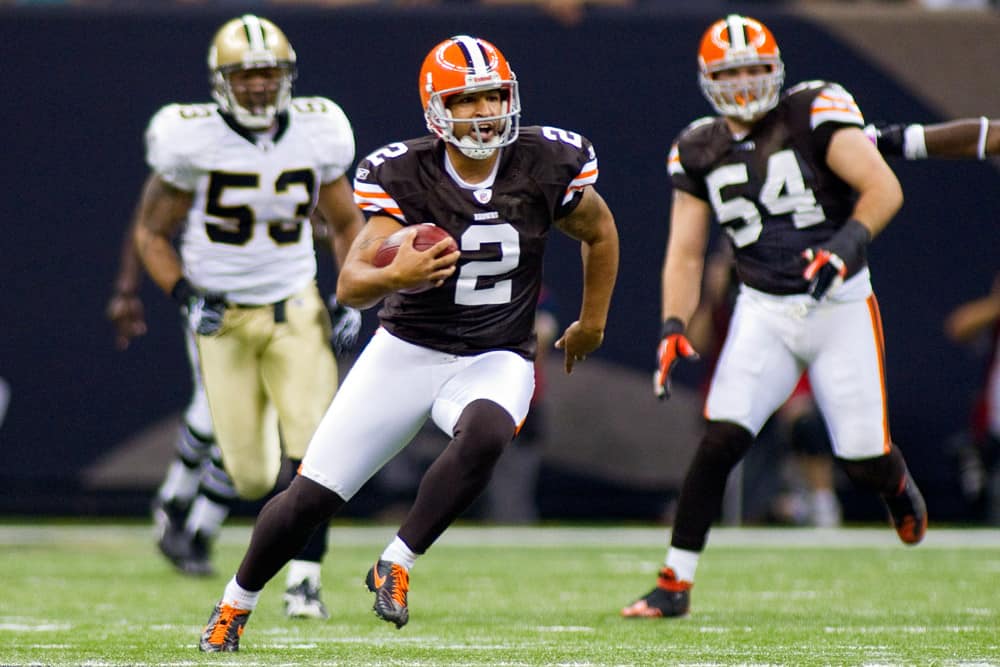 At 38, former Cleveland Browns punter Reggie Hodges is enjoying retirement.
Reggie had a successful punting career beginning in high school.
During his senior year, he averaged 39.4 yards per punt.
At Ball State University, he became the starting punter during his freshman year.
Hodges graduated with 254 punting attempts and 10,210 yards and was the 2nd most prolific punter in school history
His NFL career spanned 8 seasons, and it was a busy and memorable one.
It started at the 2005 NFL Draft where he was selected in the 6th round by the St. Louis Rams.
Following stops in Philadelphia, Indianapolis, Seattle, New England, New York (Jets), and Tennessee, Hodges finally landed at home in Cleveland where he spent the final 3 seasons of his career.
Reggie tore his left Achilles tendon during preseason practices leading up to the 2011 season and was placed on IR.
Hodges returned for the 2012 season before retiring.
He punted 320 times in his career.

NFL Career Highlights
Hodges is one of only a select few African American punters in NFL history.
He holds the record for the longest run by a punter in NFL history.
It was a 68 yard run as a result off a fake punt against the New Orleans Saints on October 24, 2010.
This run was also the longest by a member of the Cleveland Browns during the 2010 season.
Retirement Mantra – "Love Well, Serve Well"
What hasn't changed from Reggie's playing days is his desire to be a spiritual leader.
He always served as a mentor in the locker room and to this day, misses the camaraderie with his teammates.
However, he has reaped the seeds of the work he started in the locker room and taken it out into the community.
His purpose is to "offer motivation, guidance, and inspiration" to organizations and teams comprised of people of all ages.
Reggie's pride in his family, wife Ann, and three children is evident.
One of his personal NFL highlights near the end of his career was looking up into the stands and seeing his two oldest children then 4 and 2 (now 13 and 11) watching the game.
Thrive
A logical continuation of his mission was to write a book.
Thrive is written specifically for Christian athletes to help them live their best lives.
Reggie believes if people train themselves to lean on their faith in high-pressure situations, they will thrive.
That training involves knowledge and study of Biblical principles.
By honoring God and sport, Reggie believes athletes can achieve their true purpose and identity.
Whereas Thrive and Reggie's public speaking crusade focuses on the mental aspect of athletics (and life), he also is involved in the physical fitness aspect of developing athletes.
Reggie is co-owner of Pro Sports Performance, a fitness facility in Strongsville, Ohio.
Jason Trusnik, a retired NFL player who played 10 years in the league, is his partner.
Pro Sports Performance prides itself on harnessing speed, strength, and power for athletes of all ages.
Personal training, classes, and camps are offered.
Reggie Hodges has taken his passion and skills from his playing days and embarked on a life-long mission of educating people both spiritually and physically.