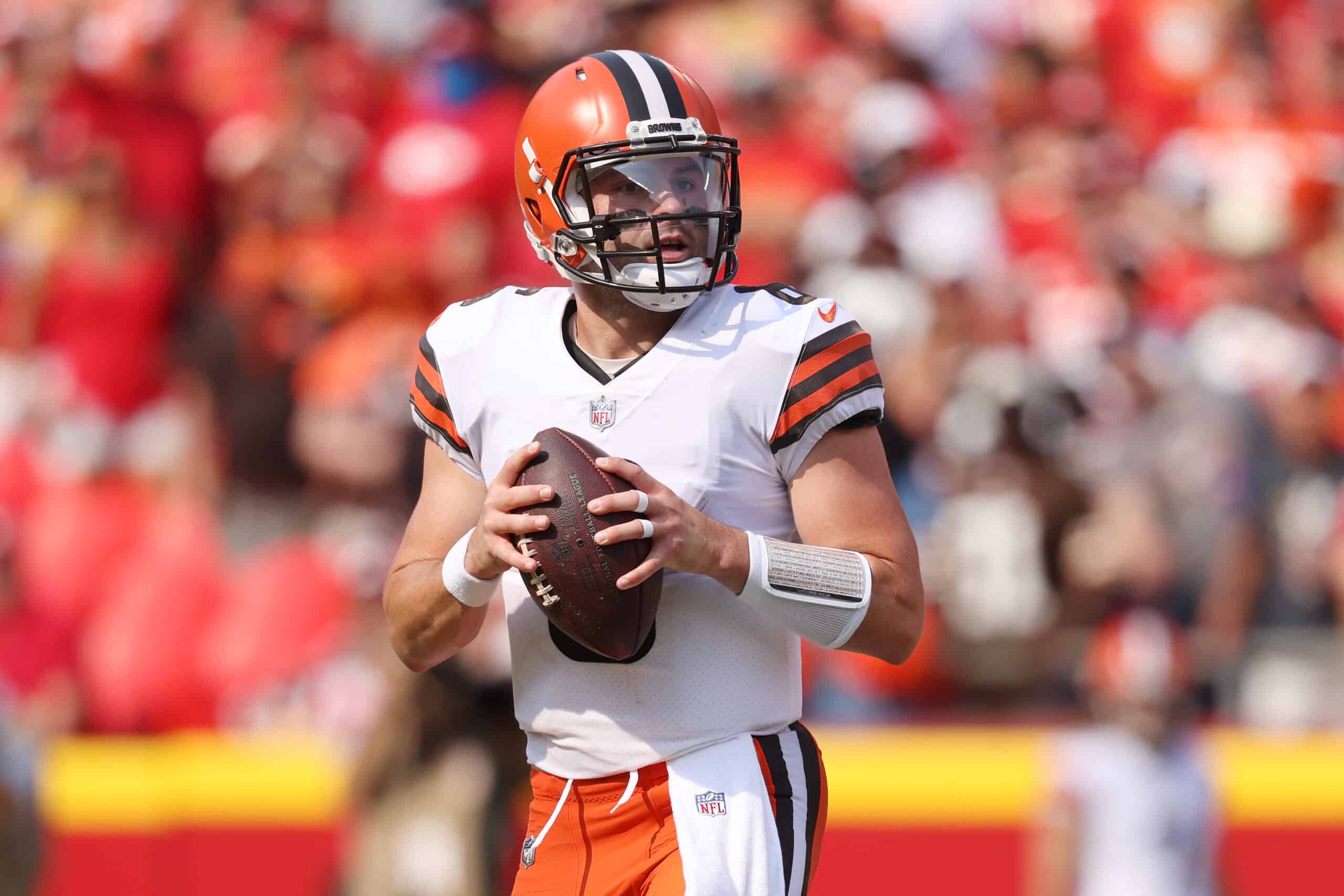 The Cleveland Browns played their hearts out in Sunday's loss against the Kansas City Chiefs.
Leading that list of players who left it all on the field was quarterback Baker Mayfield.
Though many will judge him by his final play of the game, his entire performance from the first quarter forward should be evaluated.
Baker Mayfield today threw for 321 yards in 75% completion percentage but the only thing anyone will talk about tomorrow is an interception he threw while being tackles and trying to throw the ball away

— Sports Talk Spicer (@SportsSpicer) September 13, 2021
His grade for the game is a "B".
Here is why.
1. Completions
Baker Mayfield's first pass of the season is complete to Nick Chubb for an eight-yard completion and a first down. #Browns

— Hayden Grove (@H_Grove) September 12, 2021
He completed 21 out of 28 passes for 321 yards.
That is a 75% completion rate.
Mayfield threw lasers and kept the chains moving for the majority of the game.
He and the offense did their part to keep the Browns in the lead for 53 of the 60 minutes of the game.
2. Interceptions
@bakermayfield made one bad throw yesterday and I feel he was trying to throw it away, but got hit as he threw. Played a near perfect game. Excited for this season. Go @Browns!

— JBird (@jayovery) September 13, 2021
Mayfield had a clean game until the very end.
While the Browns still were in striking distance of a win, he threw an untimely interception while in the grips of a Chiefs defender.
Whether he meant to throw it out of bounds or not, it was not a smart decision.
Had this play occurred early in the game, it likely would have not been the focal point of discussion on Mayfield's performance.
The only reason he is graded with a "B" is because of the timing of the interception; otherwise Mayfield had an "A" performance.
Turning Points Out Of Mayfield's Control
The Mayfield naysayers cannot hold against him the parts of the game that were outside of Mayfield's control.
It is a team game, but this loss is not solely on Mayfield's arm with the 4th quarter interception.
Chubb Fumble
The #Browns win probability dropped from 77% to 55% following Nick Chubb's fumble (by 22%).#CLEvsKC | #ChiefsKingdom pic.twitter.com/z0UDzioJY2

— Next Gen Stats (@NextGenStats) September 12, 2021
Nick Chubb had an uncharacteristic fumble that was costly, and he knew it from the moment he got up from the play.
Nick Chubb took complete ownership of his fumble, no excuses.

"You've got to finish. We made too many mistakes, with me making the worst one."

— Andrew Gribble (@Andrew_Gribble) September 13, 2021
Botched Punt
#Browns Jamie Gillan drops snap, tries to run, disaster.

— Scott Petrak ct (@ScottPetrak) September 12, 2021
Perhaps the worst play of the game in terms of timing and swinging the momentum back to the Chiefs was the punt that no one yet can understand how it did not happen.
The snap was perhaps less than perfect but manageable, and the Browns protection looked to be sufficient for Jamie Gillan to get it off.
Browns punt blocking on this play was excellent. He could have got that punt off still. Jamie Gillan just panicked.pic.twitter.com/G87L5cUdjZ

— Tim x opTIMus 🎮 (@timschuerger) September 12, 2021
Wills Injury
The offensive line did not look as sharp after left tackle Jedrick Wills was taken off the field in a cart.
Mayfield's blindside was definitely more vulnerable after that happened.
#Browns Jedrick Wills Jr on Instagram: "Be back soon." pic.twitter.com/zJN2gYdtjB

— Brad Stainbrook (@BrownsByBrad) September 12, 2021
Heat
Both teams competed in the heat, and the Chiefs clearly deserved to win; however, the heat was a factor.
This includes the temperature on the field and the heated exchange that led to safety Ronnie Harrison's ejection from the game.
John Johnson III had to go to the locker room to get fluids.
#Browns John Johnson III went to the locker room for IV for cramps, per tv, but came back out

— Mary Kay Cabot (@MaryKayCabot) September 12, 2021
Conclusion
Hopefully, Wills did not suffer a long-term injury because that would be more devastating than this Week 1 loss.
The Browns and Mayfield will learn, rebound, and move on.
It is a long season ahead, and Mayfield showed glimpses of greatness yesterday so we believe there is more where that came from once the team's mistakes are cleaned up.