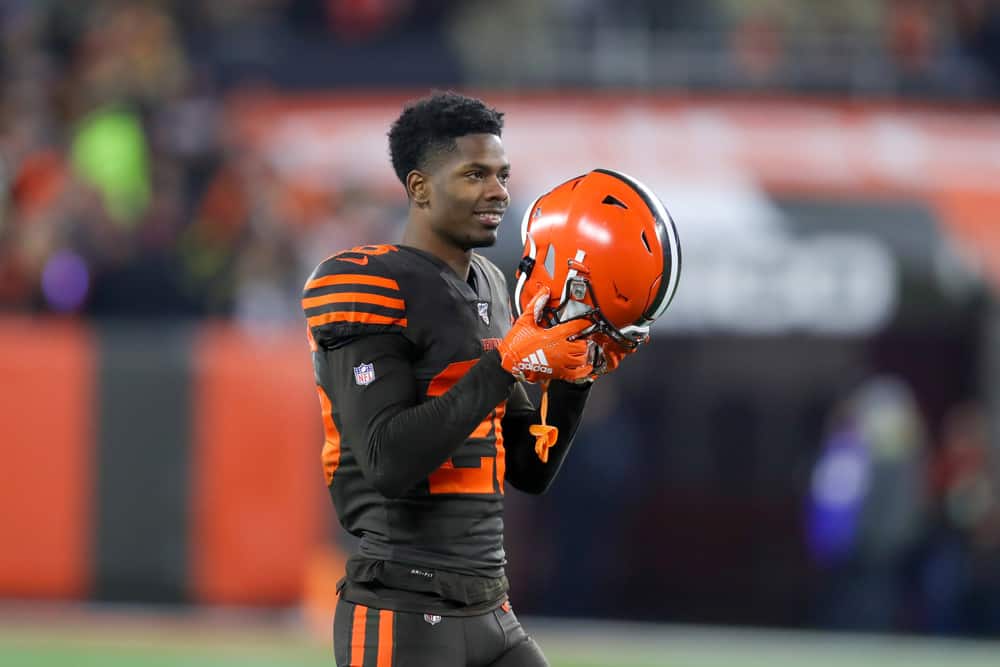 The main focus of the Cleveland Browns during free agency has been improving on the defensive side of the ball.
They've signed a handful of players who should be able to make an impact right away in Cleveland.
It's also worth noting that the Browns are expected to get safety Grant Delpit and defensive back Greedy Williams back in 2021.
Both players missed all of the 2020 season due to injuries they suffered during training camp.
The Browns got zero snaps from 2019 2nd-round pick Greedy Williams and 2020 2nd-round pick Grant Delpit due to injury this past season. The duo could be a big boost to the Cleveland secondary in 2021.

— Mike Clay (@MikeClayNFL) February 9, 2021
The Browns have high hopes for both players, but Williams needs to show improvement or he might not last too long in Cleveland.
Waiting On Williams
In 2019, the Browns selected Greedy Williams out of LSU in the second round during the draft.
At the time, this seemed like a steal for the Browns since Williams was graded as a first-round talent player.
A mediocre sophomore campaign was likely part of the reason why Williams fell in the draft.
Despite that, he showed tremendous potential during his time in college.
He looked like a superstar defensive back in the making while playing against some of the best players in the country.
#LSU DB Greedy Williams breaks up a pass intended for DeVonta Smith. pic.twitter.com/h1T2t27Gw5

— Steve Frederick (@_SteveFrederick) November 4, 2018
Sadly, things have not gone well for Williams since being drafted by the Browns.
In 2019, Williams recorded 47 tackles, two tackles for loss, and two passes defended in 12 games.
He missed time due to injuries and did not look comfortable in the Browns system.
To be fair, Williams wasn't used correctly during his rookie season.
Then-coach Freddie Kitchens often times used Williams in zone coverage.
That was a bit of an odd decision since Williams was an elite player in man coverage during his college career.
Even when the ball is not thrown his way, it's easy to see #LSU CB Greedy Williams (#29) smooth hips and technique in man-to-man coverage. Has the potential to be a shutdown corner in the NFL. pic.twitter.com/Dg5cfG0Thn

— Jordan Reid (@Jordan_Reid) October 30, 2018
At the professional level, Williams was exploited in zone coverage, which is why he graded so poorly during his rookie year.
The hope is that the new coaching staff will actually allow Williams to play more man-to-man defense instead of zone going forward.
Although, the first thing Cleveland needs to do is get Williams healthy and on the field.
Don't Stop Believing 
Before being drafted, some scouts had Williams viewed as a top 10 talent in his draft class.
Honestly, that might be a stretch, but he truly is a talented player when he's actually healthy.
Going back and watching his film from his LSU days should get Browns fans excited about the potential of Williams.
Dawg Pound gets their newest player to cheer for

Cleveland Browns select LSU CB Greedy Williams pic.twitter.com/CRhFmzGPq7

— B/R Gridiron (@brgridiron) April 27, 2019
Last season, Williams wasn't able to suit up due to a nerve issue in his shoulder.
The Browns had a tough time trying to fill his shoes during the 2020 season.
Cleveland was hopeful that Williams could form a dynamic duo with fellow defensive back Denzel Ward.
Sadly, the two of them haven't seen much time on the field together.
To be honest, Cleveland appears to be only a few pieces away from being legitimate Super Bowl contenders.
That being said, the Browns cannot afford to have their No. 2 defensive back being a liability.
Another sluggish year could force the front office to replace Williams with someone who can make an instant impact on defense.
It's a shame because Williams does have plenty of upside, but the Browns don't have time to deal with the learning curve.