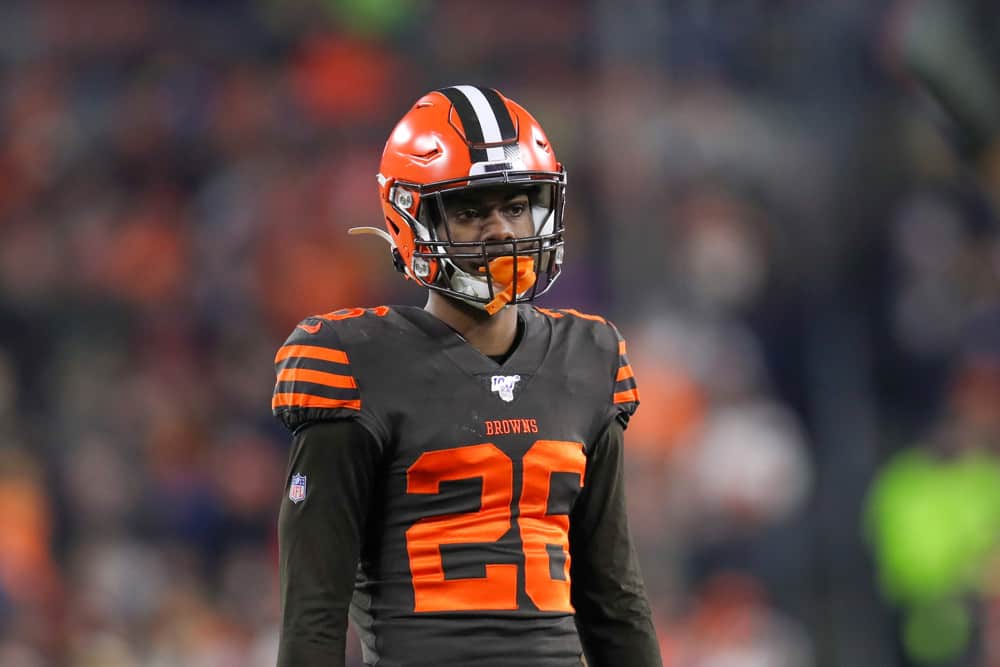 The Cleveland Browns defense can flex their muscles all week long if they want.
Despite struggles from the offense, Joe Woods' defense turned in a dominant performance to help lift the Browns to a 14-7 win over the Vikings.
With no Greg Newsome, Woods turned to third-year cornerback Greedy Williams to start opposite of Denzel Ward.
He not only held his own, but excelled in just about every aspect of his play, netting him a dynamite score from Pro Football Focus.
#Browns Greedy Williams filled in for the injured Greg Newsome and shined.

He had 6 tackles, a pass deflection and a huge 4th quarter interception. He received an 86.4 PFF grade. 💪🏾 pic.twitter.com/1W8HXz6ldS

— MoreForYouCleveland (@MoreForYou_CLE) October 4, 2021
So far, Williams has made the most of his opportunity.
However, according to one of his most recent Tweets, Greedy doesn't plan on making his interception on Sunday the only takeaway of the season.
More to come ✍🏾 https://t.co/SgNWluc9NL

— Greedy Williams ™️ (@Greedy) October 5, 2021
What should fans expect from Williams in the coming weeks?
Greedy for More
Browns fans have long awaited the first career interception for Williams.
After being drafted in the second round of the 2019 draft, some hoped Williams would contribute right away.
It hasn't panned out like that, with injuries serving as a big reason why.
Even this offseason, Greedy battled some physical adversity throughout the summer.
Yet, he continues to work hard and stay ready.
Guys who do that usually do just fine when their number is called on Sunday.
#Browns ST coordinator Mike Priefer praised CB Greedy Williams for attitude after getting hurt in training camp coming off lost year and then losing starting job to Greg Newsome II. Priefer said Williams looked at him and told him he'd be ready for whatever he needed him to do.

— Nate Ulrich (@ByNateUlrich) September 30, 2021
For Greedy, Sunday must feel like a huge breakthrough.
If anyone has wanted to see Williams on the field the most, it's the man himself.
The NFL is his livelihood, not just a game.
Having missed all of 2020, Williams entered this season with some pressure.
Another year of, well, nothing, would start to put some writing on the wall.
Now, after one electric Week Four performance against Minnesota, the tune has changed on Williams.
That's not to say the brown and orange faithful ever wanted Greedy to fail at this level.
There were understandably some frustrations mounting, however, with his unavailability his first two seasons.
Now that he's healthy, he finally has a chance to prove his worth.
The Rich Get Richer
There are over a dozen teams around the NFL right now who would immediately take Williams as one of their starting corners.
For Cleveland, he is a backup on the depth chart.
Once Newsome returns, the assumption is that he takes his starting spot back.
We'll find out for sure on that as the week moves along.
But this shows the depth and talent of the Browns defense.
Granted, they were a tad underwhelming to kickstart the season.
After just four weeks though, that side of the ball has taken a giant stride forward.
The defense needed to be almost perfect against Minnesota.
After surrendering just seven points to an offense that averaged 29 per contest heading into Sunday, I'd say that's "mission accomplished".
Trusting Your Guys
Sunday's performance for Williams is reassurance that he can be counted on.
Few things frustrate coaches more than putting a guy in thinking he's ready for action when in reality he isn't close.
That's where athletes get embarrassed and play themselves out of the league.
Had Greedy been lazy with his time off the field, he could fall into that category.
Williams has clearly stayed ready, however, and looks to factor into this Browns defense in 2021.