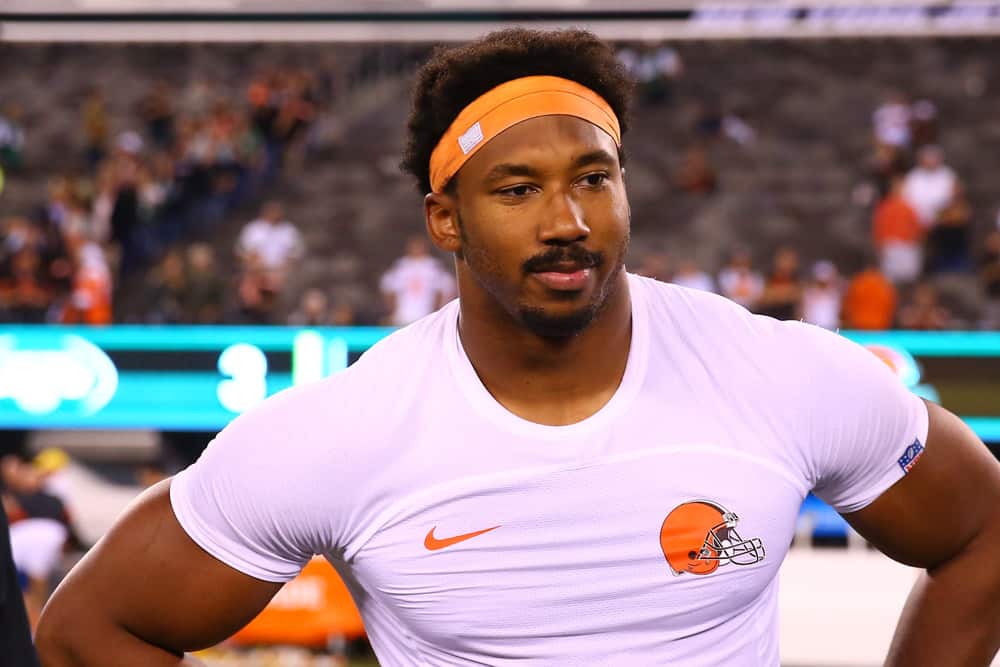 When an NFL team offers someone a contract worth over $100 million, it means they think you are pretty good.
It's safe to say the Cleveland Browns think Myles Garrett is more than "pretty good".
The question then becomes, just how good can Garrett be in the NFL?

PayDay
On Tuesday, reports surfaced that the Browns were offering their star defensive end a five-year, $125 million dollar extension that would keep Garrett in Cleveland through 2026.
In addition, $100 million of the deal would be guaranteed.
The deal has since gone through as the club made it official on Wednesday afternoon.
Garrett let his feelings about the deal be known.
As excited as Browns fans are to continue watching him on the field, he's just as excited to be out there in front of them.
We're ready to get to work, @MylesLGarrett ✊ pic.twitter.com/IKtNsYgGPO

— Cleveland Browns (@Browns) July 15, 2020
"In 2017, the Cleveland Browns bet on me. This city quickly became my home and these people quickly became my family. I'm eternally grateful for this opportunity, the support of my friends and family, the organization, my teammates, the fans—I could go on forever, but even that wouldn't be enough time to express my gratitude. I'll just say this: Keep betting on me, Cleveland, because I won't let you down. Now, let's get to work."
Myles Garrett putting pen to paper, presumably on his massive five-year extension with the Browns (via his IG) pic.twitter.com/ABrnEE3jTe

— Jake Trotter (@Jake_Trotter) July 15, 2020
How Good Can He Be?
The Browns should be beyond thrilled they have a first-round pick that has panned out and wants to stay in northeast Ohio.
Per Field Yates of ESPN, he is the only first-round pick by the franchise since 2011 to sign a second contract with them.
Not only have things worked out with Garrett, but he has the potential to be the best defensive end in football.
Highest pass rush win rate when lined up as an edge rusher since 2017

1. Myles Garrett – 25.2%
2. Joey Bosa – 24.4%
3. Cameron Wake – 23.1%
4. Za'Darius Smith – 21.1% pic.twitter.com/R3WPA0TpVW

— PFF (@PFF) July 14, 2020
The physical attributes are certainly there for Myles.
Standing 6'4" and weighing over 270 lbs will get even the least polished guys a chance to earn some snaps.
Garrett is not in that category, but he is not the most fine tuned guy either.
Still, he led the league in sacks before the Mason Rudolph incident ended his season.
With even more technical work at the position, his claim to "best in the league" becomes that much closer to reality.
Myles Garrett is the most talented edge rusher in the NFL. He hasn't always been the most consistent but he has the best tool kit.

— Daniel Jeremiah (@MoveTheSticks) July 14, 2020
Why does Myles Garrett deserve the richest Defensive Contract in the #NFL?

1. 0.82 Sacks Per Game in Career (30.5 in 37 Games)

2. 116 Career Pressures

3. 1 of 3 players to hold a Pressure Rate of 12% in the last 3 years

4. Disruption Rate of 18.5% last year (1st in the NFL) pic.twitter.com/j1feTkocLb

— The Hottest Take Sports Podcast (@Hottest_TakePod) July 15, 2020
Despite missing almost half the season, Garrett's numbers from last year are still impressive.
Nick Shook pointed this out in a recent NFL.com article. Shook notes that Garrett's stats are comparable to two of the top edge rushers in the league .
"The Browns had a 32.9 percent pressure rate with Garrett on the field in 2019; without him, that figure dropped to 21.5 percent. Garrett's disruption rate was the best in the NFL. He registered a pressure on 17.1 percent of dropbacks in 2019, which was the highest percentage posted by a player since the 2016 season. He also became one of just three players to post a pressure rate of 12 percent or higher in each of the last three seasons. The other two: Aaron Donald and Von Miller."
He also finished 49th on the NFL's list of top 100 players in 2019.

Looking Ahead
Assuming the incident that led to his suspension was an outlier, Garrett is on a development path that could very well give him the title of the top edge rusher in the league.
People will always point to that Thursday night as a reason to why he is not one of the best or doesn't deserve a big contract.
See a recent outburst from a Pittsburgh-area radio host for more on that.
Still, play will almost always speak for itself.
Garrett's ability on the field will do plenty of talking.