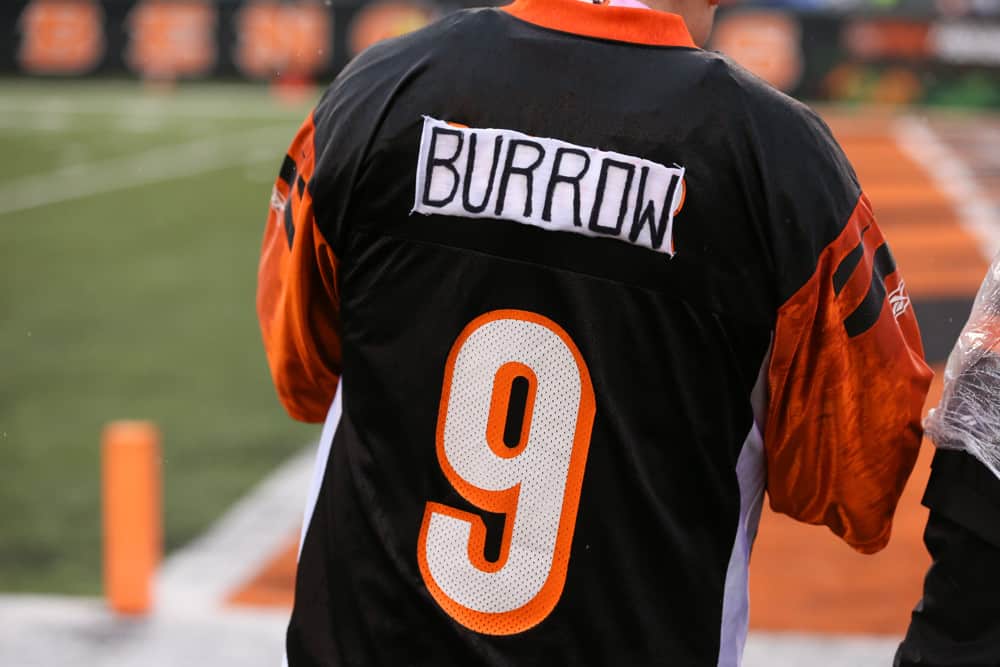 Football fans are anxiously waiting for the 2020 NFL season, and many are equally excited about the release of Madden 21 in late August.
There have been some Madden 21 ratings released, and Cleveland Browns fans are waiting to see Baker Mayfield's rating.
Thus far, we know some ratings, including ones for the rookie quarterbacks:
Madden 21 rookie QB ratings:

– Joe Burrow: 76
– Tua Tagovailoa: 73
– Jordan Love: 71
– Justin Herbert: 70
– Jalen Hurts: 68 (86 speed)
– Jacob Eason 63
– Jake Fromm 62

— NFL Update (@MySportsUpdate) July 9, 2020

Joe Burrow's 76 leads all quarterbacks in the 2020 draft class, but his rating pales in comparison to Mayfield's Madden 19 and Madden 20 "launch" ratings.
Heading in Baker Mayfield's rookie season, he had a launch rating of 81.
After his strong rookie year, he boosted himself to an 83 launch rating heading into the 2019 season.
However, Mayfield's Madden 20 rating never increased.
As the 2019 season progressed, his rating and awareness rating decreased.
Therefore, Browns fans and Cincinnati Bengals fans may have comparable quarterbacks in Madden 21.
Mayfield's Madden 20 Season
Mayfield's Madden 20 season started tied as the 11th-best quarterback with an 83 rating.
However, by Week 6, the NFL world was fully aware of Mayfield's struggles.
His rating dropped four points, as he completed just 56 percent of passes for four touchdowns and eight interceptions.
While he was averaging almost 250 passing yards per game, his awareness rating had fallen from a launch rating of 80 to 75 in Week 6.
Then, as Mayfield continued through this sophomore slump, his performance and Madden rating suffered.
From Week 7 to Week 17, Mayfield had three separate games of at least five sacks, and his Madden rating fell to a 76.
His awareness continued to fall and it finished the season at a rating of 67, which was by far his worst of the season.
While Mayfield's 2019 season was a struggle, there is optimism heading into the 2020 season and Madden 21.
Projecting Mayfield's Madden 21 Season
In Madden 21, Mayfield's overall launch rating has yet to be released.
We do know his throwing power rating though:
You read that right, Patrick Mahomes isn't No. 1 in throwing power 😳 @EAMaddenNFL #Madden21 pic.twitter.com/iZQhT7io4C

— NFL on ESPN (@ESPNNFL) July 13, 2020
Mayfield's 93 throwing power rating is the same as his throwing power rating throughout Madden 20.
There are two rookies on the throwing power leaderboard, but the 2020 No. 1 overall pick is nowhere to be found.
With Mayfield's impressive throwing power, Browns fans hope that he will have an overall rating that is better than Burrow's.
Unfortunately, Mayfield's Madden 20 rating of 76 at the end of last season could mean that his Madden 21 rating is the same.
If so, then he and Burrow will have the exact same overall rating for the Madden 21 launch.
If Mayfield bounces back to have a strong third season in the NFL, he will be sure to fire up the Madden 21 quarterback rankings.
With the Browns projecting to have an improved offense in 2020, many fans hope to see Mayfield approaching the top 10 in Madden 21 quarterback ratings by the end of the season.
The Verdict: Will Mayfield's Launch Rating be Higher than Burrow's?
Neither Mayfield nor Burrow will be a top-10 quarterback at the Madden 21 launch:
Top 10 QBs in Madden 21:

Patrick Mahomes: 99
Russell Wilson: 97
Lamar Jackson: 94
Drew Brees: 93
Tom Brady: 90
Aaron Rodgers: 89
Matt Ryan: 87
Deshaun Watson: 86
Dak Prescott: 84
Carson Wentz: 84

— NFL Update (@MySportsUpdate) July 13, 2020
Hopefully, Mayfield gets some boost for the Madden 21 launch and the video game raters have him just above Burrow.
The Browns will most likely be fighting for playoff position in 2020, and therefore, Mayfield will most likely finish the season with a better rating than Burrow in Madden 21.
Madden 21, which will be released as early as August 25 with the MVP Edition, is sure to be another stellar part of the Madden series.
Browns fans cannot wait to have Mayfield slinging the ball to Odell Beckham Jr., Jarvis Landry, and Austin Hooper in the game on at FirstEnergy Stadium.