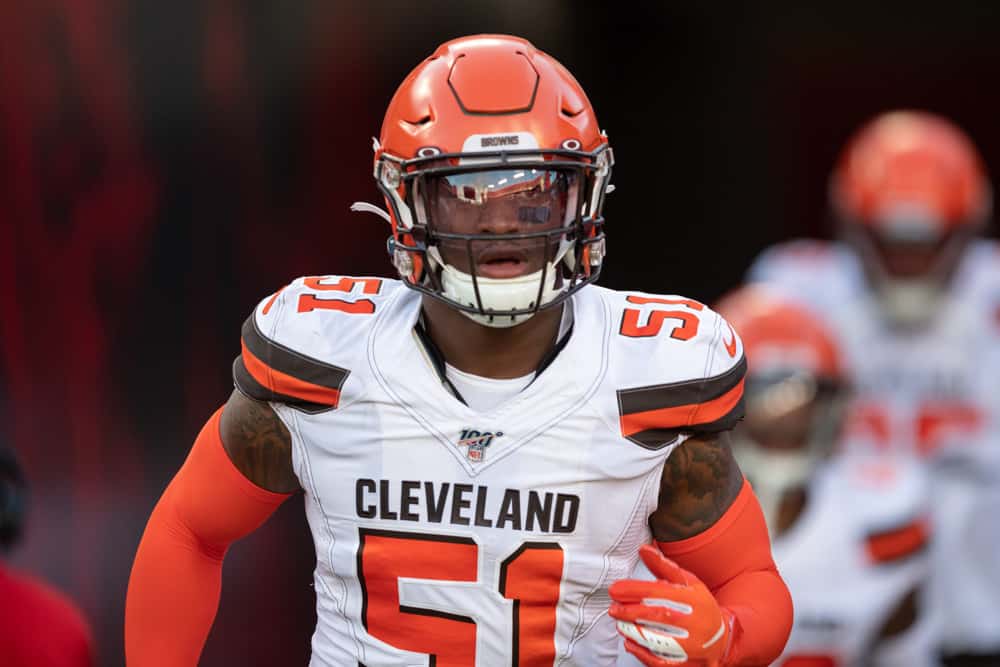 Cleveland Browns linebacker Mack Wilson entered the 2021 season knowing that he needed to fight for his roster spot.
He suffered a knee injury during the 2020 preseason.
It caused him to miss three regular-season games, and it hampered his play much longer than that.
As a result, the Browns signed Malcolm Smith to fill his spot, and he played well in 2020.
The Cleveland Browns have signed LB Malcom Smith ! The former super bowl MVP spent time with Seattle, San Francisco, Oakland, Jacksonville and Dallas. This will help fill the void of Mack Wilson #DawgPound https://t.co/XMWa3H0IF8

— Mike Pellegrini (@MIKE_BROWNS_UK) August 23, 2020
Wilson is fitter, stronger, and even more determined in 2021, and it has shown in his performance at camp.
That is why it was concerning when he left the first preseason game against Jacksonville on Saturday with a shoulder injury.
Sources: #Browns LB Mack Wilson suffered a grade 1 shoulder sprain and avoided serious injury. He'll miss a couple days, but will be back soon.

— Brad Stainbrook (@BrownsByBrad) August 15, 2021
Thankfully, Wilson's injury is not as bad as it could be; it is a mild sprain that requires him only to be sidelined for days.
However, during those days when Wilson cannot practice, his roster spot is up for grabs, and he is not able to vie for it.
Hopefully, his shoulder does not become a nagging problem in 2021 like his knee was in 2020.
Jeremiah Owusu-Koramoah Bursts On The Scene
The minute the Browns traded up in the second round of the 2021 NFL Draft to select JOK, people believed Wilson was the player who would be on the fringe.
JOK missed the first week of training camp because he was on the Reserve/COVID-19.
It did not look like he missed a minute.
JOK played lights-out football during the preseason game with seven solo tackles and a quarterback sack.
JOK is going to be a problem for team. #Browns pic.twitter.com/qAUf34hDPI

— Roberto Shenanigans (@Rob_Shenanigans) August 15, 2021
Malcolm Smith Is Still Around
Smith is a 10-year veteran who has played in 119 games during his career.
He had one solo tackle on Saturday night.
#Browns veteran LB Malcolm Smith with fourth-down stop. He's next man up at weakside linebacker if shoulder injury Mack Wilson suffered tonight costs him time. Rookie Jeremiah Owusu-Koramoah obviously in the mix, too.

— Nate Ulrich (@ByNateUlrich) August 14, 2021
Conclusion
If Saturday's preseason game is any indication, JOK will be the starter.
Fighting to stay on the roster will be Wilson and Smith.
Wilson needs to recover quickly and get back on the practice field.
In the meantime, the Browns will be forced to assess his value while being sidelined for the second year in a row with an injury.