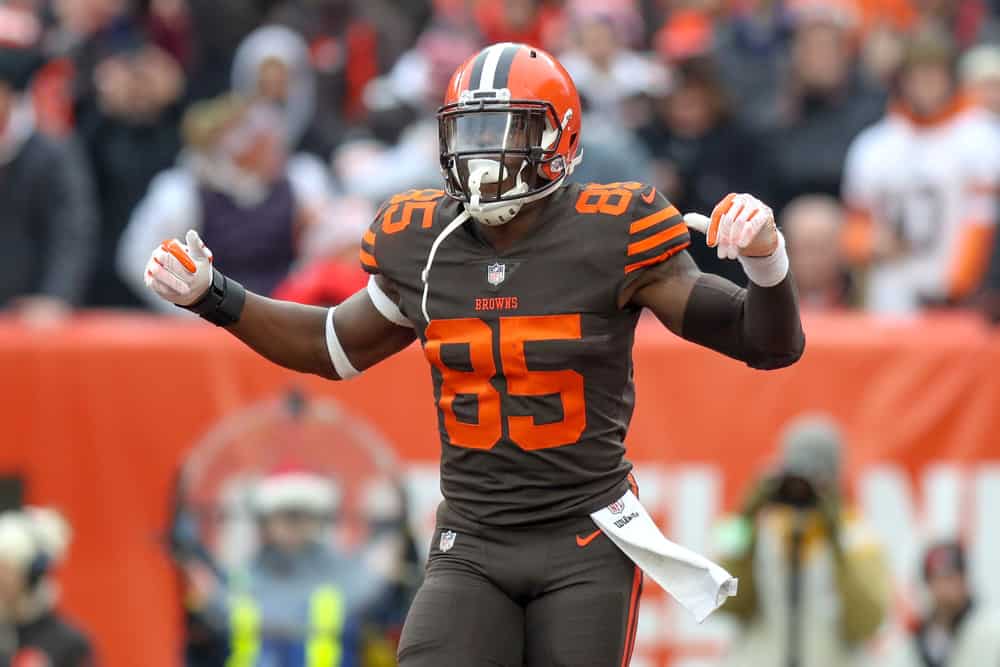 In July of 2020, Cleveland Browns tight end David Njoku requested a trade via his agent.
Clearly, the signing of Pro Bowl tight end Austin Hooper frustrated him.
Despite that, the Browns declined Njoku's request and he played 15 games last season, which includes the playoffs.
Now a year later, Njoku is reportedly in a good place with the Browns organization.
The Browns seemed to have weathered the storm with tight end David Njoku, who requested a trade last summer. I'm told per source that Njoku is in a good place with the franchise.

— Jeremy Fowler (@JFowlerESPN) May 24, 2021
Apparently good enough that Njoku wants to be part of the Browns organization long-term.
The former first-round pick has mentioned (through his agent, of course) that he would love to sign an extension with the Browns.
A New Hope?
Njoku hasn't played much successful football lately, but at least he keeps people entertained.
The 25-year-old apparently believes that he has found a home in Cleveland, but we'll see if the feelings are mutual.
Malki Kawa, Njoku's agent, told Mary Kay Cabot of Cleveland.com his client "would love to be in Cleveland long-term."
I'm sure Njoku would love to play for a team built like the Browns roster, but of course he wants to get paid as well.
"Obviously there's a lot of things that go into that," Kawa added. "At this point, we're not even there yet. We're going to see how the season goes, and we'll sit with [general manager] Andrew Berry, who I have a really good relationship with."
Lately, the Browns front office has been smart with their signings, so the chances of a Njoku extension are slim.
The organization already gave Hooper a massive four-year deal worth $42 million.
It's unlikely they want to give significant money to two tight ends when they have plenty of reliable options on offense.
Njoku hasn't shown any promising play in two seasons, but maybe 2021 is his year.
He is in the final year of his contract, which means there is obviously more incentive for Njoku to play well.
New Year, New Njoku?
To be fair, there was a reason that Njoku was selected in the first round of the draft.
He came into the league playing well, but injuries hindered his career.
In his second season, Njoku recorded 56 receptions, 639 yards, and four touchdowns in 16 games.
Since then, Njoku has 24 catches, 254 yards and three touchdowns in each of the last two seasons combined.
Although, the young tight end is working hard to get his mind and body back in shape.
Hard work and dedication!!!! 🥴🥴🤒🤒🤒🤒🤒🤒🤒🤒 https://t.co/KY9UcrWxDj

— Chief David Njoku (@David_Njoku80) August 15, 2021
Njoku will get a chance to earn his payday in 2021, but it's unlikely going to come from Cleveland.
The Browns recently extended Nick Chubb and still have a few more players to lock up long-term.
Both quarterback Baker Mayfield and defensive back Denzel Ward rank higher on the priority list than Njoku.
Plus, second-year tight end Harrison Bryant showed promising signs during his rookie season.
There is a chance that Bryant ends up starting alongside Hooper long-term.
Which means, Njoku is going to be the odd man out and will be forced to test his worth in free agency.
At the end of the day, it'll come down to how much Njoku is seeking in terms of salary.
He'd need a stellar bounce back season if he wants to get paid this offseason.