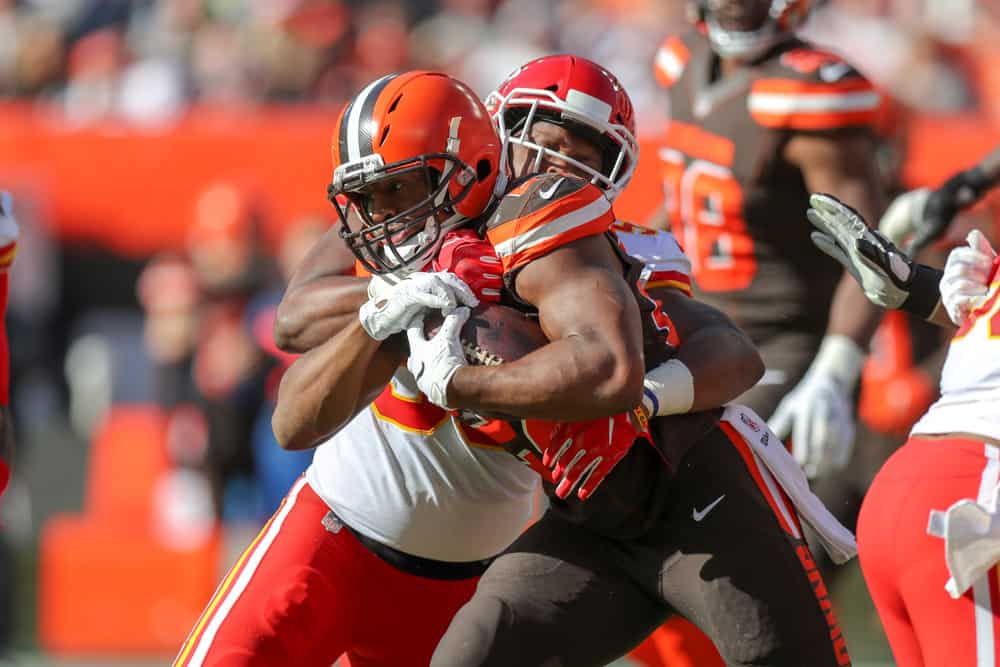 It is finally here.
The Week 1 game between the Cleveland Browns and the Kansas City Chiefs is this weekend, a rematch of the 2020 AFC divisional playoff game.
This game has been talked about and analyzed since the spring when the NFL released the schedule.
Unfinished Business. #CLEvsKC

📺: CBS – Sunday at 4:25pm pic.twitter.com/uQl9ryJXcg

— Cleveland Browns (@Browns) September 7, 2021
All Browns fans will be glued to screens or radios to view and listen to the action.
The Chiefs only dropped two games in 2020, a surprising upset to the Las Vegas Raiders and the Super Bowl loss to the Tampa Bay Buccaneers so this is a big challenge for the Browns to open the season.
Though known for their explosive offense led by quarterback Patrick Mahomes, the Chiefs have upgraded their defense to be even more competitive.
#Browns OC Alex Van Pelt on whether Chiefs defense is underrated: "Absolutely. That's a good defense. I think it's a very underrated defense."

— 92.3 The Fan (@923TheFan) September 9, 2021
Here is how to watch and listen to the game.
How To Watch Browns Vs. Chiefs
The game airs nationally on CBS at 4:25 PM EDT on Sunday, September 12, 2021.
The broadcasting team of Jim Nantz, Tony Romo and Tracy Wolfson will cover the game.
How To Listen Browns Vs. Chiefs
The four flagship stations for Browns football are:
Note: 97.1 The Fan is a new addition for the 2021 NFL season.
On satellite radio, the Sirius XM Browns broadcast station is Channel 388.
Outside of Cleveland, the Browns radio affiliates are:
Akron
WAKR – 1590 AM
Akron
WONE – 97.5 FM
Canton
WHBC-AM – 1480 AM
Canton
WHBC-FM – 94.1 FM
Columbus
WTOH – 98.9 FM
Corry (Pa.)
WWCB – 1370 AM
Dayton
WHIO-AM – 1290 AM
Dayton
WHIO-FM – 95.7 FM
Dayton
WZLR – 95.3 FM
Dover
WJER – 1450 AM
Erie (Pa.)
WPSE-AM – 1450 AM
Erie (Pa.)
WPSE-FM – 107.1 FM
Fostoria
WFOB – 1430 AM
Geneva
WKKY – 104.7 FM
Jamestown (N.Y.)
WQFX – 103.1 FM
Lima
WWSR – 93.1 FM
Mansfield
WRGM – 1440 AM
Mansfield
WVNO-FM – 97.3 FM
Marietta
WJAW – 100.9 FM
Norman (Okla.)
KREF – 1400 AM
Sandusky
WMJK – 100.9 FM
Tulsa (Okla.)
KAKC – 1300 AM
Uhrichsville
WBTC-AM – 1540 AM
Uhrichsville
WBTC-FM – 101.9 FM
Wooster
WQKT – 104.5 FM
Youngstown
WKST – 1200 AM
How To Live Stream Browns Vs. Chiefs
Those interested in live streaming the game can access it on the following platforms:
Big Game
The phrase "big game" is often used, but this time it is genuine.
It is more significant for the Browns who have to prove that 2020 was not a fluke.
The Browns also are seeking their first season opening victory since 2004 when Jeff Garcia was the quarterback.
There are kids that were born in 2004 who can now drive who haven't seen the Browns win a season-opener… That's crazy. #Browns

— Hayden Grove (@H_Grove) September 13, 2020
It is go time!
We can't wait!