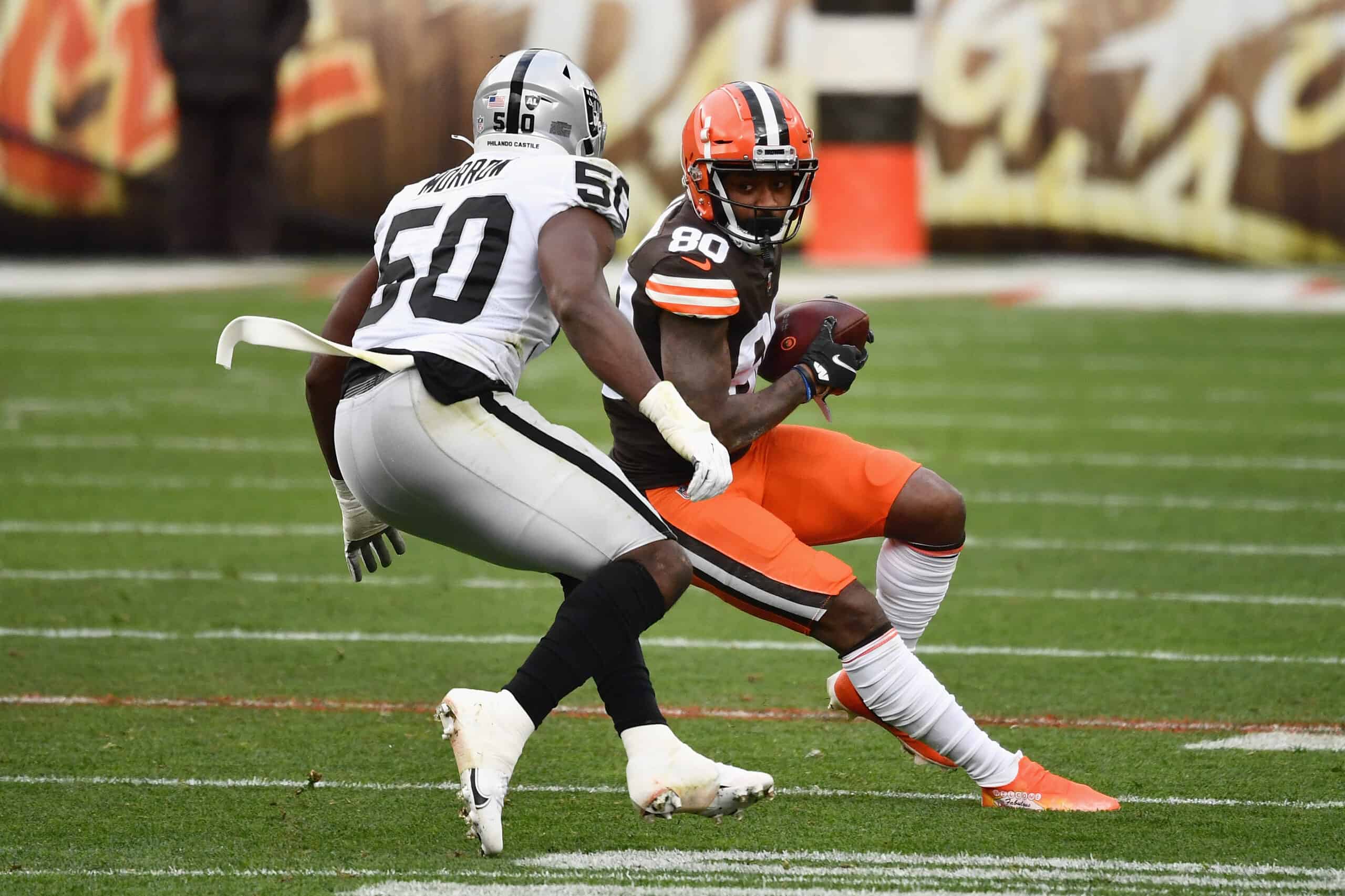 The Cleveland Browns take on the Las Vegas Raiders at FirstEnergy Stadium in Week 15.
In a decision that could have been made 24 hours earlier given the gravity of the situation, the NFL decided to move the Week 15 game from Saturday afternoon to Monday afternoon.
The #Raiders at #Browns game is being postponed to Monday, per league source.

— IG: JosinaAnderson (@JosinaAnderson) December 17, 2021
Though the Browns have time to get players off the Reserve/COVID-19 list, this is still going to be a tall order to get prepared for the game with so many players out.
Probably easier to report who *doesn't* have Covid on the #Browns right now

— Hop Fueled Owen (@hopsrunner) December 17, 2021
The Raiders defeated a much healthier Browns team in 2020 amidst bad weather.
In 2021, the Raiders will see whoever is not COVID positive and available to play, and the weather on Monday is looking clear compared to the wet and cold mess forecasted for Saturday.
Live feed of @Flash_Garrett at practice and walkthroughs for the @Browns. At least we got him! #Browns. pic.twitter.com/OuRYsRDAzj

— Jay-Rex (@AtrocitusRex) December 17, 2021
Check out my TikTok discussing this game.
Here are the details of how to watch, listen, and live stream the game.
How To Watch Browns Vs. Raiders
This game will be aired on NFL Network at 5:00 PM EST on Monday, December 20, 2021.
Broadcasting the game will be Joe Davis, Kurt Warner, Melissa Stark, and Steve Wyche.
How To Listen Browns Vs. Raiders
The four flagship stations for Browns football are:
On satellite radio, the Sirius XM Browns broadcast for this game is on Channel 230.
Outside of Cleveland, the Browns radio affiliates are:
Akron
WAKR – 1590 AM
Akron
WONE – 97.5 FM
Canton
WHBC-AM – 1480 AM
Canton
WHBC-FM – 94.1 FM
Columbus
WTOH – 98.9 FM
Corry (Pa.)
WWCB – 1370 AM
Dayton
WHIO-AM – 1290 AM
Dayton
WHIO-FM – 95.7 FM
Dayton
WZLR – 95.3 FM
Dover
WJER – 1450 AM
Erie (Pa.)
WPSE-AM – 1450 AM
Erie (Pa.)
WPSE-FM – 107.1 FM
Fostoria
WFOB – 1430 AM
Geneva
WKKY – 104.7 FM
Jamestown (N.Y.)
WQFX – 103.1 FM
Lima
WWSR – 93.1 FM
Mansfield
WRGM – 1440 AM
Youngstown
WKST – 1200 AM
How To Live Stream Browns Vs. Raiders
Those interested in live streaming the game can access it on the following platforms:
A Game For The Ages
Regardless of the result, this game will be a memorable one.
With nearly half of the Browns starters out with either injury or COVID-19, this team will be tapping into the depth chart and newly acquired practice squad players to pull off an improbable win.
If the Browns win, it will be a testament to determination and maybe a little bit of luck.
Hopefully, there is enough momentum from the Week 14 win over the Ravens to get this team through what could be a very challenging game on Saturday afternoon.