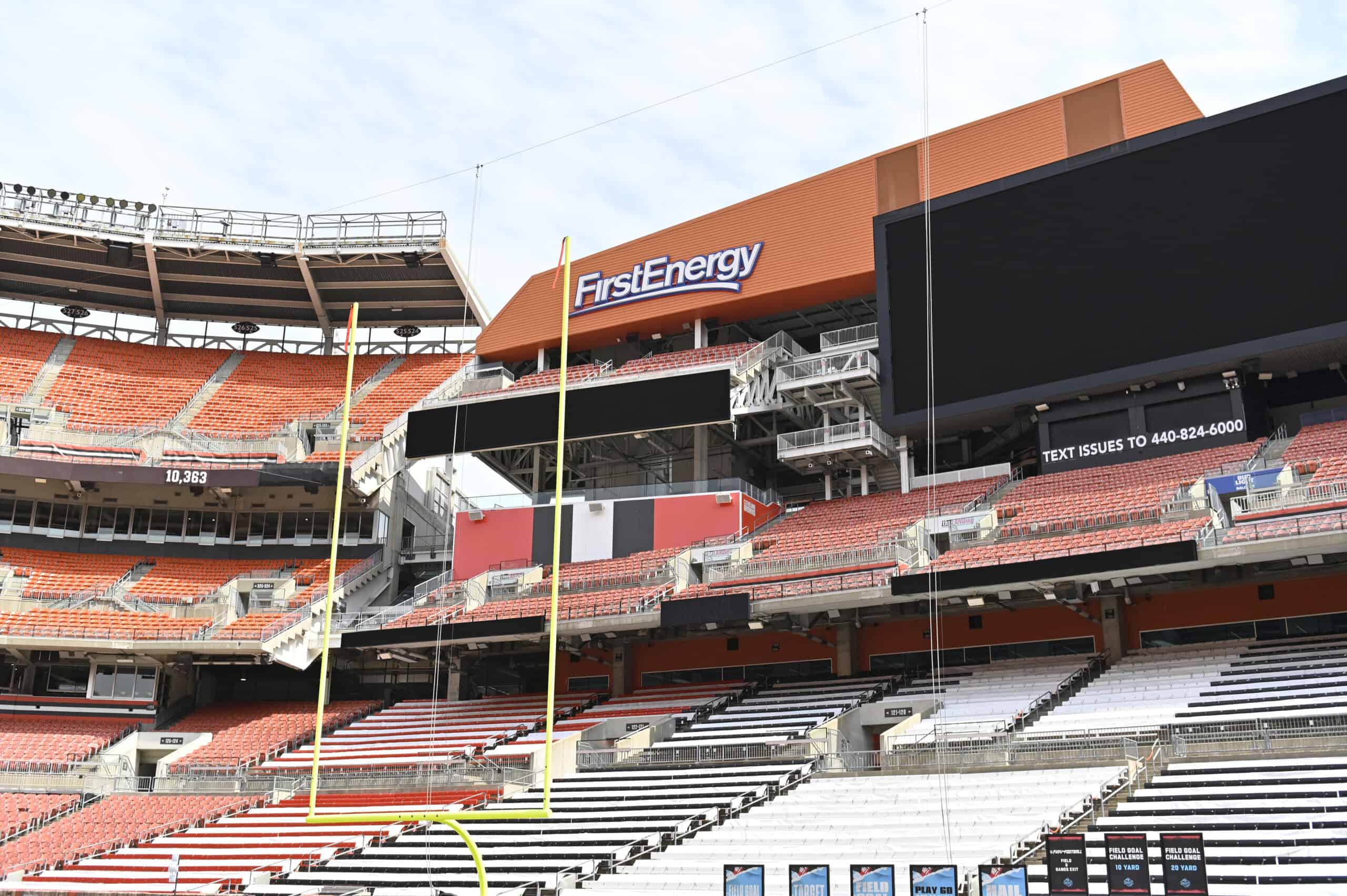 In an 11th hour move that could have feasibly been done one day earlier, the NFL decided to move the Week 15 Cleveland Browns vs. Las Vegas Raiders game from Saturday at 4:30 PM EST to Monday at 5:00 PM EST.
As you can imagine, there were a lot of reactions on social media to the change.
Here are some of the most noteworthy.
1. Of Course, The Raiders Are Not Happy
The Raiders were reportedly getting ready to fly to Cleveland when they learned the news.
The NFL and NFLPA are discussing rescheduling many games, including #Raiders–#Browns to Monday or Tuesday due to the COVID-19
outbreak per @DanGrazianoESPN. @AdamSchefter is reporting that #Raiders players are being told not to board buses to the airport at this time. pic.twitter.com/meibncC0zV

— PFF CLE Browns (@PFF_Browns) December 17, 2021
Per ESPN's Adam Schefter, Raiders owner Mark Davis called the change, "a competitive disadvantage to the Raiders."
Raiders' owner Mark Davis told @PGutierrezESPN that moving the game back two days is a "competitive disadvantage to the Raiders."

— Adam Schefter (@AdamSchefter) December 17, 2021
Others noted that the Raiders had a COVID issue in 2020 that impacted their starting offensive line.
The NFL did not postpone the game instead, they moved it from a night game to an afternoon contest.
As a result, the Raiders were fighting a possible change.
The Las Vegas Raiders have been made aware that the league is discussing a potential scheduling change with the Browns game, per source. Las Vegas has been fighting it, believing that protocols over the summer were clear that teams with outbreaks had to forfeit.

— Jeremy Fowler (@JFowlerESPN) December 17, 2021
Linebacker KJ Wright expressed his displeasure with the change.
He said if the Raiders were in the situation the Browns are in, the game would not have been moved.
I pay my player dues just to get lied to and the rules bent! @NFL @NFLPA

If it was the other way around I swear we would be playing tomorrow

— KJ (@KJ_WRIGHT34) December 17, 2021
2. Lindsey Rhodes Reacts By Posing An Interesting Question
NFL media personality Lindsey Rhodes raised a good point about the game changes (including the Rams and WFT ones).
What do we do if an outbreak pops up in LV, Philly or Seattle that impacts their rosters for Monday/Tuesday?

Cans opened. Worms out.

— Lindsay Rhodes (@lindsay_rhodes) December 17, 2021
If the Raiders, Seahawks, or Eagles have roster issues due to COVID-19 early next week, what happens then?
Let's hope we do not need to find out.
3. Browns Fans' React As You May Expect
One fan points out this disaster could have a side benefit.
I love that #Raiders players are complaining about the #Browns on Twitter. You better believe #Browns players see it and will remember come Monday.

Could this be the team galvanizing moment we've all been waiting for this season? Time will tell. #BrownsTwitter.

— Ryan Crowley (@RyanJ_Crowley) December 17, 2021
If it lights a fire under the Browns and makes them be a dominant team down the stretch, it actually created some good out of a horrible circumstance.
Another common theme is the reaction to the Raiders thinking the Browns are getting special treatment.
Browns fans are universally consistent in their belief that the NFL rarely if ever does their team any special favors.
The Raiders/other fanbases acting like the CLEVELAND BROWNS are some darlings of the league and the NFL is bending rules specifically for them is hilarious.

— WizKay (@WizKayTV) December 17, 2021
"Just another example of the NFL bending over backwards to help the Cleveland Browns" is a reasonable take, if you're from another planet or dumber than a bag of hammers.

— BrownsDailyMockDraft (@BrownsMockDraft) December 17, 2021
I am now accepting your lists of "things the NFL has gone out of its way to do to favor the Cleveland Browns." Because apparently that's a thing. (To those of us stuck with the Browns, the notion is HILARIOUS.)

— Ryan Burns (@FtblSickness) December 17, 2021
With two more games until game day, who knows what will happen next?
Stay tuned.