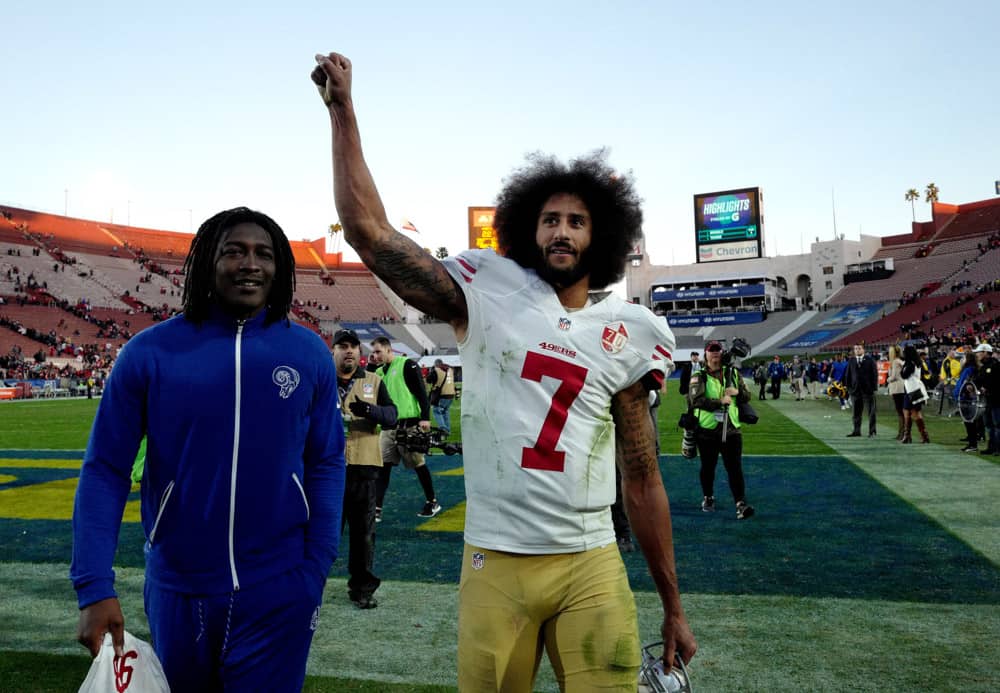 The Cleveland Browns were headed into the 2017 season without much depth at the quarterback position.
They had rookie quarterback DeShone Kizer, second-year quarterback Cody Kessler, and Kevin Hogan as their three options.
None of those quarterbacks had ever won a single game in the NFL prior to that point.
Appearing on WKNR 850 ESPN Cleveland's The Really Big Show on Friday, Jackson discussed his tenure in Cleveland.
He revealed that he was in favor of bringing in Colin Kaepernick in 2017.
"I wanted him. It just didn't work out," Jackson said. "Obviously, those things do have to work from a finance, draft, whatever all that is. And that wasn't my decision. I've known Colin. When I was with the Raiders, we were going to draft him when I was there. So, obviously he'd been a really good player in the league. He had tremendous success. He is a guy who has stood for something. I think everybody is seeing exactly where he was coming from.

"I always thought Colin deserved an opportunity in this league, but he has to want to play. If he really wanted to play, I think he would have a chance again."
The former NFL quarterback had appeared in a Super Bowl four years prior to the 2017 season.
Why Didn't The Browns Sign Kaepernick?
At the time, Kaepernick was an obvious upgrade over the talent on the Browns roster.
Kaepernick was a free agent after being cut by the San Francisco 49ers after the 2016 season.
Jackson goes on to say that finance and the draft played a part in why the organization decided to pass on Kaepernick.
.@Kaepernick7 in 2016 explaining why he took a knee:

"This country stands for freedom, justice, liberty for all. And it's not happening for all right now."

Still relevant today.

(via @CamInman) pic.twitter.com/OWhUwhrxUA

— Bleacher Report (@BleacherReport) June 4, 2020
Kaepernick was widely criticized for kneeling during the national anthem to protest police brutality and racial injustice in America.
He played six seasons with the 49ers before getting cut by the organization after beginning the 2016 season 1-10 as the starting quarterback.
Kaepernick threw for 2,241 passing yards, 16 touchdowns, and four interceptions through 12 games with the 49ers in 2016.
His stats looked decent on paper, but the Browns wanted to go in another direction with their rookie quarterback.
What Happened in 2017?
The Browns organization decided to pass on Kaepernick despite Jackson vouching for him.
Cleveland decided to stick with their young quarterbacks, but it didn't go well for them.
The Browns ended up being the second team in NFL history to finish with a 0-16 record.
Jackson was fired a year later after going 3-36-1 over the course of two and a half seasons.
Kaepernick remained unsigned and has not played in the NFL since the 2016 campaign.
Did The Browns Make The Right Decision?
The quarterback position is only one part of a team and is not the whole reason for why the Browns struggled in 2017.
However, having a veteran like Kaepernick would've been better than three quarterbacks who had never won a game in the league.
Nonetheless, the Browns received the No. 1 overall pick after going 0-16 and drafted Baker Mayfield.
He went out and had a record-setting rookie campaign for the Browns in 2018.
Mayfield threw for 3,725 passing yards with 27 touchdowns and 14 interceptions.
Sadly, Mayfield hit a bit of a sophomore slump last season under then-coach Freddie Kitchens.
Mayfield threw 21 interceptions in 2019 which was the second-most in the league.
There is hope that Mayfield is going to have a bounce-back year in 2020.
Breaking: The Browns are planning to hire Vikings OC Kevin Stefanski as their head coach, a source confirmed to ESPN. First reported by NFL Network. pic.twitter.com/c3SdjJtN8q

— SportsCenter (@SportsCenter) January 12, 2020
The Browns decided to hire Kevin Stefanski as their new head coach this offseason.
He was the offensive coordinator for the Minnesota Vikings last season and helped turn around quarterback Kirk Cousins.
At the time Kaepernick could've been an upgrade for the Browns, but their decision to pass on him led to the organization drafting their quarterback of the future in Mayfield.