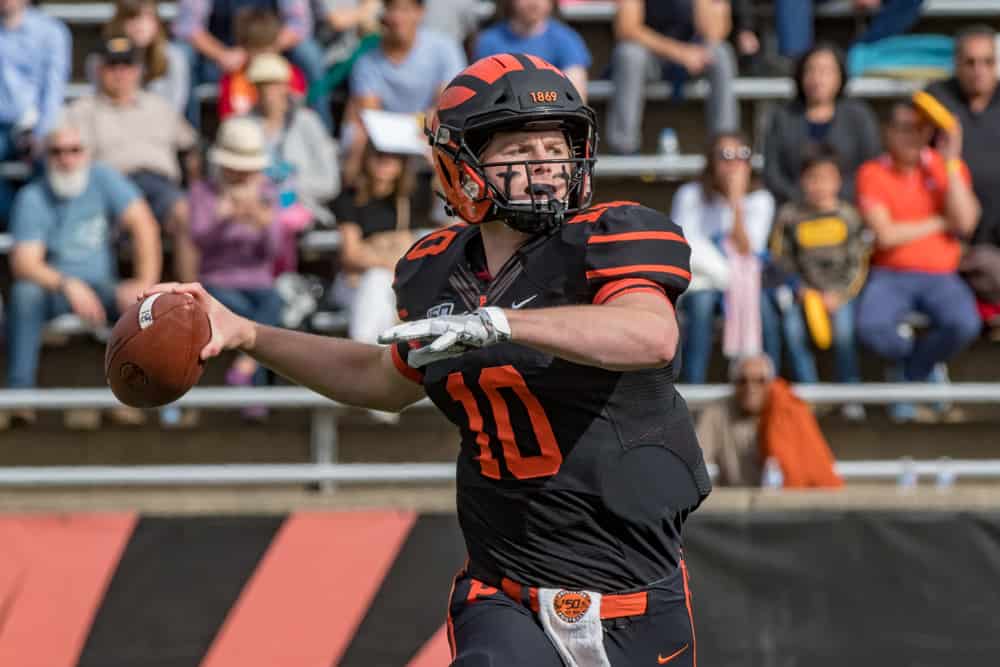 At the moment, Baker Mayfield is the quarterback of the future for the Cleveland Browns.
The Browns are committed to Mayfield despite him suffering from a sophomore slump last season.
Although, it's never a bad idea to try and find depth to put behind Mayfield at the quarterback position.
After the 2020 NFL Draft concluded, the Browns signed 15 undrafted prospects and are willing them to give them a chance to win a roster spot in camp.
One of the more talented prospects is Princeton quarterback Kevin Davidson.
The Ivy League quarterback has a chance to impress the Browns and snag a roster spot during the preseason.
Who is Kevin Davidson?
Before the draft, Davidson was projected to be a late round pick, but no organization decided to call his name.
He does not have a ton of experience, which could be part of the reason most teams passed on him.
In 2018, Davidson threw for 386 passing yards with five touchdowns and zero interceptions in limited playing time.
However, he saw a full season of playing time during his final year at Princeton.
Princeton's Dylan Classi makes an amazing catch from Quarterback Kevin Davidson, a 27-yard gain!

Watch live at https://t.co/8aTKAPnUmb pic.twitter.com/9gl3OLXZW0

— Princeton Football (@PrincetonFTBL) October 5, 2019
Davidson threw for 2,569 passing yards with 20 touchdowns and six interceptions through 10 games in 2019.
He ended his final season with a 66.5% completion percentage and a 104.6 passer rating.
Sadly, Davidson only saw one full season as a starter and that hurt him significantly when it came to Draft Day.
Why Did Teams Pass on Davidson?
Having only 15 games of experience was part of the issue, but not the whole reason why he went undrafted.
Davidson had solid numbers while at Princeton, but the lack of competition hurt him significantly.
It's unclear if Davidson is ready for the next level because he never faced a professional type of talent during his time in the Ivy League.
Another problem for Davidson is that he seemingly falls apart under pressure and loses all fundamentals.
He is a pocket passer and loses accuracy if he's forced to throw on the run.
Davidson would likely need a top tier offensive line to even be able to have a chance to succeed at the professional level.
Browns QB Depth Chart
Right now, Mayfield is the starting quarterback in Cleveland and the organization is hopeful it remains that way.
However, the organization decided to bring in some depth this offseason in case of injury.
🚨BREAKING🚨

Browns sign QB Case Keenum to a 3-year $18 million contract. pic.twitter.com/ho46BXEqzI

— Unfinished Business (@FinishTheBiz) March 16, 2020
Cleveland signed veteran quarterback Case Keenum to a three-year deal this offseason.
He has seen some success as a starter, but Keenum is mostly viewed as a backup quarterback.
That means, Davidson is fighting for the third-string spot or possibly a practice squad spot during camp.
The Browns have plenty of depth at quarterback, so Davidson won't make an impact right away.
Can Davidson Make The Roster?
It is highly unlikely that Davidson ever makes an impact in Cleveland.
The Browns have Keenum in case anything goes wrong with Mayfield over the next three years.
Davidson is an intriguing late-round prospect, but is not expected to be a starter in the NFL.
He does have an NFL-caliber arm, but that isn't enough to make it at the professional level.
Davidson is likely going to be a third-string quarterback and it might stay that way throughout his career.