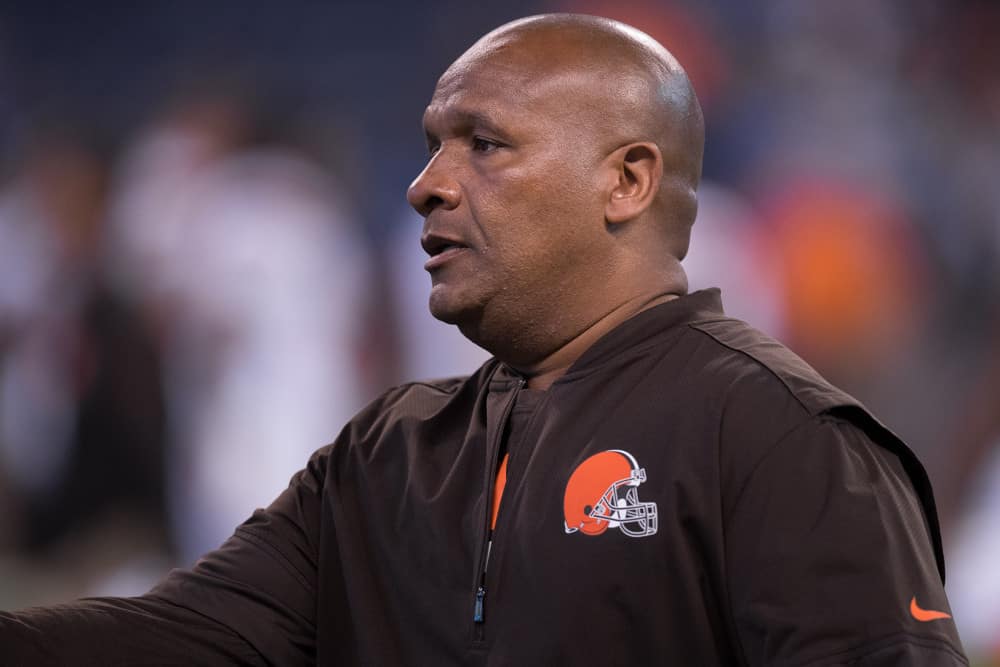 Hue Jackson sure loves to talk about the Cleveland Browns.
Most remember the former Browns head coach that went a combined 3-36-1 in two and a half seasons in Cleveland.
After being released by the Cincinnati Bengals a year ago, Jackson continues to pop up in related news to the Browns.
Earlier in the NFL season, Jackson talked about how leaving the Browns for the Bengals was his biggest regret. 
This time around, he specifically targets the Browns quarterback.

Holding Mayfield Back
Jackson made an appearance on 850 AM ESPN Cleveland on Friday morning.
On the show, Jackson suggested that head coach Kevin Stefanski should be calling more passing plays out of the shotgun formation.
"Baker has not played as well as I think people think he should. To defend him a little bit, I think Baker is not playing in a system, in my mind, that showcases his talent and ability," said Jackson, via ESPN's Jake Trotter. "You take away from who he is anytime he has to go under center. I don't think that's his strength. When he's in the shotgun, he's a much different player."
When Mayfield played at Oklahoma, he primarily played in the shotgun, which led to winning a Heisman Trophy.
This season, Mayfield has been seen under center a career-high 61% of the time.
The Mayfield-Jackson connection has been well-documented in the last two years.
Jackson left the Browns for the Bengals after a 2-5-1 start in 2018, to which the Browns went 5-3 after his departure.

Lack of Confidence
In the league, Mayfield ranks 29th in completion percentage (60.6%), 27th in yards per passing attempt (6.44), and 20th in the touchdown-to-interception ratio (10:6).
Jackson claimed that the Browns are not winning games because of Mayfield's arm.
Instead, it's that the Browns are rushing the football, which he believes leads to "a lack of confidence" for Mayfield.
"To me, that is the biggest job of the coaching staff the rest of the season. Because he's going to be the key to this thing. And there's no doubt they can run the football. But I think there's a happy median there somewhere where you can still be a really good running team but be able to throw the ball at a high level for a quarterback who needs to go find a way to go get his own personal wins. Because he needs some. He hasn't had that 300-, 400-yard game. He needs that to feel good."
According to Jackson, the Browns took Mayfield "for a reason" and that was because "he can throw the football."
"Now you're saying what, he's not good enough?," said Jackson. "I don't think that's the case at all."
The Reaction
Needless to say, the reaction on social media is 100% not in favor of Jackson's take.
Who cares what Hue Jackson has to say about Baker Mayfield? #NOPE #Browns #DawgPound

— Cleveland Fan Says (@CLEfan_says) October 23, 2020
Hue Jackson at this point in the Cleveland Browns development should be filed under "the diaper stage" and left there forever. Now that the Browns are entering the "young adult phase" to bring up the challenges of infancy creates a psychological regression. For all of us

— DJ (@downhillbreaker) October 23, 2020
Why why why why why do we keep going down this road? HueJackson is a nice guy, and that's where the conversation about Hue Jackson should stop. He went 3-36 over two and half seasons. He brings nothing to anything related to the Cleveland Browns.

— Brian G (@brian_genetin) October 23, 2020
Book Deal 
Jackson goes down as one of the worst coaches in Cleveland's tenure.
With that being said, Jackson said that he will be coming out with a book on his time as head coach.
Hue Jackson, on @ESPNCleveland, says his book, which evidently will cover his tenure with the #Browns is still coming out next year. "It will be a best-seller… I promise you that."

— Jake Trotter (@Jake_Trotter) October 23, 2020
We can't wait.