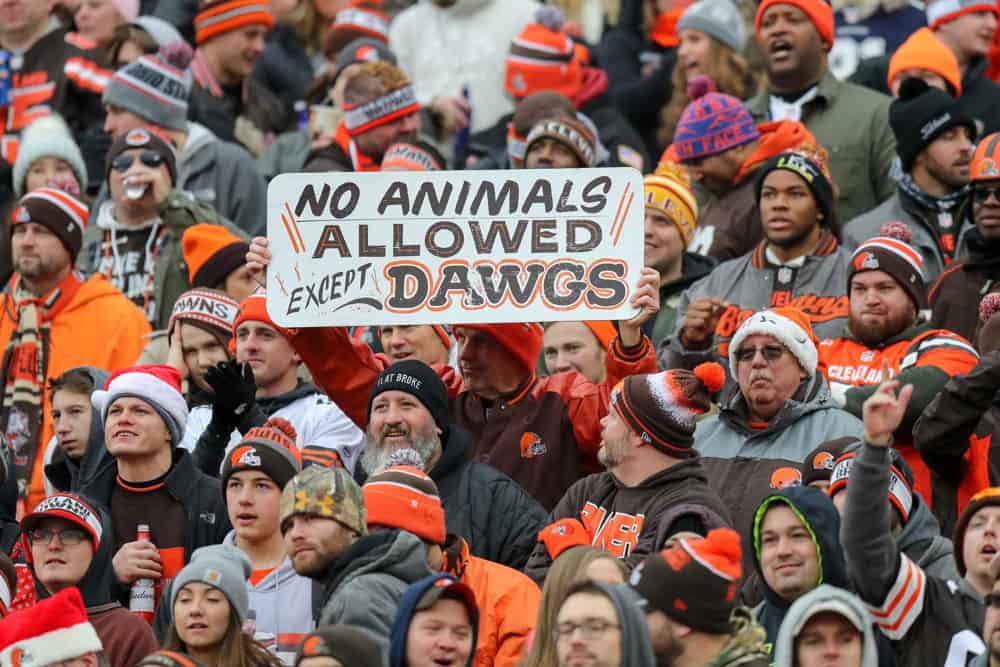 Round 2 of the Battle of Ohio takes place in Cincinnati on Sunday between the Browns and Bengals.
Both teams are coming off frustrating Week 6 losses.
The Cleveland Browns got blown out in Pittsburgh and the Cincinnati Bengals had a 21-point collapse in Indy.
Which team will rebound?
Let's take a look at our writer's bold predictions for this Sunday's matchup.
Writer: Rocco Nuosci

After their first loss, the Cleveland Browns bounced back with a win over the Cincinnati Bengals.
Following their second loss, a chance at déjà vu is certainly possible.
The Browns will head south on Sunday to take on the Bengals in a rematch from week two where the Browns won 35-30.
It was not easy for the Browns as the final score indicates.
Despite their struggles, this young Bengals team is hungry, especially their quarterback Joe Burrow.
Banged Up Browns
The Browns were battered heading into the Steelers game, and that remains the case for this week.
Baker Mayfield was a full participant in practice on Thursday but is clearly still not 100%.
Baker Mayfield was a full participant at #Browns practice today but still doesn't look fully healthy. You can see him grabbing his chest after making a short throw during the portion open to the media. @wkyc @WKYCSports pic.twitter.com/37SwM4s4yf

— Pat Chiesa (@PatChiesa) October 22, 2020
Jarvis Landry also revealed this week that he has been dealing with broken ribs since the Colts game.
Kareem Hunt was also among the more noticeable names that were limited in practice all week.
That's far from everyone dealing with an injury of some sort right now.
#Browns injury report:

Questionable:

S Karl Joseph (hamstring)

Out:

TE Austin Hooper (appendicitis)
LB Jacob Phillips (knee)
G Wyatt Teller (calf)

— Camryn Justice (@camijustice) October 23, 2020
Though not as physical as Pittsburgh, the Bengals are still a divisional foe looking to dish out punishment.
After a week to lick their wounds, the Browns need to be more physical then Cincinnati out of the gates on Sunday.
Giving confidence to a team you should beat is what Kevin Stefanski and friends need to avoid.
Do they let that happen?
I do not think so, at least not this week.
My Prediction: Browns 31, Bengals 21 
Writer: Jake Luppino

The 4-2 Cleveland Browns will be taking on the 1-4-1 Cincinnati Bengals.
The Cleveland Browns will be looking to bounce back after being humbled by the Pittsburgh Steelers in last week's game.
As expected, the Browns offensive front struggled with the many blitzes that the Steelers were bringing.
Baker often found himself rattled, which resulted in poor decisions with the football.
But, this week I am sensing a bounce-back win from the Browns.
Browns Get Back On Track
These two teams have faced off earlier in the season.
In Week 2, the Browns defeated the Bengals, 35-30, on Thursday Night Football.
In that game, we saw Nick Chubb have himself a day, rushing for over 100 yards and scoring 2 touchdowns.
We also saw Odell Beckham Jr. find the end zone for the first time on the year, recording 4 catches for 74 yards and 1 touchdown.
This week, I expect the Browns to get back to what they do best: run the football.
The Cincinnati Bengals have one of the worst rushing defenses in the NFL, currently allowing 142.3 yards per game on the ground.
Kareem Hunt will lead the way, with Odell Beckham Jr. having a nice day in the passing game.
Many felt that Joe Burrow outplayed Baker Mayfield in the first game.
While that may be true, the Browns were able to rack up 3 sacks and 8 quarterback hits.
Expect a big game from Myles Garrett as Joe Burrow is one the most sacked quarterbacks in the NFL.
My Prediction: Browns 28, Bengals 17
Writer: Adam Lowenstein

For some reason, the 2020 Browns are being treated like a 2-4 team instead of a 4-2 team.
Last week, the Browns were unable to execute against the undefeated Pittsburgh Steelers.
Cleveland is looking to sweep the season series against the lowly Cincinnati Bengals in Week 7.
Many see this as a trap game for the Browns after they easily handled the Bengals earlier in the year.
However, Joe Mixon is questionable for the game with a foot injury.
If Mixon is unable to suit up, Giovani Bernard will have to handle the bulk of running back touches.
Bernard has not seen 50 percent of Bengals offensive snaps in any game this season.
He also has not touched the ball 100 times in a season since 2017.
Therefore, the Browns would be at even more of an advantage if Mixon is out.
Even if Mixon plays, the Browns should still be in for a bounce-back game.
Kevin Stefanski, Baker Mayfield, and company need to gain ground on the idle 5-1 Baltimore Ravens.
A loss to the Bengals would be a true step back for Cleveland.
The Bengals' only victory this season is against a very weak Jacksonville Jaguars squad.
The Browns take it in a close one against Joe Burrow, Mixon, and Bengals.
My Prediction: Browns 27, Bengals 24
Writer: Ben Donahue
There's no way to sugarcoat the Browns loss to the Steelers last weekend.
Cleveland got their backsides handed to them by a superior team.
On paper, Pittsburgh didn't look a lot better than the Browns.
However, the game isn't played on paper.
Unfortunately, there seems to be a pattern developing with this year's Browns squad.
Despite an upgrade in talent, the team is still a full notch below the better teams in the league.
The loss to the Ravens in Week 1, coupled with the Pittsburgh loss, tells us that the Browns have a loooong way to go to compete with the big boys.
This week's game versus cross-state rival Cincinnati looks to be a bounce-back game for Cleveland.
In Week 2, Nick Chubb, Baker Mayfield, and OBJ paced the Browns to a 35-30 victory over the Bengals.
Nearly all phases of the game were in sync that day one week after the world imploded when Baltimore throttled the Browns.
Will the same thing happen this week?  I'm not so sure.
All the momentum the Browns had starting 4-1 seemed to evaporate by halftime of the Pittsburgh debacle.
There can be no let downs this week, no excuses for Mayfield disappearing for parts of games, and no more sideline tantrums.
The Bengals, despite the fact that they look like an improved team from last season, are sitting at 1-4-1 for the year.
Their offense is in the bottom third of the NFL and Cleveland is only a few spots better.
Defensively, the two teams aren't that far apart.
Cincinnati rookie quarterback Joe Burrow has looked solid this year, despite his low totals against Baltimore two weeks ago.
Running back Joe Mixon can carry the rock, but he is nursing a foot injury.
This game is being played in Cincinnati and any other non-Covid year that would have me worried.
The Browns injury report looks like a M.A.S.H unit.
Mayfield is nursing sore ribs, same with Kareem Hunt and Jarvis Landry.
Baker Mayfield feeling better, expected to do more in practice as we shift our focus to the Bengals

📰 » https://t.co/zpd4wm2CNm pic.twitter.com/41zl07F8y3

— Cleveland Browns (@Browns) October 19, 2020
In all, no less than 13 Browns are listed on this week's report.
The Bengals have nine, but three of those listed, Geno Atkins, AJ Green, and Carlos Dunlap are just "resting."
Once again, on paper the Browns are the better team.
However, mounting injuries, poor quarterback play, and the stink of a bad loss hang in the atmosphere.
I sense an upset here based on the negative karma of Pittsburgh, but I'll give Cleveland the benefit of the doubt.
My Prediction: Browns 28, Bengals 24 

Writer: Pat Opperman

Cleveland heads into Cincinnati after an ugly loss against the Pittsburgh Steelers.
Browns fans expect the Bengals to provide another ego-healing bounceback win just like they did in Week 2.
But a victory over the Bengals is no sure thing, especially in Cincinnati.
Joe Burrow's squad has a win and a tie in three chances at Paul Brown Stadium.
And as good as Baker Mayfield and the Browns looked in these teams' first go-round, a successful onside kick could have changed the outcome.
Cincinnati has played nothing but one-possession games this season, with the exception of a loss to Baltimore.
And the Browns are in a prime position to look right past them in Week 7.
Kevin Stefanski will put Mayfield in motion as much as possible in a bid to bolster his beleaguered quarterback's confidence and grab an early lead.
But the Bengals 16th ranked pass defense is no easy target, and Wyatt Teller's absence will keep Mayfield's feet moving.
Joe Burrow picked apart the Browns defense when using wide open, 4-receiver sets in their first meeting.
An improving and healing Browns defense should create more of a challenge this time around.
But… while I look forward to an exciting back-and-forth contest, I'm calling it a Bengals upset.
And before you at me, I expect this wake-up call to propel the Browns to at least four straight impressive victories.
My Prediction: Bengals 33, Browns 27 
Writer: Kyle Daubs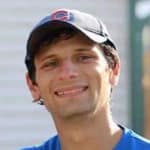 I'm going with the upset pick this week even though I believe the Browns should win this game.
My gut is telling me that the Bengals are going to upset the Browns this week.
For starters, James Conner rushed for 101 yards on 20 carries and a touchdown in last week's loss to the Steelers.
Personally, I believe Joe Mixon is playing ten times better than he did the first three weeks of the season, I expect him to rush more than the 46 yards he did last time.
Next, the Browns relied on Nick Chubb in a huge way last time when he rushed for 124 yards and two touchdowns.
Chubb is not going to play this week due to his injury sustained at the beginning of October.
Kareem Hunt rushed for 86 yards himself, but he has not topped that number since then.
I think the Baker Mayfield train is potentially starting to ravel off the tracks and there is frustration brewing in Browns country.
Let me clear, the Browns should win this game.
However, I think there are a lot of variables swirling around that are not in the favor of the Browns.
My Prediction: Bengals 35, Browns 24 
Writer: Wendi Oliveros

Week 7 brings us Part 2 of the Battle of Ohio.
Part 1 was just a few short weeks ago.
This time around, the 4-2 Browns are visiting the 1-4-1 Bengals.
Despite being 4-2, this is a must-win game for the Browns.
The team needs to turn the page and change the narrative that lingered all week about their poor performance against the Steelers.
As a result, I believe the Browns will step it up.
The keys to a Browns win (no surprises or spoilers here):
 Baker feels healthy and plays clean.
The defense doesn't let Joe Burrows extend drives with 3rd and 4th down conversions.
Cleveland's offensive and defensive lines play much better than last week.
The Browns finally put together 4 solid quarters of football and play a great game, start to finish.
Im ready to see some more of this on Sunday 😎#Browns vs #Bengals pic.twitter.com/dbebORKwDt

— (4-2)ThēLand™〽️ (@HunterOpp2) October 20, 2020
In the end, the Browns will prevail.
But I don't expect it to be easy or one-sided.
Nothing in the NFL is easy, particularly in the 2020 pandemic season.
The Browns are at their best if the running game can get going early, and the defense creates opportunities.
This allows the flow of the game to not entirely fall on Baker Mayfield's shoulders (or injured ribs).
My Prediction: Browns 24, Bengals 20  
Writer: Mark Bergin

It seems every NFL pundit has weighed in on Baker Mayfield's mediocre quarterback play through six games of the 2020 season.
I'll entertain the conversation whether the Browns should pick up Mayfield's fifth-year option on his rookie contract.
Mayfield, 25, has not played up to being the No. 1 overall pick so far in his career, but the Browns need a larger sample size and continuity at the quarterback position.
I do not believe Case Keenum would have led the Browns to a better record so far this season.
Does anyone really believe Keenum would make up a 32-point deficit to the Ravens in Week 1 or a 31-point deficit to the Steelers in Week 6?
There's a reason Keenum is a journeyman.
Keenum, 32, is on his sixth different NFL team in nine years.
Also, most Browns fans would have signed up for a 4-2 start, especially with first-year head coach Kevin Stefanski.
If Mayfield's ability is hampered by a chest injury, then the Browns should start Keenum.
However, if Mayfield can play, he should play.
At some point, the Browns will need to be more competitive against the cream of the crop in the AFC North, but they can regroup Sunday afternoon against the Bengals.
I believe the AFC North is now the best division in football.
I also predict the Browns, Ravens and Steelers will make the postseason in 2020 with the NFL's expanded playoff format.
The Browns are favored by three points over the Bengals on Sunday.
While Cleveland will be without Nick Chubb and Austin Hooper, Cincinnati won't have Joe Mixon.
The Browns have struggled to run the ball since Chubb got injured in the Cowboys game:
— 124 rushing yards, 3.8 yards per carry in the 32-23 win over the Colts
— 75 rushing yards, 3.4 yards per carry in the 38-7 loss to the Steelers
On Sunday, the Browns need to reestablish the run against the Bengals.
Cincinnati allows 5.1 yards per carry and 142.3 rushing yards per game (27th).
The Bengals also struggle to keep rookie Joe Burrow protected, having allowed 24 sacks so far (tied for 30th in the NFL).
Cincinnati also struggles to run the ball, averaging 3.7 yards per carry and 101.8 rushing yards per game (24th).
Myles Garrett could have a field day.
I like the Browns to regroup in Week 7.
My Prediction: Browns 31, Bengals 24