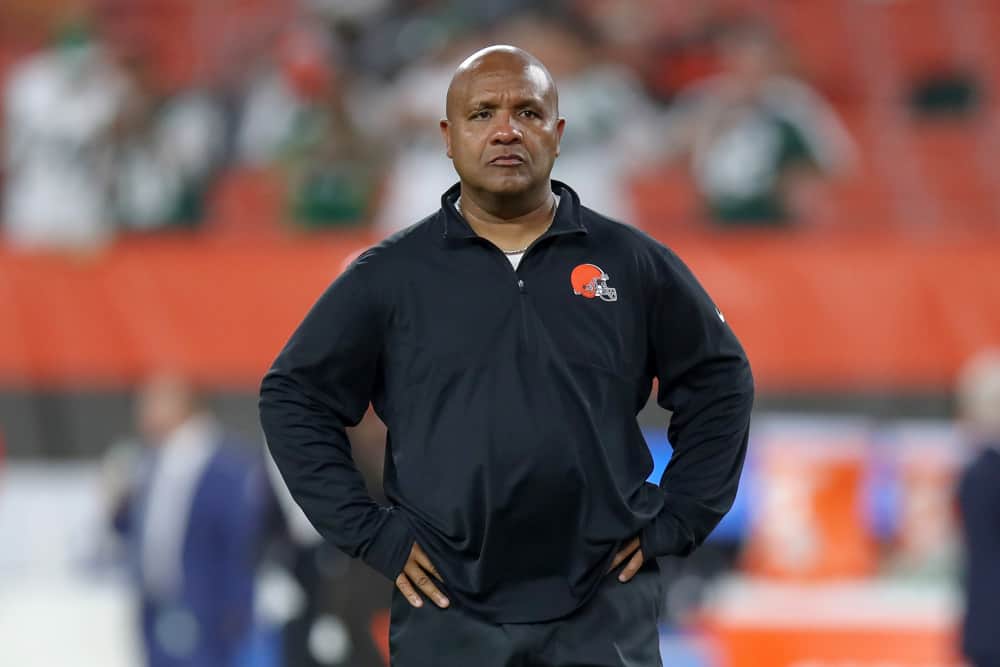 Former Cleveland Browns Head Coach Hue Jackson appeared on a recent episode of the Cincinnati podcast called Orange Is The New Black.
During his time with the Browns he had a 1-31 record in his first two seasons and was then fired after starting 2-5-1 in 2018.
However, Jackson seemed to have plenty to say about his time in Cleveland.
Jackson Says His Biggest Regret Is Leaving The Bengals For The Browns
Jackson was asked about the biggest coaching regrets in his career.
Without hesitation he responded:
"My top one is leaving Cincinnati to go to Cleveland," Jackson said bluntly. "I was with a really good football team, with a good quarterback who had won a lot of games. Very talented players on offense. Andrew Whitworth, I hope if I would've stayed, I could've convinced the organization to keep him because he was a catalyst for a lot of the things we were doing and he was a tremendous player."
He alluded to leaving Cincinnati so he could maintain his personal relationship with then Coach
Marvin Lewis
who was there from 2003-2018.
"I think it was the right time for me. think everybody knows about me and Marvin's relationship. I didn't want Marvin felling like I was ever undercutting him because our friendship is more important than a job. At the time there was discussions about me staying. I just didn't feel comfortable with it. I'm very grateful and thankful for the Browns family for extending an opportunity. I just thought it wasn't right. It just didn't feel right. I made a decision to go on."
Jackson was with Cincinnati from 2012 through 2015 and again for a portion of the 2018 season after he was fired in Cleveland.
While mentioning that he was grateful for the opportunity, he doesn't waste time trying to cast blame for his 3-36-1 record as the Browns head coach from 2016-2018.
Jackson Blamed His Failures On The Roster  
Hue Jackson, without hesitation, said the reason for his failure in Cleveland was the roster.
He didn't blink or think twice about making this statement.
Jackson also did not take any personal responsibility for the failures at Cleveland.
Browns fans should not be surprised by this.
Fresh off his firing in November 2018, Jackson cast the blame everywhere but on himself.
"People for some reason thought that I couldn't run an offense and that I needed to hire an OC. But I was never able to actually run my offense the first two years because we didn't have the players….You look at our numbers with me calling the offense with less talent. Our numbers this year (2018) were the same or worse than our numbers last year with better players on offense…..Had we been doing in year one what I was able to get us to do in year three, there's no question we would already be a winning football team. You can't go 1-15 or 0-16 and have people like you unless you come out and explain to everyone that you're going to lose. And you can't say that publicly."
you wanna know why Hue Jackson is the worst head coach of all time statistically. It's because in Hue's mind it's never Hue's fault. It's always something else. The man went 0-16 with a roster that had Myles Garrett on it. https://t.co/WtDhqyAT7R

— Quincy Carrier (@Kwen_C) October 14, 2020
Conclusion
A reasonable person knows that the success of a football team is a two-way street.
Both good players and good coaching are essential.
The Cleveland Browns should be honored to be part of so much recent discussion by former Bengals.
Last week, former Bengals QB Carson Palmer cast aspersions at the Browns while talking up Bengals rookie QB Joe Burrows.
Palmer also believed that Freddie Kitchens would be a great head coach for the Browns.
Now this week, Hue Jackson is on a Bengals podcast talking about the Browns roster during his tenure.
All this means is that the Browns are playing great football so far this year.
So people are being asked about them.
There could be sour grapes still to this day, especially with Hue Jackson.
He still maintains he needed more time to develop the offense and should have run all of the play calling and offensive work without a coordinator.
It is immaterial at this point since Jackson is out of the NFL but desperately wants to get back in some capacity.