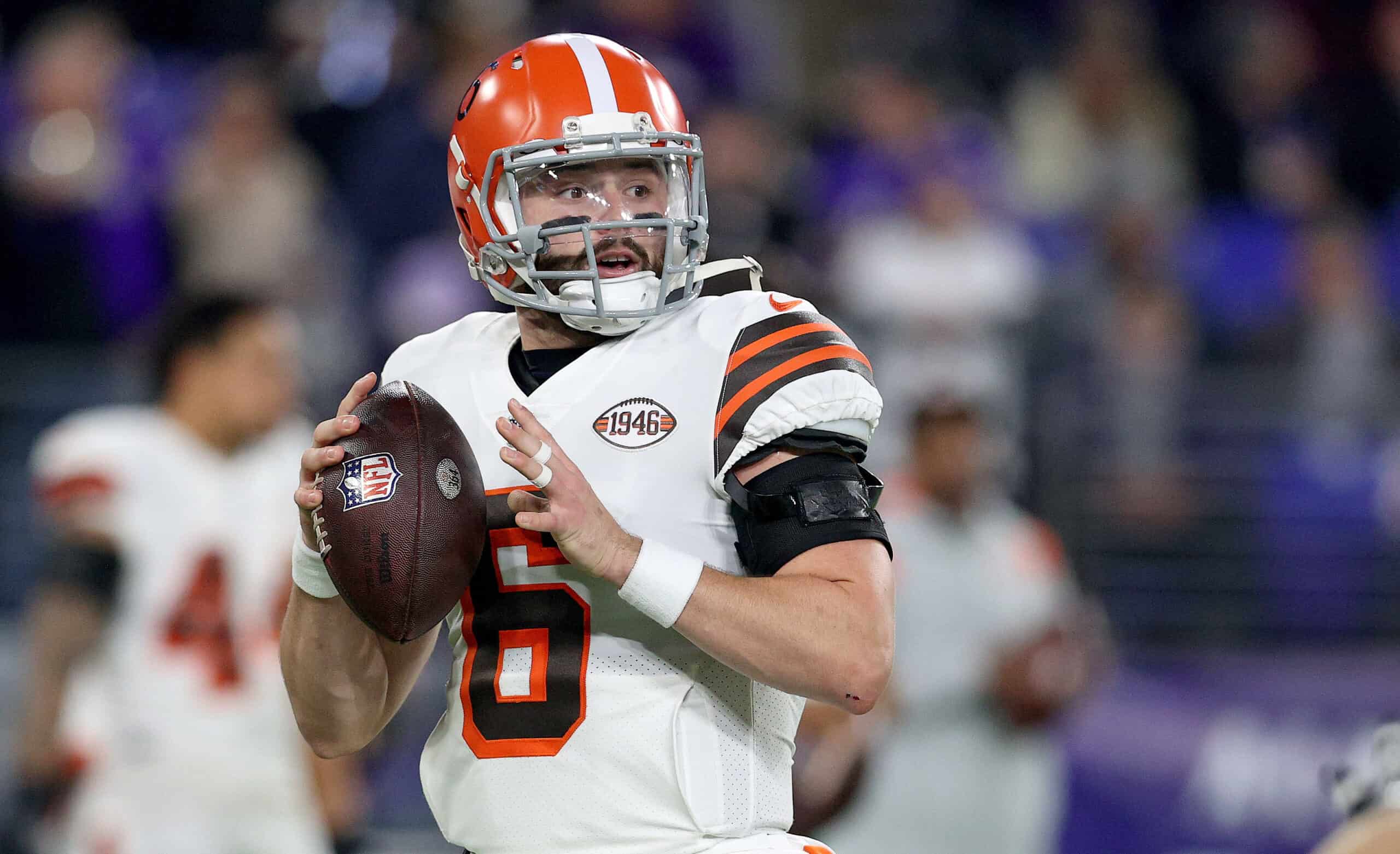 The hype surrounding quarterback Baker Mayfield has followed him since draft day.
The Oklahoma product was taken first overall during the 2018 NFL Draft.
At the time, the Cleveland Browns believed they were getting their franchise quarterback of the future.
There have been flashes of success for Mayfield throughout his first four seasons in the league.
However, there is still a major concern that Mayfield isn't the answer for the Browns at quarterback.
That being said, he heads into the 2022 season without long-term job security and unsure of what the future may hold.
The Time Is Now
As of right now, Mayfield is expected to be the Browns starting quarterback next season.
It's worth noting that the 2022 season will be his fifth and final year of his rookie contract.
That means, the Browns are going to be forced to make a major decision soon.
The 26-year-old has been inconsistent throughout his professional career.
This Browns roster appears to be on the cusp of being legitimate contenders in the AFC.
That being said, the 2022 season might be Mayfield's last chance to show Cleveland he can be the leader on offense.
.@RGIII believes Baker Mayfield is under more pressure than anyone in the league 👀

"If he doesn't run the table and win a Super Bowl, I think we might've seen the last of Baker Mayfield in Cleveland after this next season." pic.twitter.com/Uck3Sl3rd9

— NFL on ESPN (@ESPNNFL) February 24, 2022
In 2020, Mayfield showed tremendous progress and looked like the franchise quarterback they've always wanted him to be.
A year later, Mayfield struggled heavily and played through a shoulder injury throughout a majority of the season.
Hopefully, the injury is the reason for Mayfield's lack of success and he can bounce back in 2022.
The Browns are unlikely to extend Mayfield without him stepping up and leading the Browns to success next season.
The Pressure Is Real
The hope is that Mayfield is able to bounce back and help the Browns win in 2022.
Although, it's unlikely that the Browns give him as long of a leash as they did last season.
It wouldn't be surprising to see the Browns bring in another experienced quarterback to help light a fire on Mayfield.
As already mentioned, this roster appears ready to compete but has been hindered by bad play at the quarterback position.
The Browns aren't going to let Mayfield drag them down once again.
The former No.1 overall pick could very well find himself on the bench, assuming his play doesn't improve next season.
To be fair, it hasn't been all bad for Mayfield and he has put together some good moments in Cleveland.
Here's every passing touchdown by Baker Mayfield from the 2018 season so far. pic.twitter.com/gQMnaSUoPN

— James Simpson (@JS_Football) December 19, 2018
Sadly, Mayfield has run out of time and needs to put it all together next season.
Otherwise, the Browns are likely to move on to another quarterback in 2023.
That means, Mayfield would head into free agency with suspect value, assuming he has another down year in 2022.
His career could very well go the same route as former No. 2 overall pick quarterback Marcus Mariota.
A quarterback who came into the league with a ton of hype, but never could take that next step.
After starting for five seasons in Tennessee, Mariota has been the backup quarterback for the Las Vegas Raiders over the last two years.
Mayfield could very well follow in the footsteps of Mariota, assuming he doesn't improve next season.
The pressure is real for Mayfield as he could be playing for his career in 2022.