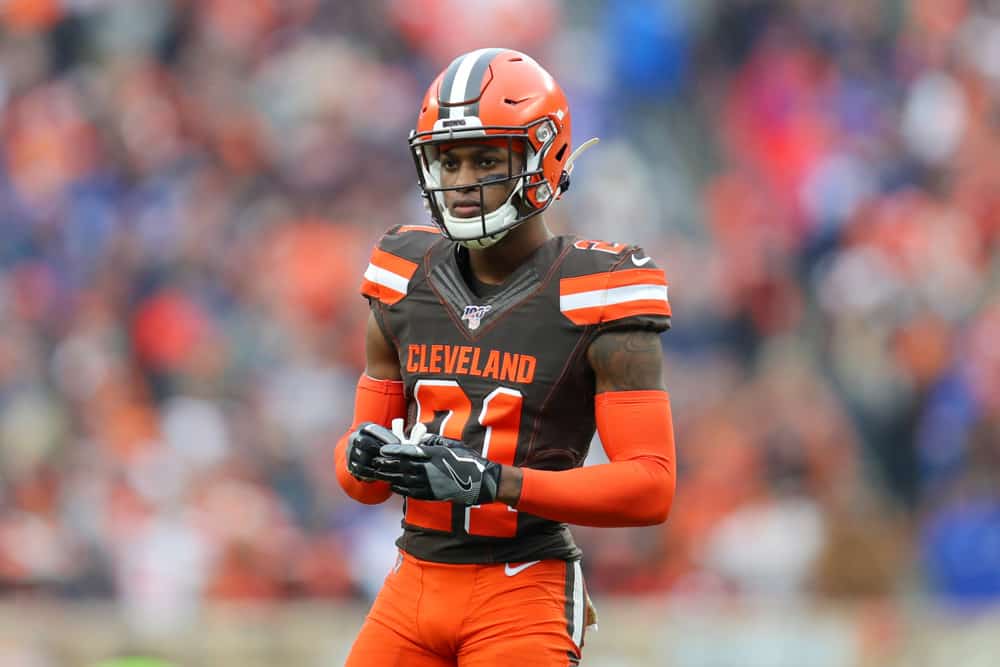 Denzel Ward provided the biggest highlight of the Cleveland Browns' 2021 season.
His 99-yard interception return for a touchdown in Week 9 set the tone for a much-needed win.
But Ward's SportsCenter Top Ten moment was no fluke and Week 9 was not an unusually good game.
The Bengals were so close to a touchdown. Denzel Ward had other plans. #Browns #FPC #NFL

— Full Press NFL (@FullPressNFL) November 7, 2021
His consistent play earned Ward his second career Pro Bowl nod, with his stats backing up what fans saw.
Cleveland's lockdown corner saw a career-low 78 passes thrown his way in 15 games for only 453 yards.
That equated to a career-low 9.3 yards per catch and a 76.6 passer rating allowed.
But even though he set some career bests, Ward's calling card is his consistency over his first 4 seasons.
Denzel Ward making plays even in the Pro Bowl 🔒#BornHereRaisedHere #Browns pic.twitter.com/1uZWH4oOOf

— betJACK (@betJACK) February 6, 2022
Nothing he did was a great surprise, and in fact, you can call his 2021 effort fairly typical Denzel Ward fare.
And that might be what makes Ward one of the best cornerbacks in the NFL- consistent, lockdown-level play.
Now it is up to GM Andrew Berry to lock up his young cornerback for the foreseeable future with a top-flight contract.
Is Ward Worth $20 Million Plus? 
Denzel Ward was ranked among the top 10 corners in most preseason polls, usually in the 8-10 range.
Nothing he did knocked him down the ranks, but he didn't take a leap up the standings, either.
In another season or two, Ward might not even be the best corner on his own team.
Denzel Ward's footwork and technique 🎯 pic.twitter.com/8YPzJcXlBN

— Footballism™ (@FootbaIIism) February 23, 2022
Rookie Gregory Newsome earned kudos around the league for holding his own opposite Ward.
But there are other factors involved, and it is not Ward's fault the Browns might have a pair of top-10 corners.
Nothing impacts a defense more than a shutdown cornerback with range and speed.
Defenses can double-team a pass rusher and use misdirection or flooded zones to draw a safety or linebacker away.
Denzel Ward DE-CLEAT !! pic.twitter.com/feKYboVZUc

— McNeil (@Reflog_18) December 12, 2021
But the shutdown corner in man coverage is going to take out their best receiver, and maybe a whole sector in a zone.
Ward's tackling has improved since Joe Woods arrived, and his speed makes him a blitzing threat, too.
While he didn't lead in any statistical categories, he does narrow the field on defenses.
Ward Brings Valuable Intangibles 
Only one NFL cornerback makes $20 million per season right now- Jalen Ramsey of the LA Rams.
Marshon Lattimore is the third-highest paid corner at $19.4 million.
Ward is represented by the same agency as Lattimore and brings a lot more to the table than his fellow former Buckeye.
#BlackHistoryMonth @DenzelWard might be young, but he is setting records and leaving his mark in professional football. Check out this graphic to learn more about him pic.twitter.com/ReiykA6XGU

— Ohio Legislative Black Caucus (@_OLBC) February 26, 2022
On top of his playing resume, Ward is only 24 years old and brings a ton of intangibles to Cleveland.
He is locally raised, an Ohio star at every level of play, and is involved in the community.
Ward's foundation work and local generosity endear him to the Browns fanbase.
Cleveland Browns CB Denzel Ward's foundation makes $150,000 donation to University Hospitalshttps://t.co/F2wn0XpMbM pic.twitter.com/W9EG1FmfwM

— WKYC 3News (@wkyc) February 28, 2022
And he is one of the most popular players in the Cleveland locker room for his personal and professional attitude.
Andrew Berry already knows he has to do the right thing in rewarding his top corner with a top-level contract.
But especially after last season's wide receiver fiasco, Cleveland has to reassure players they take care of their own.
$20 Million Will Be a Bargain Soon
Don't be surprised if Ward's average salary comes in significantly above Ramsey's $20 million.
Berry is savvy enough to protect the team's interest even with a super large deal.
Myles Garrett's contract pays him a great amount of money through 2026, but the team has cap-friendly outs after next year.
I've thought about this play by Denzel Ward all morning. #Browns pic.twitter.com/7HhMnGM7dZ

— MoreForYouCleveland (@MoreForYou_CLE) September 13, 2021
Ward should get about $122-125 million over 5 years, with staggered bonuses to fit into other cap-limiting events.
For example, Newsome's rookie deal ends in 3 years, so expect Ward's final 2 seasons to have few guarantees.
If Newsome and Greedy Williams are the team's two best corners in 2025, Berry can release or renegotiate Ward.
Because as awesome and deserving as Ward is now, the NFL is a business.
Cornerback Denzel Ward hard at work and getting ready for 2022 season #Browns.

Via his Instagram pic.twitter.com/0ELUHmDqLG

— Feeling Dangerous Podcast (@FDPodcastCLE) February 28, 2022
Berry also knows he should extend Ward asap if he wants to make him the highest-paid corner.
There is a slew of other top-notch corners hitting free agency as early as March, and several will look to top $20 million.
And like Austin Hooper in 2020, Ward's status as the top-paid player at his position might not last very long.