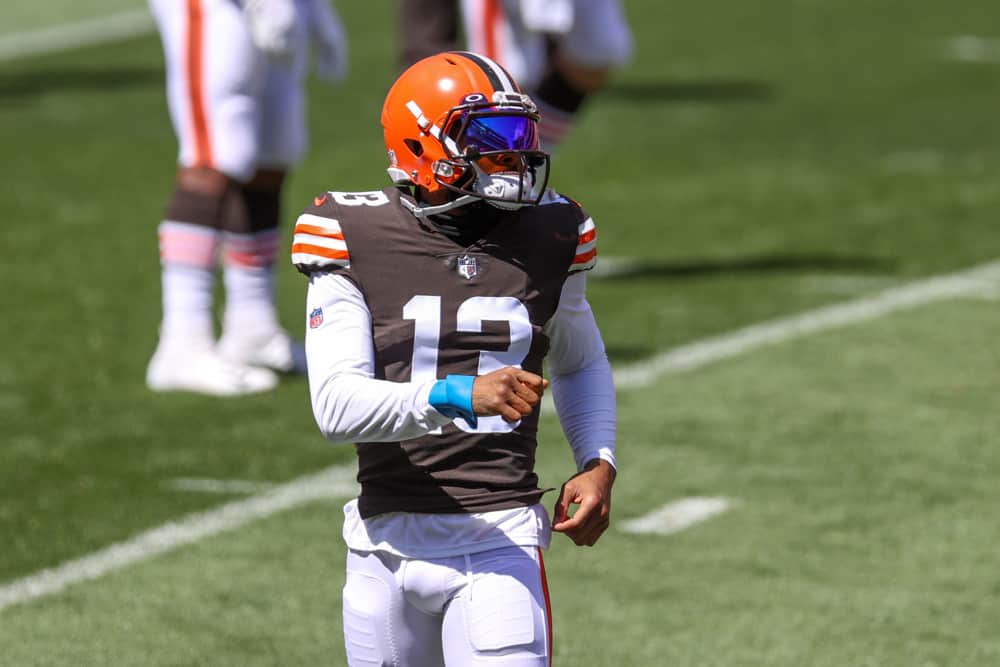 The Cleveland Browns suffered a disappointing 38-10 loss to the Steelers, and Baker Mayfield had a bad game.
No one disputes that.
But here comes the media fallout.
ESPN's Stephen A. Smith added fuel to the proverbial fire on Monday's episode of First Take.
Stephen A. Smith Says Odell Beckham Jr. Needs To Demand A Trade
Stephen A. Smith is stewing over Odell Beckham Jr.'s talents being wasted.
He believes OBJ should demand a trade ASAP.
And he doesn't stop there.
He adds that Jarvis Landry should be running out of Cleveland as fast as possible also.
The common denominator that is sending them out of town is of course Baker Mayfield.
Here is an excerpt of Stephen A. Smith's rant.
"He needs to demand to get the hell up out of Cleveland. As far as I'm concerned, Jarvis Landry should demand a trade out of Cleveland. Anybody who is a pass-catcher should not want to play with this guy because he's not going to make you look good…Look at the body language of the Cleveland Browns receivers. They look despondent. You look at them and they're like, 'Damn, this guy.' They didn't even want to stand near him — that's how bad it is for Baker Mayfield right now."
To add insult to injury, First Take co-host Max Kellerman added:
"He's with a quarterback who's not good enough. Odell needs to demand a trade because he's in his prime and it's being wasted on this team."
Giving Baker A Break
@stephenasmith keep drinking your haterade to get ratings and hot takes but how about justifying this statement as to why a qb who has had 4 coaches in 3 years needs written off pic.twitter.com/gmwnwLjTbh

— Ryan Ross (@RyanYts) October 20, 2020
The city of Cleveland and its fans need to take a collective deep breath.
Just one week before, the team was celebrating its first 4-1 start since 1994.
Now, after losing to a very formidable Steelers team, it is time to dismantle the Browns and send some of its best players on their way.
Baker definitely has his ups and downs, but it really is not discussed enough that he is playing for his third coach (fourth if you count the interim coach put in place after Hue Jackson was fired) in three years in the league.
It's the third offensive scheme, and he learned it in the midst of a pandemic where Zoom sessions were the way to have team meetings through the spring and summer.
And the offense is built on the run game, OBJ even acknowledges that.
OBJ told Mary Kay Cabot last week prior to the Steelers game.
"Nick Chubb needs to be the No. 1 rusher in the league or Kareem, too. You have two legitimate No. 1 backs in the backfield, and our team is very, very, very good at running the football, so you have to play to your strengths. Then I think you learn where you fit in and where you're able to make your plays and how you can help the team."
Conclusion
OBJ has played on some bad teams spanning back to his New York Giants days.
Coach Stefanski and the Browns organization appears to be on the upswing.
There will be hiccups along the way, but it's time to shut down these crazy theories and focus on Week 7's game against the Bengals.