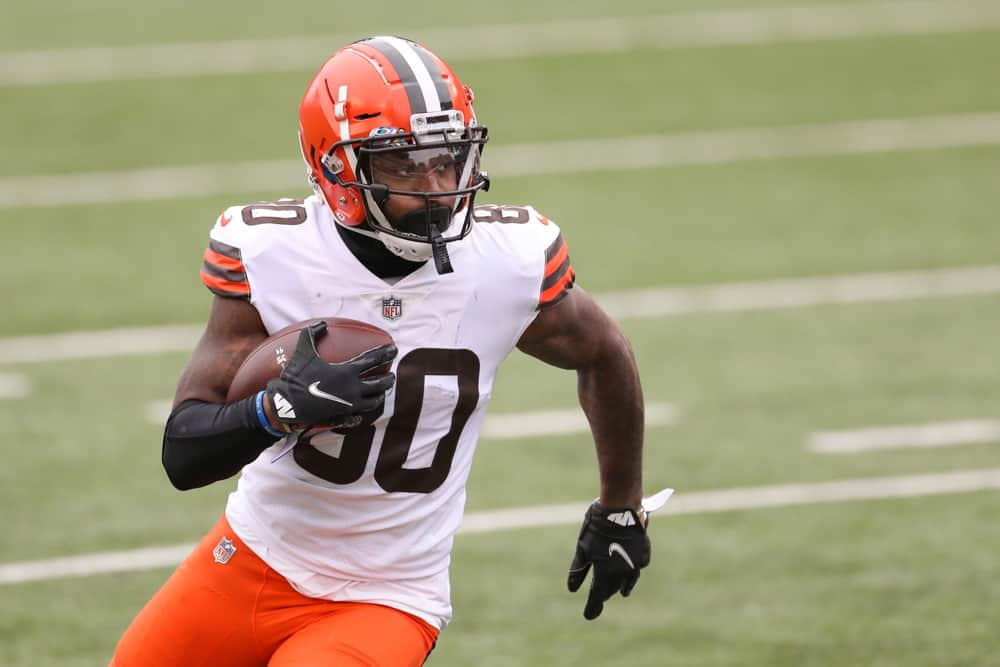 Cleveland Browns fans will be excited to get back important contributors like Jarvis Landry, Rashard Higgins, Wyatt Teller, and others who are expected to return this week.
Cleveland is hoping to put the 23-16 loss to the New York Jets behind them.
The good news is that Teller appears on the mend:
#Browns Stefanski is hopeful he'll have RG Wyatt Teller (ankle) on the field Wednesday

— Mary Kay Cabot (@MaryKayCabot) December 28, 2020
In addition, the Browns are expecting Landry, Higgins, Donovan Peoples-Jones, KhaDarel Hodge, and Jacob Phillips to be back on Thursday:
Kevin Stefanski says Thursday is when close contacts on reserve/COVID-19 can return provided they continue to test negative. Stefanski adds "we absolutely have to learn from this" #Browns

— Daryl Ruiter (@RuiterWrongFAN) December 28, 2020
With the Browns hoping to get back their top four healthy wide receivers, Cleveland's offense will be looking much better in Week 17 than it did in Week 16.
The Pittsburgh Steelers, Cleveland's Week 17 opponent, have clinched the AFC North divisional title.
A Browns victory clinches a playoff berth for Cleveland and ends the NFL's longest active playoff drought:
#Browns playoff clinching scenarios from the #NFL: pic.twitter.com/BEVQbOZLia

— Mary Kay Cabot (@MaryKayCabot) December 28, 2020
The Return of the Browns Wide Receivers
On Sunday, the Jets jumped out to a 20-3 lead, and Baker Mayfield finished with 53 pass attempts.
The likes of Ja'Marcus Bradley, Marvin Hall, and Derrick Willies filled in for Landry, Higgins, Peoples-Jones, and Hodge at the wide receiver position.
Therefore, Mayfield decided to involve his tight ends more often than usual.
The Browns third-year quarterback targeted Austin Hooper 15 times, Harrison Bryant seven times, and David Njoku four times.
Here is how the receiving situation finished on Sunday:
Hooper: seven receptions for 71 yards
Bradley: five receptions for 60 yards
Bryant: three receptions for 37 yards
Njoku: four receptions for 26 yards
Hall: one reception for 12 yards
Willies: zero targets (three snaps played)
Meanwhile, the Browns rushed the ball just 18 times for 45 yards in Cleveland's fifth loss of the season.
The two-headed rushing game had difficulty being efficient against the Jets:
Nick Chubb: 11 rushes, 28 rushing yards, five receptions, 38 receiving yards, and a rushing touchdown
Kareem Hunt: four rushes, 11 yards, three receptions, 41 yards, and a rushing touchdown
The Browns were unable to sweep their back-to-back at MetLife Stadium.
Heading into Week 17, Landry has had at least six receptions in each of his last four games played.
During that stretch, he has 29 receptions for 318 yards and three touchdowns.
Meanwhile, Higgins has 16 receptions for 239 yards and two touchdowns in his last three games played.
Neither Landry nor Higgins played well in Cleveland's 38-7 loss to the Steelers in Week 6:
Landry: three receptions for 40 yards
Higgins: one reception for 13 yards and a touchdown
On the bright side, Higgins accounted for Cleveland's only points of the game with his second touchdown of the season.
Mayfield will have to involve both of them a lot more in Week 17 if the Browns want to succeed.
The Return of Wyatt Teller
Mayfield will also get some help from his offensive line, as Teller expects to return to practice on Wednesday.
He missed both Week 15 and 16.
The Browns played well in Week 15's 20-6 win over the New York Giants.
However, in Week 16, Cleveland missed Teller.
The Jets sacked Mayfield four times for 31 yards and forced three fumbles.
Mayfield's three fumbles and two fumbles lost were both career-highs for him.
Pro Football Focus' top offensive lineman has not played since being snubbed from this year's Pro Bowl squad:
Wyatt Teller: PFF's highest-graded OL (93.8)#ProBowl | #ProBowlSnub pic.twitter.com/ngrPXluBK0

— PFF (@PFF) December 22, 2020
With Teller most likely returning for Week 17, Cleveland's offensive line should be looking a lot better.
The Browns are 8-2 in games that Teller has played this season.
They will be looking for a 9-2 record after Sunday's contest.