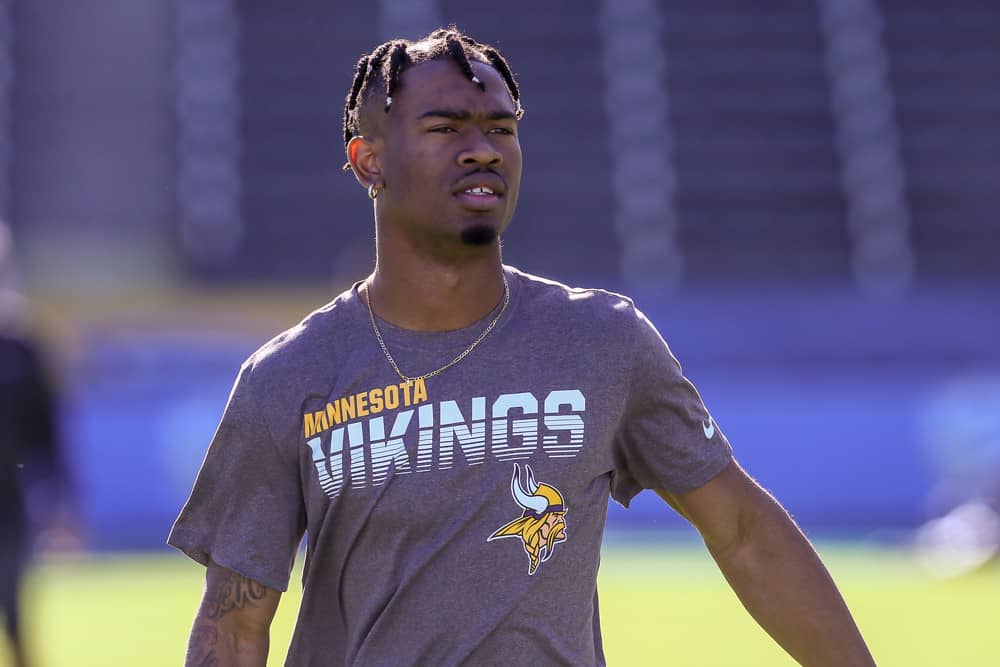 File this under the category of not surprising news.
The Cleveland Browns are trying to get wide receiver help in short order.
A first step in doing so is to sign WR Alexander Hollins from the Minnesota Vikings practice squad.
We've signed WR Alexander Hollins to our active roster from the Minnesota Vikings' practice squad. pic.twitter.com/NshVZY3rsA

— Cleveland Browns (@Browns) December 28, 2020
Alexander Hollins
Hollins did not make the Vikings active roster during the 15 games of the 2020 season.
However, he is a familiar face to Coach Kevin Stefanski who served as the offensive coordinator for the Vikings during the 2019 season.
Hollins is 6'1″ and 170 pounds.
Alexander Hollins attended Copiah-Lincoln Community College in Wesson, Mississippi before transferring to Eastern Illinois.
He ended his career at Eastern Illinois with 127 catches, 23 TDs, and 1,796 yards in two seasons.
During his 2019 (rookie) season, he caught 2 passes for 46 yards for the Vikings.
In college, Hollins also played special teams as a kick returner.
New NFL Rule
Earlier this month, the NFL relaxed the rules of how long players need to stay in COVID-19 protocols if traveling between teams via practice squad signings.
This rule change is worth mentioning because it means that Hollins could be available for the Sunday game against the Steelers.
Previously, the player had to restart a six day testing protocol process when traveling between teams.
Now, as long as the player was in another team's testing protocol process, that essentially carries over to the new team.
Browns Played Jets Without 4 Wide Receivers
Jarvis Landry, Rashard Higgins, Donovan Peoples-Jones, and KhaDarel Hodge all landed on the COVID-19 list hours before the Browns were scheduled to board a flight to travel to the Jets game.
All four were deemed close contacts and continue to test negative.
Signing Hollins is a precautionary move per Coach Stefanski.
Stefanski said Jarvis Landry, Rashard Higgins, Donovan Peoples-Jones, KhaDarel Hodge, Jacob Phillips and Jedrick Wills have all continued to test negative for COVID-19 thus far. Added signing Alexander Hollins off MIN's practice squad doesn't mean CLE fears a WR won't return.

— Nate Ulrich (@ByNateUlrich) December 28, 2020
Must Win Sunday
Games are often classified as must-wins.
The phrase tends to be overused, but it definitely applies to the Browns situation in Week 17.
They win and get in the playoffs.
Losing to the Steelers means they rely on situations outside of their control to nudge them into the playoffs.
The Browns have not beaten the Steelers since fall 2019 when the infamous Myles Garrett–Mason Rudolph incident happened.