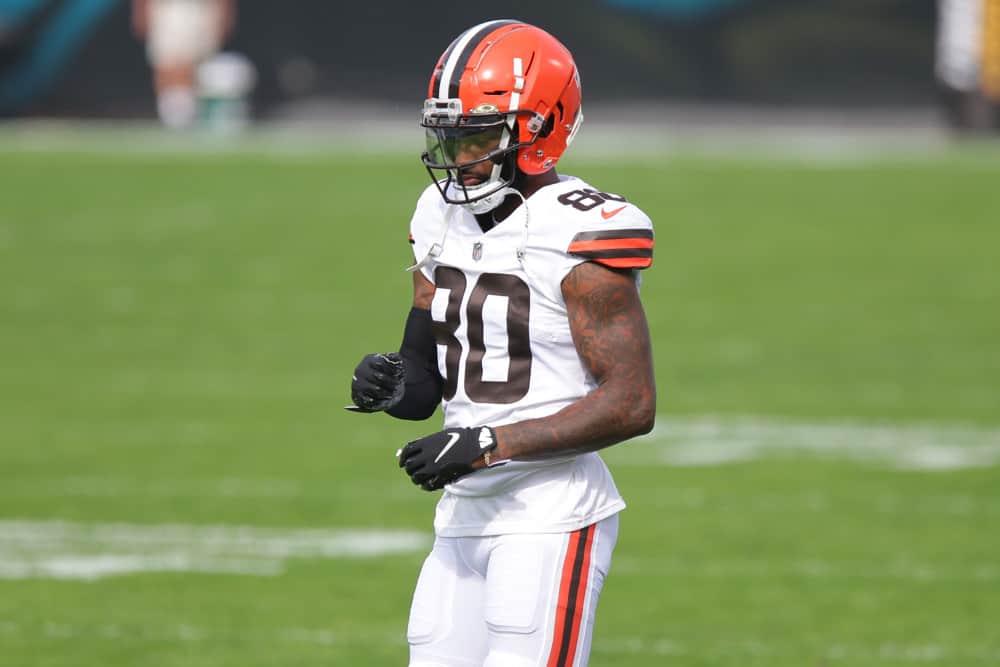 Cleveland Browns WR Jarvis Landry has been a welcome staple in the Browns offense since he arrived after spending four seasons in Miami in 2018.
Yesterday, Landry reacted to CBS Sports recognizing him as the latest to join an elite club who have wracked up impressive statistics over their careers.
Landry's Latest Accomplishment
Jarvis Landry is only the fifth player to catch more than 600 passes and accumulate over 7,000 receiving yards in his career since 2014.
The other four are among the best to do it for their teams' offenses.
They are: Julio Jones, DeAndre Hopkins, Antonio Brown, and Travis Kelce.
Here is the congratulatory Tweet from CBS.
— Jarvis Juice Landry (@God_Son80) February 12, 2021
Browns fans will notice and appreciate Landry's simple dog emoji paying homage to the Dawg Pound.
Obviously, this is an enormous honor with esteemed company so it is a testament to Landry's skill and consistency.
Jarvis Landry Through The Years
To say Landry has been consistent is an understatement.
In his seven seasons, he has been near or over 1,000 yards receiving five times.
His career best yardage came in 2019 with 1,174.
Landry in 2020
He had three receiving touchdowns in the 2020 regular season, and he added two more touchdown catches during the playoffs.
NFL Coach of the Year Kevin Stefanski found other creative ways to use Juice for scoring plays.
He rushed for a touchdown, and Landry was a fixture on passing plays this year where he was the quarterback.
No one will forget this play.
LANDRY ➡️ OBJ

Browns pull out the trick play early 🔥

(via @NFL) pic.twitter.com/w6FFgVO6et

— SportsCenter (@SportsCenter) October 4, 2020
That was his best but not his only pass of 2020.
He went 4-4 for 74 yards on the season.
Landry Enters 2021 Offseason Healthy
A year ago, Landry had hip surgery to deal with an injury that nagged him most of the 2019 season.
This offseason, Landry starts from a healthier place which is a plus.
He is likely watching intently to see if his best friend and former LSU teammate Odell Beckham Jr. will be in a Browns uniform next year.
There has been a lot of noise unrelated to the Browns, Bucs, or OBJ that he could be headed south to play with TB12 in 2021 as the Bucs attempt to win back-to-back Super Bowl championships.
Landry was the one who encouraged the Browns to get OBJ in 2019 and cried after the trade became official.
Looks to be a lot of hearsay at this point so for now OBJ is set to be a Brown in 2021.
What's Next For Landry in 2021?
Given Coach Stefanski's creative use of Landry in the pandemic year of 2020 where the practice and preseason were severely curtailed, it is likely that Landry's role in the offense will be even bigger in 2021.
We can expect more trick plays, pass plays, and all around usage of the versatile Landry in the second year of the Stefanski and Van Pelt offensive scheme.
The future is bright for both Landry and the Browns.